Facebook wants to read your thoughts and hopes cameras will help do that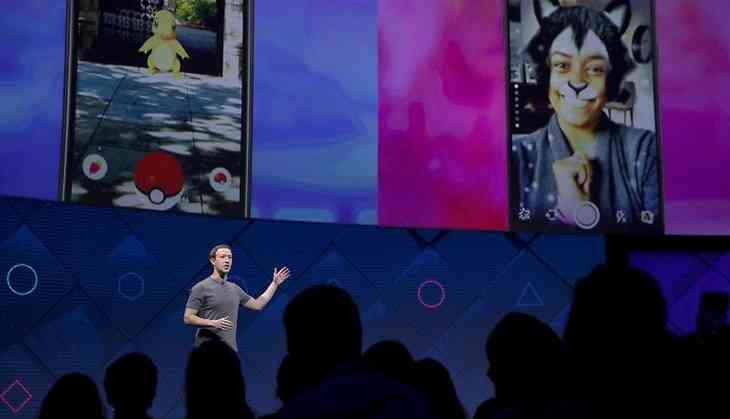 (Justin Sullivan/Getty Images/AFP)
Can people control computers directly through their thoughts? Facebook CEO Mark Zuckerberg, speaking at the company's annual Facebook Developer Conference in Silicon Valley, spoke about changing the future of computing. Essentially, Zuckerberg provided details about how the company plans to transform our phone cameras to draw people deeper into the digital life.
Zuckerberg calls this a platform for augmented reality. Facebook essentially wants to take its investments in artificial intelligence and its community of developers to change the future of communication. "One day, I believe we'll be able to send full rich thoughts to each other directly using technology," Zuckerberg said in 2015, adding, "You'll just be able to think of something and your friends will immediately be able to experience it too."
Zuckerberg envisions a future where one could add a digital note to a notice board and everyone else who wanted to see that specific notice would just need to point their smartphone cameras at the board, seeing the note as if it was actually there.
Onstage at the conference, Regina Dugan, who was hired from Google to lead this mission, provided details of a future she hopes will someday be a reality. A reality that Facebook is calling "silent speech", in which one can type into Facebook just by thinking. "We have a goal of creating a system capable of typing 100 words per minute straight from your brain."
Dugan runs Facebook's secretive hardware and research lab, Building 8, and for her, the future envisioned is not as far-fetched as it sounds. Thinking commands into smartphones would free one from actually having to stare into the device again and again. "To be clear, we are not talking about decoding your random thoughts," she continued. "We're talking about decoding those words, the ones you already decided to share, by sending them to the speech centre of your brain." Of course, this can't be done without hardware.
Realising an idea
Six months ago, all of this was still at the concept stage. Today, the project has a team of more than 60 people, including scientists, engineers, and system integrators. This week, Zuckerberg introduced what he called the first mainstream augmented reality program - it's a way for people to use phones to digitally transform the world around them.
At the moment, augmented reality is in the nascent stages. Fire up your Snapchat app, take a photo, add some flimsy stickers or features, and you've got your digitally enhanced photo or video. For Zuckerberg, this technology is endless. The future is open-ended. Zuckerberg even showed off a little bit on stage. He showed how one can add a digital cup of coffee to a photo of a kitchen table. He also showed how one can point a smartphone camera to a bowl of cereal and have digital sharks swimming around endlessly. Pokemon Go, which went absolutely viral last year, was just the beginning of this technology.
Facebook, for its part, has previewed a slew of new tools to turn Facebook's own in-house camera into a platform for other developers to add on and eventually improve. An early version of Facebook Spaces, the company's new virtual reality app, is being released. It lets one hang out with their Facebook friends in virtual reality as 3D cartoon avatars or characters.
Rachel Rubin Franklin, Facebook's VR head, said onstage that the company is using artificial intelligence to suggest how you should look. The consumer always has the final word. "You can add glasses or facial hair. You can change your eye and hair colour," she went on to explain.
One major gamble though, back in 2014, is paying off for the company. Facebook acquisition of Oculus and the millions of dollars invested in VR content and apps is proving to be money well spent. Eventually, Zuckerberg hopes it becomes a full-fledged ecosystem sooner rather than later.
In fact, the world of augmented reality is heating up. Just before Tuesday's announcements, Snapchat announced new 3D lenses. These can be used within the app. Microsoft has HoloLens, HTC has the Vive, and then there is the well-funded secretive augmented reality startup Magic Leap.
The camera is where the next wave of technology is and Facebook is doubling down on it. How fast this technology will evolve, though, is anyone's guess.