Daughter's iPhone X YouTube video goes viral; engineer gets fired by Apple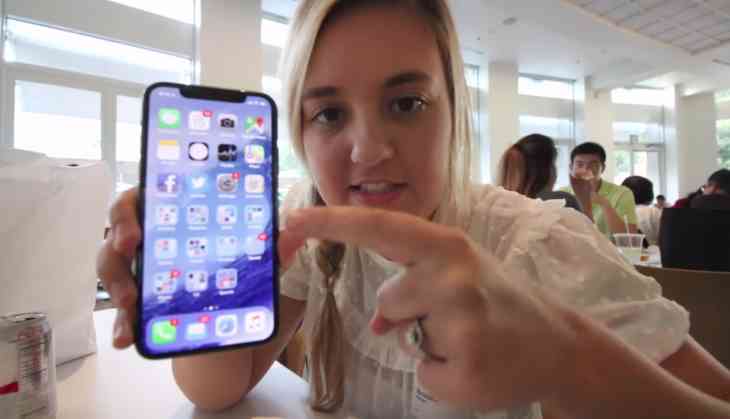 (Screenshot of Brooke Amelia Peterson's YouTube video)
It was seven and a half years ago when a software engineer working with Apple left a fourth-generation iPhone prototype at a bar. The phone leaked and went crazy viral on the internet. This past weekend, an iPhone X hand-on video went viral on YouTube. The video, was uploaded by the daughter of an Apple engineer. The vlog included a trip to the Apple campus where she met her father and got to see an unreleased iPhone X.
In the first case, the 27-year-old Apple software engineer Gray Powell, wasn't fired. According to his LinkedIn profile, he still works at Apple, seven and a half years after the incident.
Leave iPhone prototype in bar and it leaks
✅ keep your job

Let your daughter film announced iPhone you worked on for years
❌ fired https://t.co/4nz6FP6oa4

— ⚡️ Owen (@ow) October 29, 2017
In the more recent incident, the engineer was fired after the vlog was picked up by 9to5Mac (https://9to5mac.com/2017/10/24/iphone-x-closeup-hands-on/) and other sites, and went viral on YouTube.
Brooke Amelia Peterson, the daughter of the Apple engineer, published a video that seemed innocent at the time, but got her father fired from his job at Apple. The video that has now been taken down at Apple's request included footage of an iPhone X with special employee-only QR codes. Further, a note app was also shown in the video and included codenames of unreleased Apple products. First, filming on Apple's campus is prohibited. Second, filming an unreleased iPhone X on an Apple campus is definitely prohibited.
Brooke Peterson has posted a tearful apology video, where she explains about her father violating a cardinal Apple company rule. The removal of the video was too little too late.
"At the end of the day, when you work for Apple it doesn't matter how good a person you are," Brooke said in a YouTube video. "If you break a rule, they just have no tolerance. They had to do what they had to do."
At the time of publishing the original video, Brooke had no idea that she was breaking any of Apple's rules. She made the original video "for fun because I love making YouTube videos".
Apple is famous for keeping a tight ship regarding prototypes and early disclosures. Apple even employs a security team and investigators whose sole job is to track down those who leak to the public. This isn't the first time a company has fired someone over a leak. As The Verge reports, "a Microsoft employee was dismissed after his son posted pictures of the Xbox 360 before its release".