CES 2018 day 4: LG's V30 comes in a new colour, Pimax's 8K virtual reality headset, and not being blinded by headlights anymore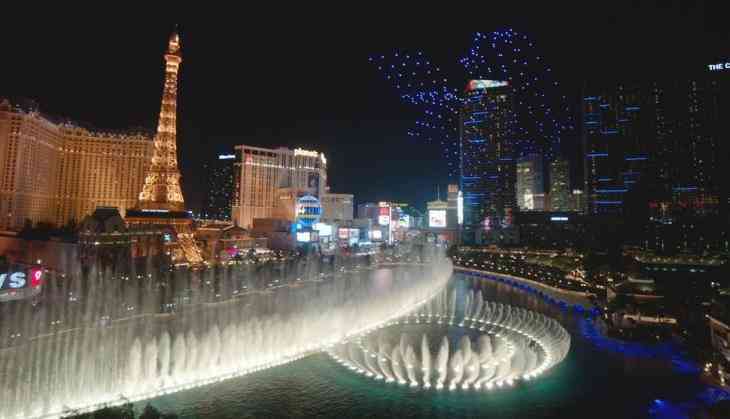 Day 4 of CES, Wednesday, 10 January, stayed clear of the rain but couldn't avoid another power outage. The Las Vegas convention plunged into darkness for a solid two-hour period. Some went outside and basked in the sunlight while others chose to visit the booths, despite the lack of power. Still, a lot happened on Day 2 and here's a quick round-up:
LG's raspberry rose V30
LG's best phone in a while has donned a new colour. This time it gets a vibrant pink shade. It's flamboyant, for one thing. The colour was first announced on 3 January and is a mixture of fuchsia and magenta. As this is an LG smartphone, it will first be available in South Korea after CES is over before making its way to other countries in Asia and Europe. The smartphone, besides the different colour shade, is exactly the same as the one that launched late last year.
Intel's 250 drones
Intel wanted to distract people from the security issue - Spectre - in their chips. They did so by flying 250 drones above Las Vegas' Bellagio casino. 250 of their Shooting Star Drones were sent over the landmark. These are the exact same drones that were sent into the sky during last year's Super Bowl half-time show.
Whirlpool's new refrigerator
The Whirlpool WRFA94CIHN refrigerator comes in a 'sunset bronze' colour and has virtual Amazon Dash buttons. It doesn't come cheap though. The refrigerator comes in at $4,400 and will arrive later this year.
Being blinded by headlights no more
Texas Instruments has a solution to a long-standing problem. The company has taken headlight technology a step further. They used DLP chips to shape the headlights dynamically. This is done by turning on or off individual pixels in the beam. Essentially, with this technology, headlights can blackout areas and avoid blinding other drivers and pedestrians.
Pimax shows off its latest prototype
Chinese startup Primax brought its latest prototype to the CES floor. It's an 8K virtual reality headset. It's the company's fifth version of the prototype within just one year.
Scosche outs a Bluetooth speaker with a twist
Scosche's BoomBottle MM Bluetooth speaker is like no other.It's a rugged Bluetooth speaker and is shaped like a bottle. Unlike its predecessors, this one has a built-in bottle opener for when you want that cold beer. It is also IP67 water and dust resistant, It will be released in Spring of 2018, but no other details were provided.
Huawei unleashed a mesh Wi-Fi beast
Huawei is getting into mesh Wi-Fi. They announced a hybrid whole-home Wi-Fi system. Huawei's Wi-Fi Q2 system will send a stable signal through a large home. There are two basic options - a base and two satellites - and they rely on G.hn PLC technology to deliver to the consumer gigabit data. The installation can be completed in just five steps and can provide speeds up to 1867 Mbps.
Soul Electronics in-ear headphones
Soul Electronics is a name you've probably never heard off. Still, the company has come to CES with not one, but two in-ear headphones. They come with gait analysis. These have been built for runners. Run Free Pro Bio and Blade come with sensors and an accompanying app that tell you all about your running form and how to correct it.
The Run Free Pro Bio headphones will be available for $149.99 at some point in the sprint. The Blade headphones will come this fall and retail for $249.99.