Catch 2017: The year when phone lovers couldn't complain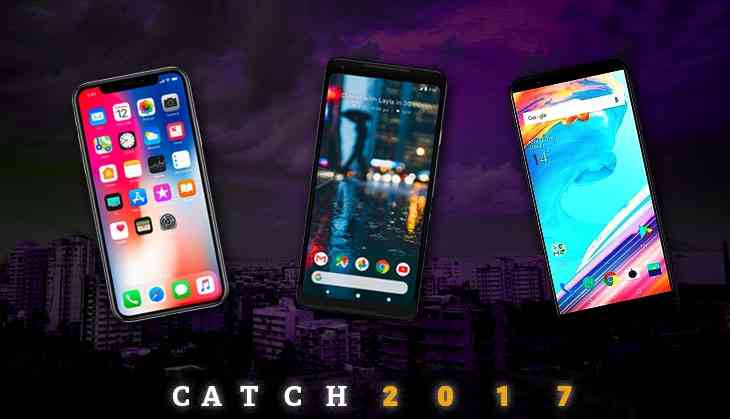 The month December. The year 2016. You weren't alone if at that time you shrugged your shoulders upon being asked whether or not there would be smartphone innovation in the year 2017. Fast forward to December of 2017 and it has been a year of innovation, intense competition, and some untimely deaths.
Bezel-less for the win
Manufacturers, starting with Samsung, gave the smartphone a whole new makeover in 2017. It was the year of all-screen, with no one wanting to be left behind. This meant that the non-screen parts on the front of a smartphone shrunk to new lows. Samsung's Galaxy S8 set the ball rolling and others promptly followed.
Homegrown manufacturer Micromax even came out with one of the cheapest bezel-less smartphones, the Canvas Infinity at just Rs 9,999. Then there was Apple. After three generations of zero innovation, the Cupertino stunned the world with a bezel-less beauty called the iPhone X. It did have a 'notch' though, which annoyed more than its fair share of consumers.
Nonetheless, gamers and binge-watchers lapped up this trend like no other. This trend makes it easier for big-screen devices to be held in one's hand. Once bezel-less, always bezel-less. The phone of 2017, now in the hands of many consumers worldwide, is futuristic.
Face unlock
The year of the fingerprint sensor it wasn't. In came Face ID and out went the fingerprint sensor. Yes, they coexist on the smartphone but almost no one who uses their fingerprint to unlock their smartphone anymore. It's all about that face!
Bokeh takes over
It was the year of dual cameras (not all were good). From the Honor 8 Pro to Samsung finally bucking this trend with the Galaxy Note 8 in August. There was also Cooldpad's Cool Play 6, Lenovo's K8 Note and Honor's 7X and 10.or G. Dual-cameras led to 'Portrait' mode photos becoming the new favourite of social media aficionados.
Google though was the one manufacturer that didn't pay any attention to this. Instead, they went with just a single lens and managed to outdo everyone in the smartphone industry. Google's Pixel 2 and Pixel 2 XL sport the best camera on any smartphone, not just in 2017, but of all time.
These new 'portrait' mode shots were the talk of the town on social media in 2017. You just couldn't stay away from them.
Reliance Jio defined 2017
It was the year that smartphone prices and data prices crashed. Xiaomi ended 2017 with the Redmi 5A, a smart successor to the Redmi 4A. It's price, you may ask? Just Rs 4,999. Then there are smartphones like the Bharat 2 Ultra from Micromax, where they partnered with Vodafone to bring the price down to just Rs 999, albeit with a three-year lock-in period.
Reliance Jio sent data prices on a downward spiral and even came out with a 'free' phone called the JioPhone. Airtel, Vodafone, Idea and others scrambled to respond and bled their way to the end of the year.
Headphone jack no more
Finally, it was the year that Apple, one of the biggest manufacturers in the world, ditched the headphone jack. HTC's U11, Xiaomi's Mi Mix 2, Google Pixel 2 and others followed suit. Some though, like Samsung, defied the market sentiment and kept the headphone jack in their flagship smartphones.
Even disappointing phones were unique
In a year filled with lots of positives, it doesn't mean there weren't some blips in the smartphone industry. Take the Razer Phone and the Essential PH-1. They both came with spectacular specifications, eye-popping designs and a unique package.
They came with so much hype that when reviewers got hold of them, they were left disappointed. If you the consumer were to buy one, would you be unhappy? No. You'd be very happy to have a new phone. A phone different from the crowd.
A friend of mine who doesn't care about the camera on his smartphone bought the Essential Phone and is more than thrilled with this purchase.
AI went big
The smartphone trend for 2017 going into 2018 is greater use of artificial intelligence. AI is used to make phones faster and greater and smarter. Google's vice president product manager Mario Queiroz, said: "We're getting to the point where photo quality is already so good that the focus is turning to the smarts that you build beyond that." Google has proved it with the Google Pixel 2's camera.
Then there is machine learning that is incorporated in a big way in Android Oreo. "How many times do you long press on the word and it just selects that one word," Queiroz said. Queiroz took the Buckingham Palace example. "Why, when you press on Palace does it not take into account, Buckingham?" Android now smartly selects the text it thinks you'd like to tap on from the single word that you have pressed.
"AI is a big trend, period" said Queiroz.
Google, Apple and Huawei shipped phones with AI processing chips and much more are slated to follow suit in 2018.
Smartphones of the year
Now that we've summed up the year, here are the best smartphones of the year, in absolutely no order.
Nokia 8
LG G6
Huawei P10
Samsung Galaxy S8
Samsung Galaxy Note 8
LG V30
HTC U11
Apple iPhone X
Google Pixel 2
Honor V10
OnePlus 5T
Xiaomi Mi A1
Xiaomi Mi Mix 2
There are countless others but these are just a snippet of the best phones from 2017. 2017 was an extremely strong year for the smartphone industry and the hope is that 2018 takes it to even greater heights.