ASUS ZenBook UX430 review: The marvellous display alone is worth the investment in this ultrabook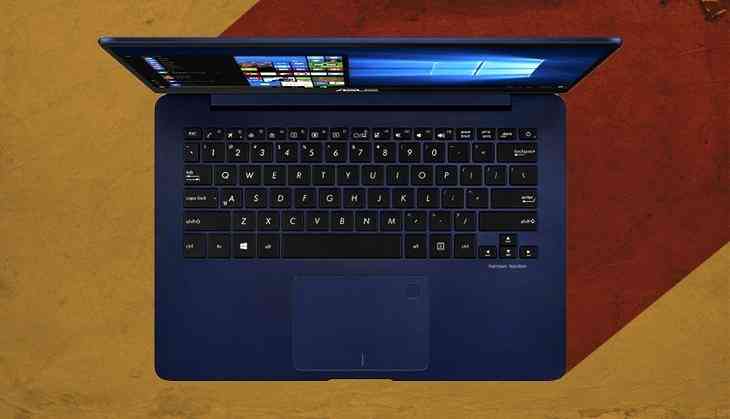 Upon taking the ASUS ZenBook UX430 out of the box, you realise one thing. You realise that those who said the PCs and laptops are losing out to the smartphone world are entirely wrong. It's 2017 and not even tablets can come close to what a laptop delivers.
People don't want to carry multiple devices, especially if they are always on the move. Hence, white-collar professionals prefer light and versatile ultrabooks rather than a tablet. ASUS's ZenBook is light enough to carry that it doesn't feel like it's adding weight to the backpack you are carrying it in. My back heaved a sigh of relief when the bag contained the ZenBook UX430 instead of my fledgeling office-provided Lenovo laptop.
ASUS has launched two variants of the laptop. One with an i5 processor, 8GB RAM, 256GB storage and Intel HD Graphic, priced at Rs 74,990. The other is priced at Rs 91,990 and comes with an i7 processor, 8GB RAM, 512GB storage and comes with a dedicated GT 940 graphics card. With those prices, these laptops come dangerously close to the Apple MacBook and Dell price points. Is this laptop good enough to beat the veterans of the laptop industry? Read on to find out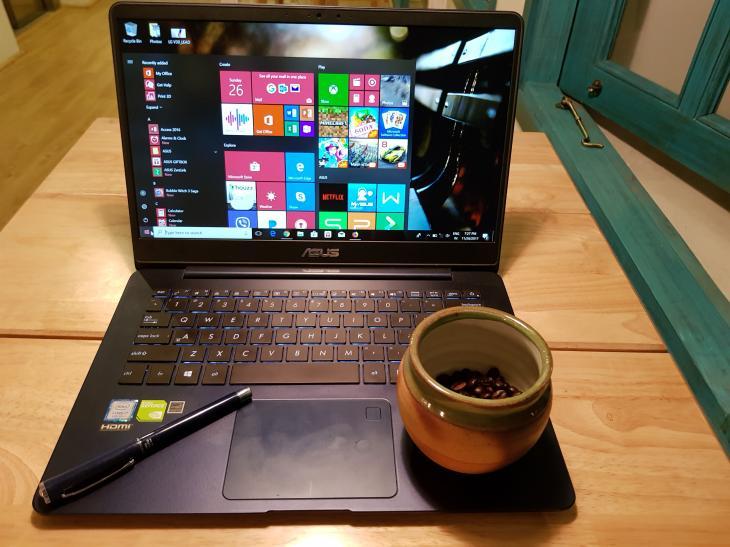 Sahil Bhalla/Catch News
Design, Display, Keyboard & Speakers
I've already mentioned the basic specifications of the laptop and so I won't harp on about them. I will start by talking about the design. Open the laptop, take it out of the box and open and close the screen. The design pops out for more than just a few reasons.

First, there is that shiny blue finish on the front lid. It is attention grabbing and a very reflective surface. Second, it attracts fingerprints like none other. Third, these smudges last more than just a few days. Keep a cloth in your pocket at all times. Fourth, it is very compact. "Deceptively large display" as ASUS says, is bang on. It's a full-sized 14-inch Full HD display in a 13-inch body.
That display at a 1920x1080 resolution is as eye-catching as they can be. It's sharp and vivid and the colours pop out. What hurts the beautiful display is the brightness levels that fail more of than not. I tested it in various lighting conditions and it just wouldn't get to an acceptable level. Lastly, ASUS has decided to not go the touchscreen route. I bought a Dell XPS four years ago, in 2013, and that has a touchscreen. A touch disappointing from the company.
It isn't a 2-in-1 and the screen doesn't bean backwards, but that shouldn't stop one from eyeing one of these laptops.
There is a backlit keyboard that is extremely comfortable to type on. I noticed little to no difference in my typing speed from my Dell XPS laptop at home. It was a pleasure typing. What disappointed me was the positioning of the fingerprint sensor. It is housed in the confines of the trackpad and every once in a while, I would accidentally hit it instead of the gestures I was going for.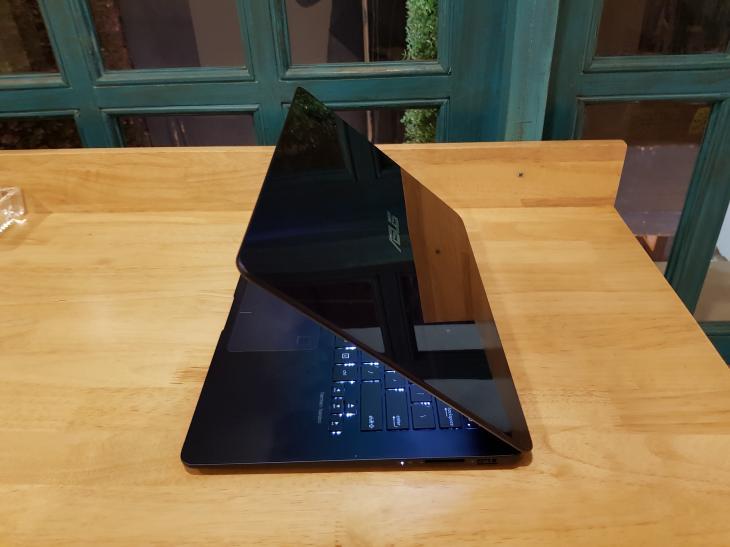 Sahil Bhalla/Catch News
What's impressive for the laptop is that it houses Harman Kardon speakers that actually live up to the brand's potential. They are loud and the sound doesn't crack at their loudest. The only problem is their location. ASUS has been using bottom-firing speakers for a while, and since this laptop can't be placed in tent mode, the sound can be muffled at times.
Couple the speakers with a great 178-degree wide viewing angle and watching high-definition movies is instant gratification.
ASUS is second only to Dell in the display department, but at no point was I disappointed.
Performance & Battery Life
Breezed by. Quite literally. This laptop ran like a cheetah. It was a tremendous joy opening 100 tabs (for absolutely no reason) and then closing and reopening them. It was a joy loading Civilization VI and DiRT 4 and multitasking between both.
This laptop has top-of-the-line specifications and none of them let the overall package down. Booting up and shutting down is as fast as one can expect thanks to the inclusion of an SSD. There were hardly more than a few instances where the browser crashed or an application failed to load.
Battery life is very much on par with other ultrabooks and that's definitely a positive. It won't last you an entire day, but you already know that before you even venture out to purchase a laptop. Under my daily medium-to-heavy workload, the laptop lasted a good 7-8 hours, and I was definitely scrambling for the charger near the end of my office day.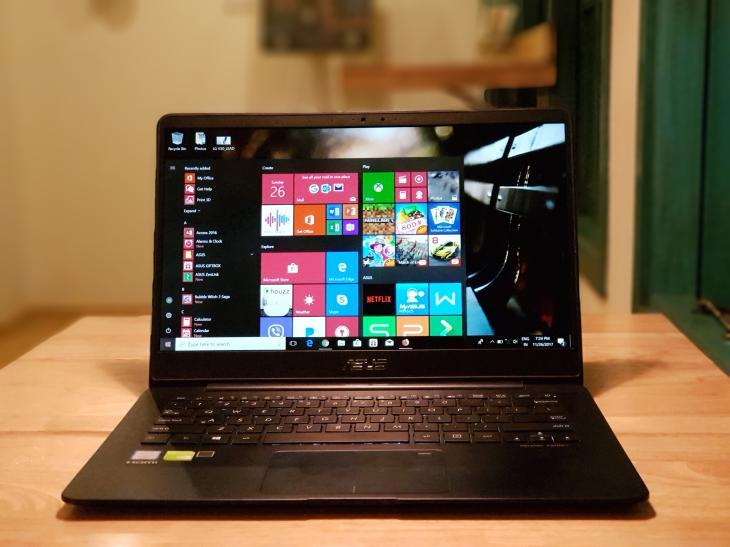 Sahil Bhalla/Catch News
While the battery life was impressive, standby time put a damper on an otherwise impressive laptop. It would drain 10-15 percent within just a couple of hours.
The laptop did not heat up, even under heavy gaming and that's a testament as to how ASUS has crafted this laptop.
Verdict
At Rs 91,990, ASUS is certainly asking for a lot. It does deliver, on most fronts.
The display beats out most in the industry.
The performance blows you away
The battery life is on par with the competition.
Exterior has been beautifully crafted
It offers a package that delivers the best of Windows 10
Light and very portable
USB 3.1 Gen 3.1 Type-C port included
If those things tick off all the boxes for you, then go ahead and purchase the ASUS ZenBook UX430. Do yourself a favour and get the i7 version. There are four - Royal Blue, Rose Gold, Quartz Grey & Shimmer Gold - colour options to satiate you.
There is, on the other hand, Dell's amazing XPS laptops, but if you are looking for another option, ASUS is waiting for the taking.