Asus ZenBook Flip S (UX370) review: A good thin and light convertible that comes up short on battery life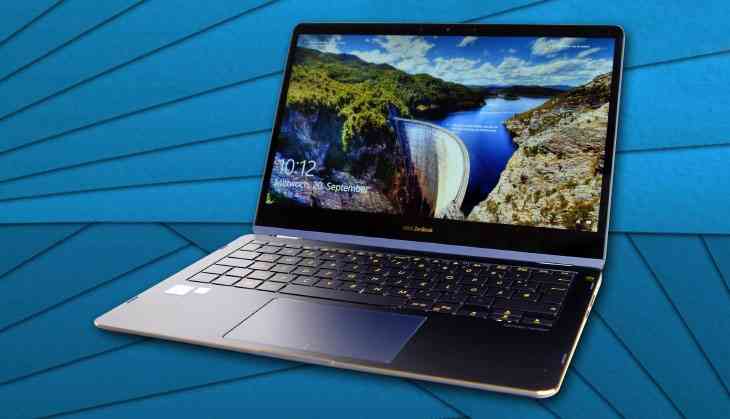 This review of the Asus ZenBook Flip S is being typed out on the 2-in-1 convertible laptop itself, which the company claims is one of the thinnest 13-inch 360-degree hybrid laptops at just 10.9mm thick.
Anyone in the market for a 13-inch laptop or hybrid has a plethora of options from Dell's wonderful XPS 13 to HP's Spectre x360. There is also Microsoft's Surface Laptop. Most laptops on offer are highly portable Windows laptops with either a clamshell design or a 360-degree hybrid, like the ZenBook Flip S. They all come with a solid state drive (SSD), 8th-gen Intel processors, HD or better display, support for a stylus and a good trackpad.
The main differentiator for Asus is the generous selection of accessories included in the box. Since it is so thin, there are no ports on this laptop. The ZenBook Flip S comes with just two USB-C ports for data and power. There is a USB-C hub with HDMI, USB-A and USB-C ports included in the box. One also gets a slim carrying sleeve and an active stylus pen (rarely seen alongside laptops).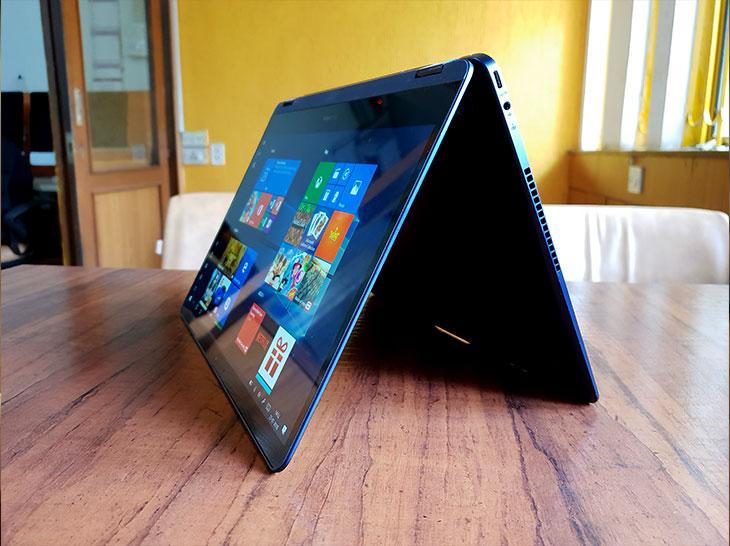 Sahil Bhalla/Catch News
The moment I took the ZenBook Flip S out of the box and powered it on, I noticed one of its weaknesses instantly. The left side of the laptop – not so much the right – gets hot, hotter than usual. Even though this laptop isn't one of the new fanless designs out there, it still got extra hot. One can definitely feel uncomfortable after using this laptop on one's lap within just a few hours.
The other problem I had with this laptop was getting the fingerprint reader to read my fingerprint. Each and every time I've had to move my finger around a couple of times to hit the sweet spot. Once I did, login was instantaneous.
The fingerprint reader is on the right side of the laptop, right next to the power button, which is another problem. One invariably hits the power button, more often than not, which in turn puts the entire thing to sleep. This isn't a problem exclusive to Asus though. A lot of manufacturers cram the fingerprint reader into the slim bezels on the side.
A premium design
The design language and build quality get thumbs up from me. The ZenBook Flip S is an extremely comfortable laptop. It's so lightweight that you forget its even inside your backpack. The lightweight nature of the convertible laptop means that the ZenBook Flip S is extremely portable. The review unit I received came in a royal blue and gold color scheme and from the first look onward; one can tell it is a stunner.
Display and keyboard
Two things I want to specifically talk about. The keyboard is quite reasonable. It's no Dell XPS 13, but it has far improved from the previous generations. It's, dare I say it, a better keyboard than the one on the ZenBook UX340 (review here). Typing is a pleasure and the feedback on each key is pretty good. It comes with backlit keys, which is nice.
Despite having just a 1,920x1,080-pixel resolution (quite average these days), it is a very bright display. Viewing angles, whether in laptop mode or tablet mode, is great. I watched a couple of YouTube videos with three people, and no one complained about not being able to view the content on the screen.
Again, it isn't a perfect entertainer. The speakers aren't quite loud enough. The speaker is mounted under the front lip, and doesn't come out with great clarity.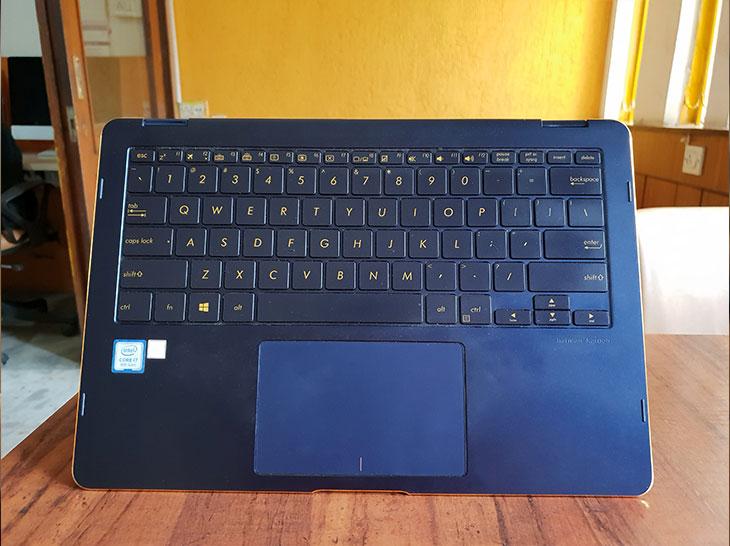 Sahil Bhalla/Catch News
Quite a good laptop suffering from poor battery life
Overall, I found absolutely no problems with the performance of this laptop. The Core i7 8th-gen CPU was definitely no slouch. Playing games, watching movies, multitasking, having 30 tabs open simultaneously on Google Chrome, and more. The laptop held up well.
The battery life though wasn't satisfactory. It lasted about six and a half hours of regular usage – watching videos, chatting on WhatsApp web, typing out articles, and having multiple tabs open – which is on the lower side of other similar laptops. To compensate for this, Asus has made sure that the battery charges relatively fast.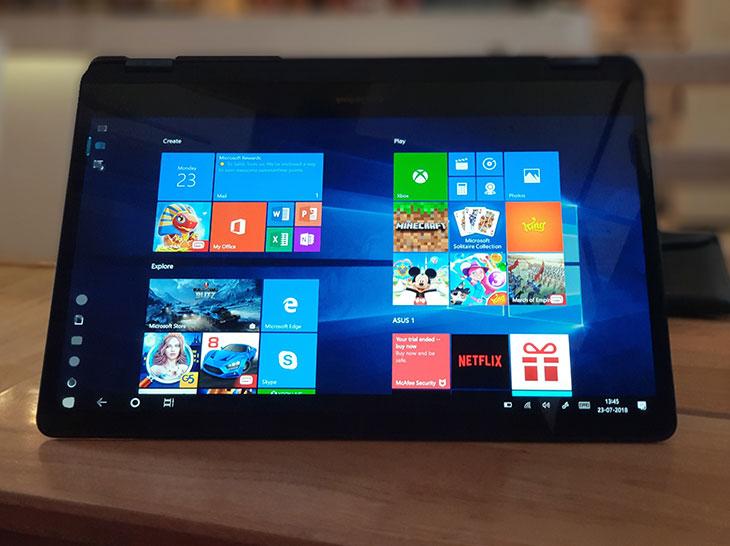 Sahil Bhalla/Catch News
The bottom line
If convertibles aren't your thing, then you can instantly dismiss the ZenBook Flip S. If you like laptops with a good touchscreen display, superfast performance, and good viewing angles, then the ZenBook Flip S is the one to get.
No laptop is perfect, but Asus has made a sturdy and durable convertible here. The 360-degree hinge showcases the premium build quality of the laptop. Adding a stylus in the box is definitely a bonus. Battery life is a major downside and at a price of Rs 1,30,990, one expects more in that department.
It instantly loses out in battery life and pricing with respect to the competition. On its own, the ZenBook Flip S holds up well, but as a whole, it doesn't stand out.
It looks great, feels good and performs smoothly. It charges fast and is ultraportable. That sums up the ZenBook Flips S.