2017 Consumer Electronics Show is officially a go: Gadget announcements galore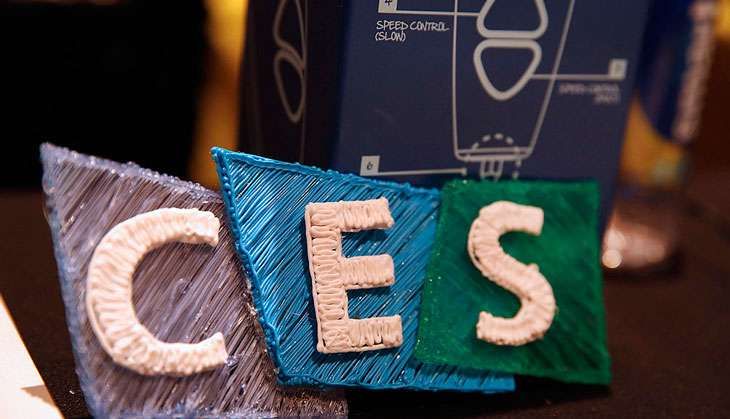 Tuesday, 3 January, meant the official opening of the Consumer Electronics Show in Las Vegas. With it come speeches, launches, weird and strange gadgets and just a ton of people descending upon the convention floor over the next few days. Luckily, Tuesday was the first of the media days and so the craziness happened on stage, rather than off it.
The infamous company Faraday Future unveiled a car that you will probably never own, while LG trotted out a 4K speaker (whatever that is supposed to mean). There is a smart toothbrush with embedded AI to sate a need no one has ever had and a smart hair brush to replace your apparently stupid brushing.
Now available for your cat is a smart cat feeder, essentially removing the last mile connectivity between cats and humans (if that is even possible). There is also a smart shirt that is comfortable to wear (who would have thought?) and an Android-powered smart bike. We were also introduced to a whopping $9,000 gaming laptop and, lastly, the news that Chromebooks aren\'t dead!
Safe to say, it was a massive day. As well as fodder for the next season of Black Mirror. In case you missed out on the deluge of news literally thrown at you every minute, this list should have you covered.
Kolibree and toothbrushes. Yes, Kolibree has taken a toothbrush and made it 'smart'. The Ara is the first-ever toothbrush with embedded AI. As is standard with any 'smart' device, this one will have a bunch of sensors that will monitor how long you brush for, which areas of the mouth you most frequent and more. Probably because dentists are butchers in doctors' clothes.
The data will then be analysed using Kolibree's "patented deep learning algorithms" and recommendations will be thrown up on how to up your brushing game. The toothbrush is now available for pre-order at a price of $80. When it goes on sale to the public in March, it'll retail for a slightly more expensive $130.
PS: Ara comes with mobile games that you play by brushing your teeth. Yes, that's a thing now.
LG claims its latest soundbar speaker, the SJ9, has a 4K high resolution. Technically a 4K speaker cannot exist because pixels don't exist in the audio world, but hey! LG is rewriting the reality.
The troubled car startup had its moment in the sun and it didn't go down so well. The startup, Faraday Future, unveiled, after much delay, its first production car that, at the moment, is being dubbed the FF91.
It was a lavish event. The car, after many hiccups, parked itself. Faraday Future now has a car, but with uncertainties over finances, no one knows whether they will ever be able to buy one of these. Only 300 "Alliance Edition" units will be available at launch. First deliveries are expected to happen in 2018.
The cars battery has a 130 kWh capacity. With a range of 378 miles (about 608 kilometers) and a 1,050 horsepower engine, it does 0-60 in just 2.39 seconds. It's apparently the most connected car in the market.
The Internet of Things (IoT) has officially exploded. It has now brought wireless connectivity to a hair brush. Yes, you read that correctly.
Nokia-owned Withings, L'Oreal's innovation lab and Kerastase, a high-end L'Oreal hair product brand, are to blame for this. They just unveiled a WiFi and Bluetooth equipped hair brush. It apparently shows data according to your brushing habits.
The goal is for you to take better care of your hair. They're aptly calling it the Hair Coach. It has a microphone, an accelerometer and a gyroscope, and some other sensors for analysing brush strokes and a bunch of other stuff that hardly matters to short-haired people like myself.
Eventually, all this data is then shared with your mobile phone, wirelessly, of course. Priced at a cost of $200, it's going to ship in mid-2017.
Polar is now selling a smart shirt. It has a multitude of smart sensors and this one is focused upon team sports - the fount of creativity that they are, they're calling it the Team Pro Shirt. The data, as always, is shared wirelessly to the Team Pro mobile app. No news on when it will ship and at what price. It'll be available in bulk for teams starting March of 2017.

Ever wanted a cat but not actually have to deal with feeding it yourself? Evidently, someone like Catspad has too.
Catspad is an automated smart cat feeder and allows for the cat to "eat dry food and drink clean water for up to one month without any direct physical intervention from a human owner". The device is from a French-startup by the same name and will go live on Kickstarter shortly.
Here's how it works, "By connecting to Wi-Fi via the Catspad mobile app, the dome-shaped food and water dispenser can be automated during certain times of the day. So you can arrange food deliveries by weight -- sensors in the food bowl detect how much kibble is present -- and monitor how much clean, filtered water is left over after each day. Catspad holds up to 60 ounces of dry food, and about 8 liters of water. The company says that should be enough for one cat to live autonomously for up to one month, so long as you've set up the food delivery schedule and keep tabs on the water supply".
03
Qualcomm's Snapdragon 835 has finally been unveiled
Qualcomm's Snapdragon 835 is touted to be a part of a number of high-end smartphones starting this month. It's smaller, offers improved battery life and even a better VR experience. It's the successor to the Snapdragon 820 and consumes 25% less power. It comes with the latest Quick Charge 4.0 and is fully compatible with USB-C.
04
2TB of storage in the palm of your hands
Traveling with a preposterous amount of storage in a device that fits in your hand is now a reality. Kingston's DataTraveler Ultimate GT is the "world's highest capacity USB flash drive" and is available in a 1TB size or an even larger and unnecessary 2TB. Both will retail in February of 2017 even though no price has been announced yet.
Bodytrak is a company you've never heard of. That's the deal with a lot of what is on showcase at CES. Nonetheless, they do have a pretty neat solution to measuring core body temperature. No, it's not a pill (as athletes are used to). It's a wearable.
A wearable gadget that uses an in-ear thermometer for this effect. It does the basic fitness tracking stuff as well. The gizmo is called Bodytrak, same as the UK startup's name.
It connects to your phone or even a smartwatch and transmits the data in real time. Since it's stuck inside your year, the company has decided to make sure it is able to play music as well as being used for augmented audio. It will go on sale in the summer, but no price tag was released.
Another startup, another in-ear gadget. This time it is an audio startup that goes by the name Earin. They launched a new pair of wireless earbuds with built-in touch controls. The M2 earbuds, available sometime in Q1 will retail for $249. They will last three hours on a single charge but a carrying case will add about 12 hours of juice. The two earbuds are connected using Near Field Magnetic Induction (NFMI). NFMI essentially allows for a more stable connection between the two earbuds.
Finally, Bay Area startup Ashley Chloe has announced the $199 Fuse wireless earbuds. A media house reported on these earphones, "These tiny ceramic buds magnetically snap into a cylindrical adapter that can fit into four different kinds of charging cases - including two you can wear". They'll be available near the end of 2017.
06
Digital assistance for the child
Yes. Mattel has come out with a costly $300 gadget for the kids in your house. They've built a digital home assistant that will look after the youth of the household. It's named Aristotle and is a Wi-Fi Bluetooth speaker. Boil it down and it is an Amazon Echo clone.
It does two things in essence. Firstly, there is a female assistant that will read bedtime stories to the children. The second, is Amazon's Alexa assistant that any adult can operate to order things for the kids like diapers.
07
Acer's utterly insane laptop that no one will buy
Ever thought of blowing $9,000 on a laptop? Well, thanks to Acer, you can now do just that on the "world's first curved laptop".
Acer's new Predator 21 X gaming laptop is simply over-the-top. It's got a curved display - a 21-inch, 2560 x 1080 resolution IPS display - and looks hideous. It also weighs a whopping 17.6-pounds.
While the outside might not be up to task, the insides are. It's got two GeForce GTX 1080 X graphics cards, Intel's latest processors, up to 64GB of RAM and four unnecessary 512GB solid state drives. Each and every unit will be made to order (Acer isn't expecting anyone to actually want one).
There is a cheaper Predator 17X launching alongside at a slightly saner $2,599, but there is a doubt as to whether anyone will pick that one up either.
08
Chromebooks are far from dead
Acer has come out with a 'military grade' durability laptop for just $229.99. The laptop is targeted for use in a school setting. The Chromebook 11 N7 is probably the toughest Google-powered notebook out there.
Asus has launched a $500 USB-C convertible Chromebook. It's being called the Chromebook Flip C302. It has no USB 3.0 ports, instead it's all in the USB-C life. It's got a 360-degree hinge. It's got standard specs one would expect. Pick it if, and only if, you want a convertible Chromebook.
The troubled Chinese company, LeEco, has come out with Android-powered smart bike that is coming to the USA. It's announced not one, but two smart bikes. Both run a customised BikeOS flavor of Android and will be available in Q2 of 2017. Pricing was not revealed.
The Smart Road Bike and the Smart Mountain Bike weight 18.5 pounds and 26.9 pounds respectively. They all the basics that a bicyle would have. Each bike has a Snapdragon 410-powered 4-inch touchscreen. The screens are able to run thanks to a massive 6,000 mAh removable battery.
They have turb-by-turn navigation thanks to Here Maps integration and even a walkie-talkie to let you talk to other LeEco smart bikes in the vicinity. What's more, the bikes come with an accelerometer, barometer , lights, horn, an alarm, a compass and even support for third-party accessories.
10
Toshiba's long-lasting convertible laptop
16 hours. Yes, you read that right. Toshiba announced the Portégé X20W two-in-one computer that lasts an impressive 16 hours. Specification-wise and it's pretty standard. Got Intel's latest seventh-gen processors, USB-C port for charging, and a 360-degree hinge.
11
Blackberry is alive and so are the physical keyboards
TCL is a company no one has heard of. You'll now want to hear of it because it owns the exclusive rights to Blackberry-branded phones.
TCL has now put up a teaser of the latest smartphone and it has a physical keyboard. Probably there are some souls out there who still like to hit the actual key. The phone is codenamed Mercury and will feature what some are calling "strange and unusual" 1620x1080 resolution. It runs Android, which will please most.
imPRESSively designed. distinctly different. #BlackBerryMobile#CES2017 pic.twitter.com/MGvvGXOtvi

— Steve Cistulli (@SteveCistulli) January 3, 2017
12
Amazon Fire TV and Alexa powered 4K TVs
Westinghouse, Element, and Seiki, three brands that are unheard of. Their latest 4K TVs will be based on Amazon Fire TV OS. No details on the differentiating factors between them but the sizes have been revealed. Four TVs, four sizes: 43-inch, 50-inch, 55-inch, and 65-inch.
13
More wearables that no one will buy
Mio Global, a Vancouver-based startup that is virtually unknown, has unveiled the Mio Slice that is a "wrist-worn activity tracker with optical heart rate sensors".
It runs a PAI (Personal Activity Intelligence) algorithm that gives you a score. Mio at its heart, thinks that the 10,000 steps goal is useless and heart rate is the best way to track activity. It's on sale starting today and retails for $129 and even comes in four colours.