10 years of Apple's iPhone! 8 things to expect at the 'iPhone 8' launch event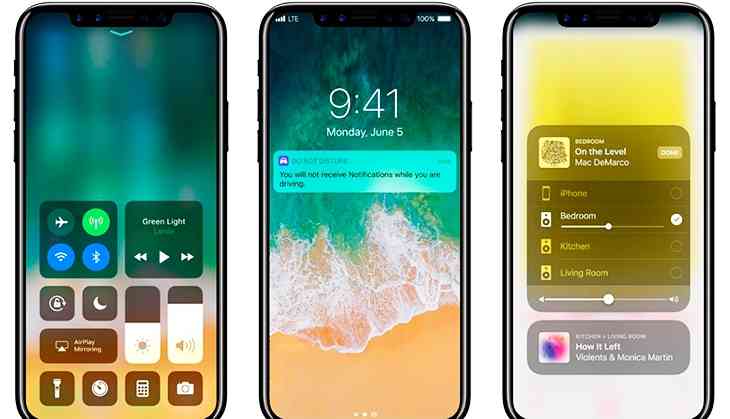 It's official. Apple iPhone 8 looks ready to debut on 12 September at the all new 1,000 seater Apple Park's Steve Jobs Theater, with CEO Tim Cook leading the event. This event marks the tenth anniversary of Apple's iPhone, which of course, is a significant milestone. Apple hosts two main events a year - WWDC and the fall announcement of the iPhone - and for at least a month prior, the hype machine goes into overdrive.
Whether or not an iPhone 8 is released (the name isn't confirmed as yet), here are eight things (not all confirmed) to know about the upcoming event that is just over a week away.
1. Three iPhone models
Multiple reports are pointing towards Apple launching three new iPhone models. There are going to be two souped up iPhone 7 models. The iPhone 7S and iPhone 7S Plus. These two will be priced in line with last year's models. The third device, iPhone 8, will be the futuristic pro model that will cost almost $1,000 (Rs 65,000 approximately).
2. Bezel-less iPhone 8
2017 has been all about the move to a bezel-less display, and Apple will be following suit.
A photo, discovered in Apple code, has confirmed that iPhone 8 will be featuring minimal bezels. As we already know, Apple is going to use Samsung's excellent OLED display technology.
It may be an 'infinity display' or just a bezel-less display. As leaks suggest, Apple's iPhone 8 will feature a 5.6-inch display and its top portion will feature the front-facing camera and other sensors, and hence won't be completely bezel-less.
3. Home button no more
Yes, you read that correctly. The home button, that has been a staple since the first iPhone 10 years ago, will disappear. Bezel-less displays have no place to 'house' the home button and Apple's iPhone 8 will also ditch the physical home button. Some say that Apple may do a Samsung Galaxy S8 and stick the homepage on the back, but that is unlikely.
The future, as shown by Vivo earlier this year, is placing the home button under the display. The technology isn't ready to be mass produced and we can safely expect Apple to wait until next year to implement this technology.
4. Wireless charging
Wireless charging has not been seen on many devices but that is all set to change with the new iPhone models. Apple has offered this feature for many years but finally, it is coming to the iPhone.
Some rumours are saying that the wireless charging feature won't be available at launch but will instead come via a software update to the iPhone 8 at a later date.
5. Facial recognition
Sans the home button, people are going to find it hard to secure their device and pay for various things. The solution? Facial recognition.
Apparently, Apple's facial recognition will be far more advanced than anything seen before. More reliable and much faster than traditional fingerprint sensors. The main question out there is, will it work in low light?
6. A revamped dual-camera system
Some rumours point toward Apple adopting a modified two-lens layout. The camera will be rotated 90 degrees and run alongside the phone's right side.
The iPhone 8 will adopt the two-lens layout that was introduced with the 7 Plus, but with one minor revision: The camera will be rotated 90 degrees so it runs along the phone's right side.
With the improvement in technology, it's a no-brainer that the photos will be better on the iPhone 8. This time around though, the software is taking over and will feature big improvements.
7. An expensive iPhone 8
People are going to go bonkers about the price of the new iPhone 8. Rumours have it starting at $999. Though the more likely price is $949, we will just have to wait and see.
The iPhone 7S and iPhone 7S Plus will be significantly cheaper, but by just how much is yet to be seen.
8. 4k Apple TV and Apple Watch Series 3
It is likely that alongside the iPhone models, Apple will also release a small upgrade for the Apple TV. It is also considering launching a new Apple Watch. Since Apple is focusing entirely on the iPhone, the Apple TV update will be as an aside. Hence it's the same as the last model, just with added 4k capability.
We've long heard rumours of a new smartwatch and while there isn't any confirmation yet, Apple isn't going to hold a separate event just to launch a new version of its popular Apple Watch series.
Since Apple's Watch is more an iPhone accessory than a standalone device, we can safely expect the Series 3 to be introduced at the event on 12 September.