With Dalits or against them? Schizophrenia writ large in BJP's ranks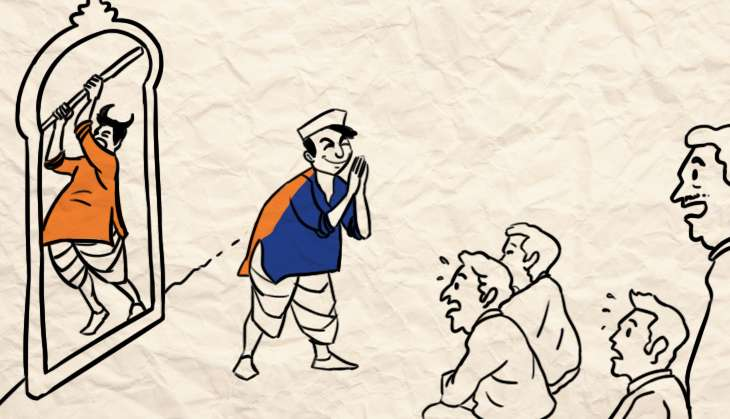 BJP's Dalit conundrum is worsening with every passing week. Two big elections in the pipeline have necessitated a massive outreach to the Dalit vote. Instead, the party's leaders are stumbling upon themselves in exposing an anti-Dalit character. The doublespeak is evident and the party is finding it hard to hide.
The latest entry in the list of BJP leaders on the wrong side of the party's avowed Dalit policy is T. Raja Singh, who represents Hyderabad's Goshamahal in the Telangana Assembly. In a video being shared widely on Facebook, he can be cleary seen endorsing the recent flogging of Dalits in Gujarat's Una for allegedly skinning a dead cow.
Singh talks of teaching a lesson to anybody who kills cows and declares that similar treatment will be meted out to anybody who does it in the near future. He also appeals to all cow-vigilantes not to feel thwarted by obstacles they might face in their task because they must achieve their ultimate goal of getting the cow declared as 'rashtra-mata'.
On his website, Singh claims to be a cow-vigilante himself and to be running a group to protect cows since 1995. He was with the Telugu Desam Party (TDP) earlier. Now, he claims to be "promoted as a National Leader by the Hindu's of Bharat", having grown up "in the shadow of RSS".
Singh's exhortation is at variance with what Home Minister Rajnath Singh told the Parliament on 20 July. Singh said that the government "strongly" condemns the Una incident and that "atrocities" against Dalits are "a social evil". The RSS too, had issued a statement condemning the incident, terming it "oppression of Dalits in the name of cow-protection". Will the BJP and RSS take any action against Singh now?
The party did take action against one of its leaders - Dayashankar Singh - in Uttar Pradesh. Singh had used derogatory language against Bahujan Samaj Party (BSP) supremo Mayawati. BJP expelled Singh and he has now been arrested, but the party is trying hard to project his wife as a victim, in a bid to retain the support of upper-castes. Thus, in a strange, schizophrenic kind of way, the BJP is trying to be seen with the Dalits as well as against them, simultaneously.
Party chief Amit Shah doesn't accept that they lost Bihar because of the backlash against RSS chief Mohan Bhagwat's anti-reservation comment. However, the danger of losing at least the Dalit vote in UP as well as Punjab is very real now. Gujarat is still burning in the aftermath of the Una incident.
One among the 20 youth who had consumed poison in protest against the incident has died. The state capital Ahmedabad has been shaken by a mega Dalit rally. The portents are heavy for the BJP.
Also read: Sabarmati rally: why show of Dalit-Muslim solidarity bodes ill for BJP