Will they or won't they? Congress-AIUDF give mixed signals on alliance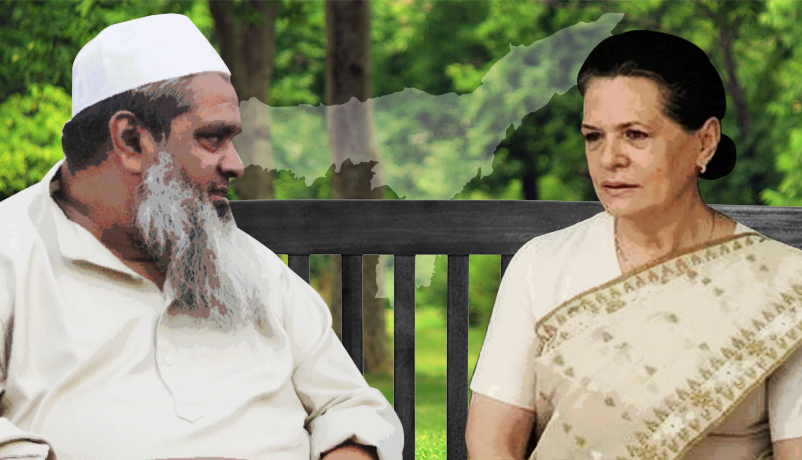 The speculation
There is still no clarity on whether Congress will align with any party in Assam
The party has been in talks with both AGP and AIUDF
The overture
AIUDF is supposedly keen on an alliance. Some say Congress wants an \"understanding\"
The argument is that anti-BJP parties need to come together
More in the story
Why does the Congress need a tie-up?
What is the AIUDF\'s stand?
There are less than 3 months to go for the Assembly elections in Assam but political parties appear to be exploring various options as far as alliances are concerned.

Last year, there was speculation that Congress could forge a grand alliance with Bodoland People's Front (BPF), Asom Gana Parishad (AGP) and All India United Democratic Front (AIUDF). But later BPF decided to go with BJP and Congress announced it won't have any truck with AIUDF.

Now, even as Congress is supposedly nudging at least AGP to join hands with it, reports suggest that it could be moving towards an understanding with AIUDF, if not an alliance.

Also read: Prashant Kishore doesn't think Gogoi should lead Cong in Assam

Apparently, AIUDF chief Badruddin Ajmal trying to convince individual Congress leaders of the benefits of such an understanding to counter the BJP.

However, Chief Minister Tarun Gogoi and Assam Congress chief Anjan Dutta have conveyed that they are dead against any alliance with Ajmal's outfit. The party high command has been indicating in the last few months more than ever, that it will support whatever suggestions come from state units.

AIUDF too would like everyone to believe that it is not eager for the alliance, as Catch has already reported.
Alliance or understanding?
Asked about the possibility of an understanding with the Congress, AIUDF leader Haider Bora told Catch that Ajmal has been very categorical in saying that any friendship between the two parties will be in the form of an open alliance, not a secret understanding.

Prof Chandan Kumar Sharma of Assam's Tezpur University agreed that the possibility of an understanding between AIUDF and Congress cannot be ruled out. Sharma explained that earlier, Congress had an alliance with BPF, which is going to support BJP this time. This, according to him, is a setback for Congress because it is not entirely confident of coming to power on its own this time.

The reasons, according to Sharma, are an anti-incumbency of 3 terms against CM Gogoi and the lack of any star-campaigner following the exit of Himanta Biswa Sharma. Sharma, a former cabinet minister, fell out with Gogoi and joined the BJP along with a large number of supporters last year. Prof Sharma feels that Congress and AIUDF leaders could be merely posturing right now and might join hands later.

Also read: Gogoi does a Nitish: Decoding the Assam CM's tirade against outsiders

Dr Sanjay Barbora, Associate Professor at the Tata Institute of Social Sciences, Guwahati, begs to differ. According to him, AIUDF's vote base can not be ignored since these are people abandoned by every other party. With such a base, the party is an eyesore for the Congress and is unlikely to give it a walkover."

Barbora also observed that unlike Bihar, there doesn't seem to be any campaign by parties in Assam to come together to keep the BJP out. He feels that the post-poll scenario will be very different.
Behind the scenes
Both analysts, however, agreed that political developments in the state are changing every few days and it is very hard to predict who will go with whom eventually. The state saw a surprising development recently, when Congress MP and the CM' son Gaurav Gogoi met Himanta Biswa Sharma on 10 January at a Circuit House in Nagaon.
Gogoi tried to clarify that he all he did was to inquire about Sarma's health and discuss the HRD minister's recent tour to the state. But Ajmal grabbed the opportunity to allege that Congress and BJP have a secret understanding, a claim he has made many times in the past.
Expect many more twists as the elections draw closer.
Also read: As Gogoi stares at anti-incumbency, Congress warms up to AIUDF