Will surgical strikes help BJP surge in UP? Analysts say polls too far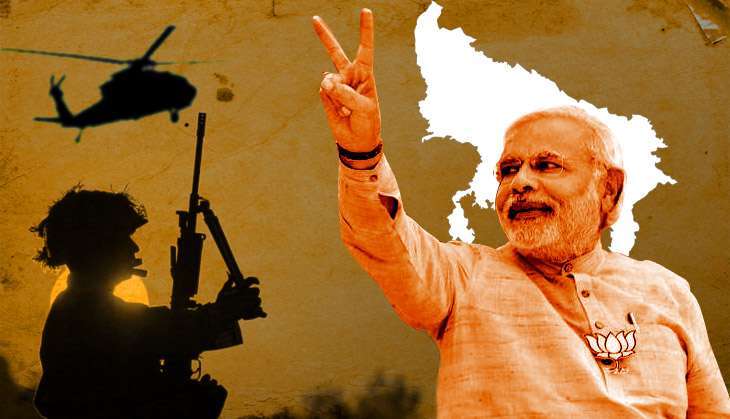 Over past several weeks, political circles in Delhi were abuzz with one particular reason why the NDA government could launch an attack on Pakistan. Speculation was rife that once a successful attack happened, the BJP would be able to hit the right note with the masses everywhere, including Uttar Pradesh, and use that to its advantage in the forthcoming Assembly polls in the state.
Now that the cross-LoC 'surgical strikes' have been announced, and are being celebrated, it's time to ask whether this will impact the UP voter.
The strong public opinion in India against Pakistan after the Uri attacks is the reason why the government announced the strikes so proudly, and why the Opposition welcomed it unanimously. It is clear that all parties believe that the issue does have resonance with the average Indian voter everywhere.
So, will it impact the UP polls? And if yes, then how much? Catch spoke to some distinguished political analysts who have been watching the twists and turns of UP politics for a long time.
Experts' view
Professor Badri Narayan of the GB Pant Social Science Institute, Allahabad, feels the BJP will definitely get political mileage, but only momentarily. He says there is frenzy and war hysteria right now, but how long it will last is hard to say. He adds that the middle class is excited, but this war psyche will not matter much for the marginalised sections among the voters, like the Dalits. He essentially indicates that it is doubtful whether this sentiment will be alive when the polls are actually held.
Political analyst Professor Pramod Kumar concurs with Narayan. He too mentions war frenzy and says that if the polls were to be held right now, the BJP would benefit hugely. He says this benefit would come from all sections of voters, because war hysteria affects everybody.
"A large number of people have been expecting this kind of action for a long time, and now that it has finally happened, they are happy. However, the polls are still far away, and given that public memory is usually short, I doubt whether this sentiment will survive for that duration," Kumar notes.
Lucknow-based senior journalist Ram Dutt Tripathi dismisses such speculation as premature. He says the government and the army's claim of the strikes is yet to be verified, and in the absence of verification, it seems more propaganda than reality. Prime Minister Narendra Modi's popularity graph has been on the downswing, so it is quite possible that a propaganda campaign has been launched to revive it. There have been such strikes earlier, too, but they were not accompanied by publicity, Tripathi notes.
"Who knows what facts might emerge once these claims are verified? Will those facts help the BJP or damage it?" he says, agreeing with the other analysts on the significance of the fact that the polls are still being about six months away. This period, he says, is enough for everybody's graphs to rise and fall.
A political observer from the state, who did want to be identified, says the ones cheering the strikes most right now are upper caste Hindus - Brahmins, Thakurs and Baniyas. The Dalits and Muslims are not concerned, and they constitute BSP supremo Mayawati's core constituency, which means the war hysteria will not affect the BSP's vote-bank.
He adds that even among the upper castes, the vote will be divided because Congress vice-president Rahul Gandhi's ongoing roadshow campaign is appealing to the Brahmins, apart from farmers.
He also notes that a question worth pondering over is that if war indeed breaks out between India and Pakistan before the UP polls, what will be the BJP's game for the 2019 Lok Sabha polls? He says that if the party hopes to achieve momentum before the UP polls with the help of war, it will not be possible to sustain it till 2019.
Attempts already on
BJP leaders across the country, and especially in UP, have already started their attempts to derive political mileage out of the strikes.
The party's chief in UP, Keshav Prasad Maurya, has even coined a slogan "56 inch ka seena hai, sar utha ke jeena hai" (We have a chest of 56 inches and we have to live with our heads held high), saying that the Indian Army has taught this lesson to Pakistan in the latter's own language.
However, this story is far from over, as India and the world anxiously awaits Pakistan's next move.
Edited by Shreyas Sharma
More in Catch
Indo-Pak standoff: Be on guard, avoid chest-thumping, say experts
Border tension: Nobody to evacuate on land, Gujarat remains vulnerable from the sea
Punjab farmers suffer: Was evacuation of border villages avoidable?