Will he or won't he? How Rajinikanth joining politics ultimately works out in BJP's favour
S Murari
| Updated on: 24 June 2017, 18:41 IST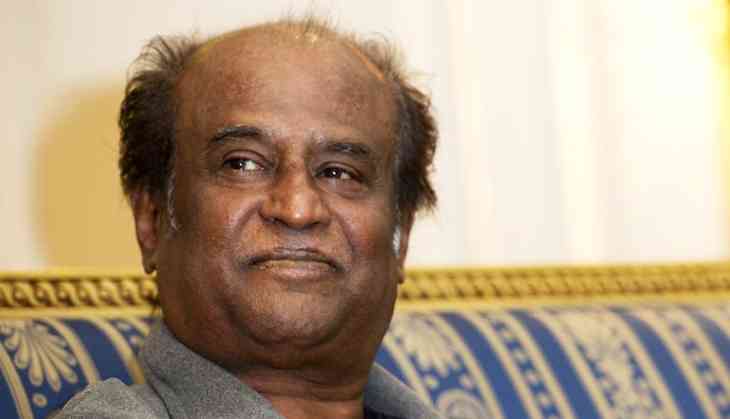 (AFP PHOTO/MIGUEL MEDINA)
Tamil film superstar Rajinikanth has decided to enter politics with a party of his own, says his close adviser and RSS functionary S Gurumurthy.
Gurumurthy, who succeeded Cho S Ramaswamy as editor of Tughlak, told an English news channels that – "Rajini is definitely entering politics". However, Gurumurthy added that was for Rajini to take a call on when.
Gurumurthy explained that the superstar was "a tall person" and would not fit into the hierarchy of the BJP. Therefore, he may float his own party and align with the BJP and campaign for the elections in Tamil Nadu.
However, the spokesperson of the BJP, GVL Narasimha Rao, is more circumspect. He told another channel –
"Rajini is a superstar and so is (Prime Minister) Modi".
Rajini needs time to evolve as a leader, said Rao.
Speculations galore
The statements of both the leaders show that the BJP and the RSS are putting tremendous pressure on Rajini to take the plunge.
Quoting Gurumurthy and sources close to Rajini, one channel has said – "He has already finalised the name of the party and the symbol will be the Yoga mudra he made famous in his movie Baba."
However, controversial senior BJP leader Subramanian Swamy dismissed all talk of Rajini entering politics as "media hype". In fact, he said that Rajini should not enter politics and added that he has "substantial proof" of financial irregularities committed by the actor and it will "knock down his political ambition".
And as history has witnessed, Swamy cannot be ignored.
Swamy had carried on a relentless campaign against the corrupt and autocratic Jayalalithaa regime from 1991 to 1996 and was the first to file the disproportionate assets case against her which eventually led to her conviction by a Bengaluru special court 18 years later. The allegations were later confirmed by the Supreme Court.
Swamy's contention with Rajini is that the superstar was nowhere in the scene during the five years of Jaya's misrule and he came out with a statement only on the eve of the 1996 elections that if she was voted back to power not even god could save Tamil Nadu.
As a result of this well-timed statement, Rajini walked away with all the credit for Jayalalithaa's downfall.
But then, after she returned to power in 2001, Rajini made peace with Jaya, hailing her as "Dhairiya Lakshmi" – a brave lady.
Mixed opinions
The differing statements from the Sangh Parivar show that the BJP yet to decide what should be Rajini's role in its plan to come to power in Tamil Nadu. The party wants to exploit the vacuum that has been created in Tamil Nadu after Jayalalithaa's death and the virtual retirement of ailing Dravida Munnetra Kazhagam (DMK) President Karunanidhi from active politics.
Modi's right man and strategist Amit Shah has only said that Rajini is welcome to enter politics.
Modi, who had an excellent rapport with Jaya, has saved the All India Anna Dravida Munnetra Kazhagam (AIADMK) from the clutches of the Sasikala clan.
But he has not been able to stop Sasikala's proxy Edappadi K Palaniswami (EPS) from forming the government with the support of 123 MLAs.
Under pressure from the BJP, both Palaniswami and O Panneerselvam (OPS) have distanced themselves from Sasikala, who is in a Bengaluru jail as a convict in the disproportionate assets case, and her nephew TTV Dinakaran whom she had appointed as deputy general secretary of the party.
The BJP allowed the Tamil Nadu government, however unstable it may be, to continue as it wanted the votes of the AIADMK legislators for its presidential candidate Ram Nath Kovind.
Now, not only have EPS and OPS seconded Kovind's nomination, Dinakaran has also said that his supporters will also back him.
What next?
Once the presidential elections are over on the 17 July, moves will be initiated to ease the EPS government out of office.
On the basis of Election Commission's (EC) complaint against Dinakaran on the distribution of money in the RK Nagar by-election, the city police have registered a case. The EC, however, has not named the accused.
But a diary recovered from Health Minister C Vijayabaskar's residence by the income-tax officials show that Edappadi and seven other ministers were tasked by Dinakaran to bribe voters.
The DMK working president and Leader of the Opposition MK Stalin has already moved the Madras High Court for an enquiry by the CBI and the Enforcement Directorate (ED) to trace the money trail. Stalin based his case on EC's 34-page report and the sting operation carried out by a private television in which legislator SS Saravanan is seen saying that the MLAs were offered bribes ranging from two crores to ten crores when they were sequestered in a beach resort ahead of the confidence vote in February last.
The high court has issued a notice in this case.
Once a case is registered against Palanisamy his position will become untenable. And if this government falls, President's Rule will become inevitable as no alternative government is possible, given the composition of the present Assembly.
Once out of power, the two factions will have no difficulty in merging to reclaim the 'Two leaves" symbol made famous by AIADMK founder MGR.
Other possibilities
Another theory doing the rounds is that if Rajani forms his own party, the majority of the AIADMK legislators will gravitate towards him as he will do good in filling up the space of a charismatic leader left empty by Jaya
The BJP's plan is to force the two factions to align with it and also tag Rajini, if and when he forms his party, and go to the people.
As Gurumurthy put it earlier, the BJP strategy is to "cleanse the AIADMK of corrupt elements" and go to the people with Rajini's support.
The only sticking point is – where does Rajini come in BJP's scheme things?
It is inconceivable that BJP will do all the groundwork only to finally let Rajini walk away with the trophy.
Moreover, Modi has never projected any one as a chief ministerial candidate in any state election where he has led the campaign, including Uttar Pradesh. Why should Tamil Nadu be an exception?
It is because the people here vote for personalities and a CM candidate has to be projected accordingly?
And it is here that Rajini fits the bill – say those close to him.
Rajini Vs Stalin?
Reports have that Rajini will take a call after finishing the shooting of his current film Kaala which will be over in a couple of months. It is being said that thereafter, he has plans to visit the US for rest and recuperation and will return in December to launch his party.
If Rajini enters politics, it will lead to a major realignment of forces. In anticipation, Stalin already turned Karunanidhi's 94th birthday celebration into an occasion to bring together all Opposition parties against the BJP.
Stalin already has allies in the Congress and the All-India Muslim League. The two left parties, which are now with a third front, may also join to resist BJP's entry into Tamil Nadu.
If BJP comes with the company of Rajini, then Stalin may go for a grand alliance by roping in the Pattali Makkal Katchi (PMK) and actor Vijayakanth's Desiya Murpokku Dravida Kazhagam (DMDK).
The catch is the 2G spectrum case in which his step-sister Kanimozhi is the prime accused. If it goes against her, it will be a severe blow to Stalin's plans.
If Rajini is 67, Stalin is 64. Unlike Rajini, he has been in politics for over 40 years and if he misses this chance, he will never realise his ambition of becoming chief minister.
So it will be a no-holds-barred fight in which Rajini identity, his refusal to take a stand on the Cauvery issue because he is from Karnataka and his failure to get his fans involved to help after the Vardah cyclone and December 2015 floods – will be brought into focus.