Fresh from the ground: Why Tej Pratap is giving Lalu Yadav sleepless nights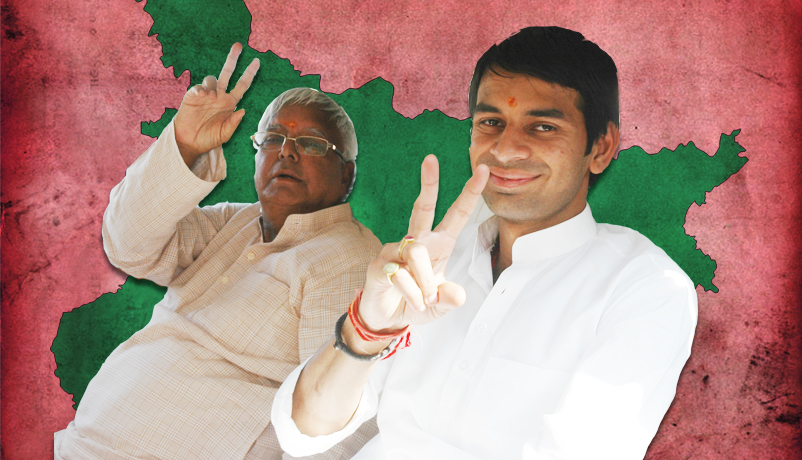 The scion
Lalu Prasad\'s son Tej Pratap is contesting his first election from Mahua
Lalu is working hard to ensure his victory. He addressed a rally there on Monday
The challenge
Tej Pratap\'s main opponents are HAM\'s Ravindra Rai and RJD rebel Jogendra Rai
More in the story
What do the people of Mahua say about Tej Pratap\'s chances?
Why is Lalu Prasad worried?
The narrow lanes of the main market in Mahua are bustling with activity. Everyone seems to be headed in the same direction: Gandhi Maidan. The maidan filled up in no time. The star attraction was Lalu Prasad.
Though the crowds are an indication of the RJD chief's popularity, the party's rank and file worked very had to make the rally a success. The reason: Lalu's elder son is making his electoral debut from the Mahua Assembly seat in Vaishali district. Lalu and his younger son Tejaswi are here to campaign for him.
Tej Pratap couldn't have been more different from his father. He is calm and speaks less, unlike Lalu who is famous for his witty and animated speeches. A slender young man with long hair, Tej Pratap hardly looks like a politician.
As we approached the venue, we observed that senior RJD leader Raghuvansh Prasad Singh's vehicle was stuck because of the crowd. After struggling for a few minutes, Singh got out and decided to walk towards the stage.
Lalu was the last speaker in the rally. He attacked Prime Minister Narendra Modi and the BJP and sought the people's blessings for his son. Reaching out to backward caste voters, Lalu promised a second Mandal Raj.
Tej Pratap waved in front of the camera. The crowd erupted into cheers of "Hamara neta kaisa ho, Tej Pratap jaisa ho". This was followed by other slogans, "Lalu Prasad Zindabad", "Lalu-Nitish Zindabad", and "Mahagathbandhan Zindabad".
"Is it a cake walk?" we asked. Tej Pratap smiled and replied politely, "What do you feel?"
Another leader present intervened, "Tej bhaiya will win with a huge margin".
What the voters say
Sunil Yadav, a young voter in Mahua, seems impressed with Tej Pratap.
"What is wrong in Laluji's son contesting? He will learn from his father and do good work. Why does everyone see nepotism and casteism in the RJD" he asked.
Everyone felt that the Yadav voters in Mahua will overwhelmingly vote in Tej Pratap's favour.
Tej Pratap is up against 2 Yadav candidates. He will be in trouble if RJD's Yadav votes split
But it won't be an easy battle for the Yadav scion. His opponent is the NDA candidate - expelled JD(U) leader Ravindra Rai. Rai is contesting on a ticket from Jitan Ram Manjhi's party, HAM. Also a Yadav, Rai could dent the RJD vote bank. Moreover, upper castes are more or less sure to back the NDA, which can make matters difficult for Tej Pratap.
Another voter, Aziz Ahmed, says "It is not a one-sided election. We (Muslims) are going to vote for Laluji. But the HAM candidate is getting NDA votes and Jogendra Rai has made it a triangular contest". Jogendra Rai, also a Yadav, is an RJD rebel.
Nervous Lalu
Faced with two Yadavs, Tej Pratap's main challenge is keeping the Yadav vote intact. This is what is making Lalu Prasad nervous. Perhaps this is why the RJD chief keeps visiting the constituency, even though it goes to vote only in the third phase.
Mansoor Alam, a Congress supporter, says that this is a "Yadav versus Yadav election". "Laluji is working hard to ensure Tej Pratap's victory. But Jogendra Rai rebellion can make matters difficult," he says. Alam will be voting for Tej Pratap as the Congress is in alliance with the RJD.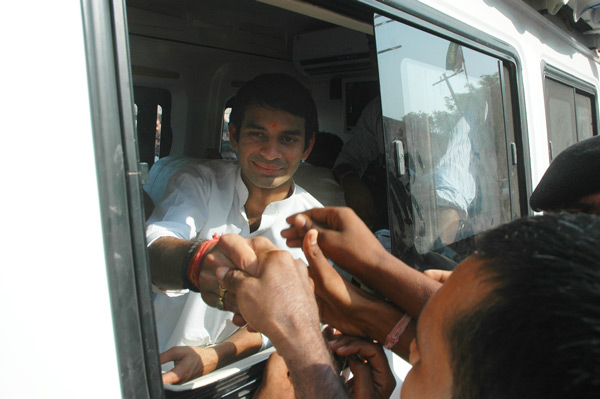 But Yadavs aren't the only worry for the RJD.
Ram Vilas Paswan's Dusadh community has a significant presence in Mahua. Even though Paswan and Manjhi haven't been on good terms, the community will still support the HAM candidate.
Phulwaria is a large village which falls in the Mahua constituency. Paswans have 22 settlements here.
"We (Paswans) will not vote for Lalu or Nitish. Both of them see us as enemies. Our vote will go to the NDA candidate because of our leader Ram Vilas Paswan," said Jagdish Paswan, a resident of Phulwaria.
A local businessman, Vijay Kumar Gupta says the "it's advantage NDA here".
"Lalu is a good man but we can't forget how criminal elements exploited people in his rule," Gupta said.
Another resident, Sadanand Yadav, explained that the NDA's calculations would amount to nothing.
"The Yadav vote is not dividing. As the polling day draws nearer, people will go for Laluji. This is not just a question of who becomes the MLA. It's more about the state and the government," he said.
The argument is simple. If the Grand Alliance wins the state and Tej Pratap bags Mahua, he is likely to become a minister.
The rally is over and the father and son heading back to Patna. People gather on both sides of the road to greet them and express their support. Here lies the difference. Tej Pratap's opponents are both locals and stay in Mahua. They will be campaigning till night. But Lalu will be sleepless in Patna.