Why Smriti Irani's fake news notification had Narendra Modi written all over it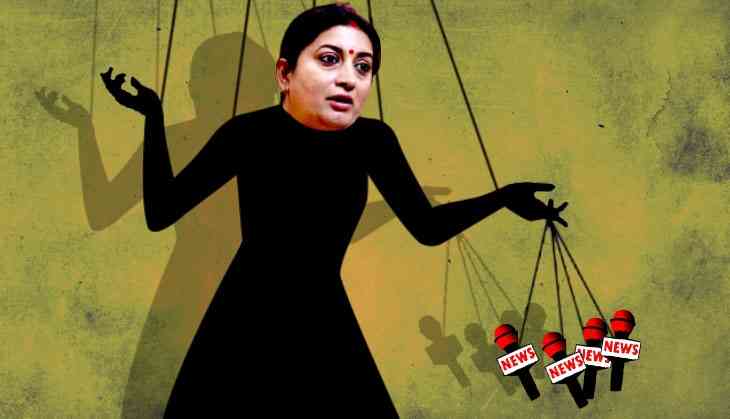 After an eventful stint in the human resource ministry, Smriti Irani is creating fireworks in her new avatar as information and broadcasting minister as she is seen going after journalists in an effort that is being viewed as coercing them into submission. This leads to an obvious question that where is she getting these bright ideas from?
The answer perhaps lies in the model of the state that she represents in the Rajya Sabha – the much touted Gujarat Model that was developed by the Prime Minister Narendra Modi in his role as the chief minister of the state that he ruled with a heavy hand for almost 13 years.
"What Delhi journalists are experiencing now, Gujarat has experienced years before," was the response of a senior vernacular journalist based in Ahmedabad.
Irani had first triggered the row over 'punishing' journalists for 'fake news' that eventually ended in a fiasco with Modi ordering a roll back. While certain Delhi editors naively praised Modi for the move, Gujarati journalists know better. Most journalists in Gujarat say that it is highly unlikely that Modi did not know about the move given the highly centralised pattern of functioning of his government. It is being felt that he tried to go in for some damage control by ordering a roll back and trying to propagate his image as a liberal. In fact they say that the notification issued by Irani's ministry had Gujarat Model written all over it.
In Gujarat accreditation has remained an issue with journalists of repute for quite sometime. "The government has always been reluctant to extend the facility to those who have been questioning its policies at every step," pointed one of the most senior journalist who retired from a leading English daily a couple of years back and has recently not been given accreditation in the veteran journalists' category despite his writing for a news portal continuously.
"The accreditation committee formed by the government is known to have friendly journalists who do not think twice before rejecting an application from a genuine applicant," disclosed another journalist who was denied the facility without specifying any reason about a decade back while he was working with a leading English daily. The facility was extended to him only after his editor took a stand.
"It was during the Bharatiya Janata Party's (BJP) regime that my accreditation was canceled in 1996 for filing a story against a cabinet minister having an extra marital affair with one of the female officers of his department. The story was broken from Kutch with photographs. Even now there are many examples where not only individual journalists but even papers have been denied the accreditation benefits," says another senior journalist Dilip Patel.
And who can forget the 'sedition and treason' case filed by a senior police officer against the senior reporter and resident editor of a prestigious paper like The Times of India in Ahmedabad in 2008. This had sparked a series of protests before he matter died down.
After the 'accreditation cancellation' threat fiasco there are reports of the Press Information Bureau (PIB), the information apparatus under Irani's ministry, working on a proposal to keep a tab on the movement of journalists at government buildings and offices through radio-frequency identification (RFID) cards.
There are reports that the PIB wrote to the Union home ministry in January asking if the accreditation cards it issues to journalists could be replaced with RFID cards.
This too is nothing new. It was in the first half of last decade that the reporters going to Gujarat secretariat regularly were issued an ancient version of such cards along with the state accreditation cards. These white cards, issued after strenuous police verification, were to be punched at the entry of the 14 secretariat blocks and the barricade would open to let one in. Of course the journalists after entering from one block could move to some of the other blocks (not all) but the apprehension was that it could be known in which part he or she had moved around during the day. The aim was supposedly to curtail the passing of information from government officials to journalists.
This was not the only step during the Modi regime to curtail dissemination of information. Before his arrival on the scene, the Gujarat Information Department used to deploy a bus from Ahmedabad to the secretariat four days a week from Monday to Thursday. This bus would transport the journalists who covered the secretariat on daily basis so that they could save time and do their job. This bus service was brought down to once a week under the Modi regime except for the days when the Assembly is in session.
"The culture of the chief minister interacting with the media at least once a week that had prevailed till the Keshubhai Patel was also done away with during the Modi regime. Instead a couple of government spokespersons were appointed from among the ministers who briefed the media once a week on matters pertaining to various ministries and departments," pointed a veteran journalist.
Quoting an interesting anecdote he said, " After one such briefing I once called up the minister in whose name a press note had been issued asking for more details on a matter. The minister told me that he did was not aware that a press note on the said subject had been issued in his name and was caught unawares."
Now does that ring a bell? Recall a recent report appearing in a section of the media where Rajesh Jain in whose name a book named 'Mann Ki Baat: A Social Revolution on Radio' was released last year at Rashtrapati Bhawan, has reportedly come out saying he had nothing to do with the book. The book is stated to be an analysis of Modi's radio show 'Mann ki Baat.'
"Rajesh Jain had absolutely nothing to do with this book (on Mann ki Baat)," former union minister Arun Shourie reportedly told NDTV a few days ago (https://www.ndtv.com/india-news/who-wrote-book-on-pms-mann-ki-baat-arun-shourie-claim-throws-up-mystery-1832548).
"He (Jain) is my friend. He told me he had been dragged into the (book release) function, given a speech to read," said Shourie.
Jain too reportedly corroborated the former minister's claim. "I was not the author of 'Mann ki Baat' book and was surprised to see my name as author," he reportedly told the channel. A release on the book release along with another book had been reportedly sent by the PIB.
He culture of sending across pre recorded video bites instead of a press conference on various issues to television channels for telecast had also started during the Modi regime. Another feature of select briefings was also there which eventually has become the norm in several other states also including those ruled by the Congress like Punjab.
There was another hallmark of Modi's media interactions – the interaction would stop at the first uncomfortable question which in those days was obviously related to the Godhra incident and subsequent pogrom, as well as the alleged fake encounters. Modi would just ask those present to proceed for lunch or tea.
He has not had a press conference as the prime minister till now. It remains to be seen how he would take uncomfortable questions if ever he holds one before the next Lok Sabha polls. Till then Irani continues to toy with new ideas on how to rope in journalists.