Why Modi's 'Sabka saath, sabka vikaas' is a cleverly-disguised slogan of discrimination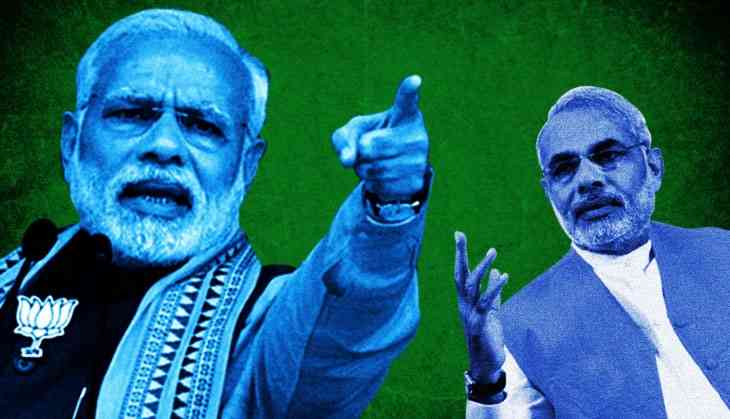 Prime Minister Narendra Modi's now-famous slogan "Sabka saath, sabka vikaas" was born as a mere statement in the dark shadows of the post-Godhra riots of 2002. Modi used it regularly in public in a bid to absolve his government of any guilt.
After 12 years of perfecting the art of using it, he carried it along with him out of Gujarat on to the national canvas for the 2014 Lok Sabha elections.
Nearly three more years have elapsed since and the slogan is once again resounding in poll-bound Uttar Pradesh. Only this time, Modi has given it a new twist.
Addressing a public meeting in Jaunpur on 4 March, Modi said while he abides by 'Sabka Saath, Sabka Vikas', the parties he was trying to defeat in UP believe in 'Kuch Ka Saath, Kuch Ka Vikas.'
We practice 'Sabka Saath, Sabka Vikas' while they feel, 'Kuch Ka Saath, Kuch Ka Vikas.' BJP believes in Shanti, Ekta & Sadbhavana: PM

— narendramodi_in (@narendramodi_in) March 4, 2017
The message was clear – he was once again accusing the Congress and Samajwadi Party of minority appeasement, another pet theme of his that traces its origins to his tenure in Gujarat. In his Gujarat days, Modi used the "sabka saath" statement alongside another, that his commitment was to "justice for all and appeasement to none".
This "kuch" is the "other" whom Modi and his fellow members of the Sangh Parivar are engaged in a permanent psychological battle with. The "kuch" is the fulcrum of BJP's politics as the party's obsession with him keeps rearing its head every now and then, in newer forms.
Sometimes it takes the form of "ghar wapsi", at other times "love jihad". The Ram Mandir, Article 370, the Uniform Civil Code, calls for disenfranchisement – they are all forms of this single-minded obsession.
"Sabka saath, sabka vikaas" is also a strand in the same narrative. It is a cleverly disguised negation of principles this nation has stood by for decades. This principle is an impulse confirmed by studies that marginalised sections of our society are a deprived lot in general and they need the state's help in improving their socio-economic condition.
These sections, including Muslims, Scheduled Castes, Scheduled Tribes and women, lag behind others in terms of basic parameters like access to education, healthcare and employment. That they are also denied political parity has also ensured a life lacking in dignity for them.
The independent Indian state came into existence with a consensus over the conditions of these sections and the road-map to be adopted for their betterment. Through the seven decades after Independence, committees and commissions studied their conditions and gave recommendations that were broadly accepted. It is the failure of our short-sighted politics that their struggle continues even after nearly three-quarters of a century, but that is not to say that things have not changed.
The question to ponder over is what would the picture have looked like if the state had abandoned this role of an enabler for these sections. This is the state's sacred duty and it is alright for the RSS and its emissaries to advocate an end to it, so long as they do not demand it with violence.
But should a prime minister make himself a part of this narrative? What does it mean when a prime minister calls this duty "appeasement" and calls for an end to it? When Modi says he is for "sabka vikaas", he negates the national consensus that some sections – the "kuch" in his vocabulary – need an extra helping hand. And it is not appeasement.