Why Modi celebrates Savarkar's guru Shyam Krishna Verma every year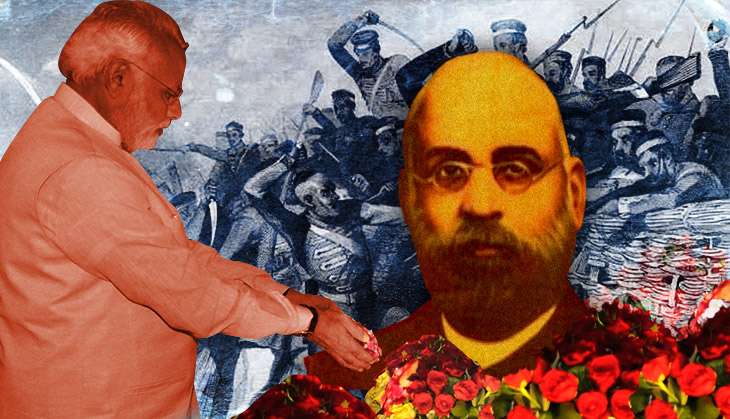 It has been over a decade since the first time Prime Minister Narendra Modi picked up the name of Shyam Krishna Verma from the annals of India's freedom movement.
Modi, then Chief Minister of Gujarat, and the RSS, identified the forgotten radical freedom fighter, who died in Switzerland much before India achieved independence, as a new star to be added to the Sangh Parivar's galaxy of heroes.
Modi, the BJP and the RSS have paid rich tributes to Verma every year since then.
On 4 October, Modi tweeted his tribute to Verma, just like every year, on the latter's birth anniversary.
Remembering Shyamji Krishna Varma on his birth anniversary. His phenomenal contribution to the freedom struggle lives on in our hearts.

— Narendra Modi (@narendramodi) October 4, 2016
Shyamji Krishna Varma is remembered as a torchbearer of patriotism who motivated many to join the freedom struggle. https://t.co/79gX5pDUlL

— Narendra Modi (@narendramodi) October 4, 2016
Attached with the tweet was a post from Modi's personal website, in which he hailed Verma as 'one of his ideals' and explained how he tried to preserve Verma's legacy "in the hearts and minds of a billion Indians".
CM Modi's service towards Verma
In 2003, Modi went all the way to Geneva and brought back the ashes of Verma and his wife.
Here is the pic where urns of Shri Shyamji Krishna Varma & his wife were handed over to @narendramodi & ors in Geneva pic.twitter.com/gVEnCeTlPx

— Suresh Nakhua (@sureshnakhua) October 4, 2016
The BJP then paraded the ashes in Mumbai in a grand programme that culminated with speeches by then-RSS chief KS Sudarshan, then-Lok Sabha Speaker Manohar Joshi, Modi himself and BJP MP Kirit Somaiya.
The tributes continued under Modi's regime in Gujarat, as a memorial in his honour was built in Mandvi, Verma's birthplace. Modi named the memorial 'Kranti Tirth' (shrine of revolution) and got a full-scale replica of India House installed there. India House was a hostel for Indian students set up by Verma in London, which eventually became a popular meeting point for Indian revolutionaries.
Shyamji Krishna Varma's memorial in Mandvi, Kutch his native place, modeled on India House, London pic.twitter.com/PZpv9f6T43

— Sudhaputra Ratnakar (@GabbarSanghi) October 4, 2016
PM Modi continues the trend
Modi's Verma-centred campaign continued even after he became PM. Verma had been barred from practicing law in the UK for writing anti-British articles, in 1909.
In early 2015, the NDA government is believed to have conveyed to the Inner Temple, one of the four Inns of Court around the Royal Courts of Justice in London, that the bar ought to be lifted posthumously.
When Modi visited UK in November 2015, Verma was posthumously reinstated and the certificate of his reinstation was handed over to Modi. He later brought the certificate to Gujarat.
Shyamji Krishna Varma is reinstated by @TheInnerTemple. Shailesh Vara celebrates UK lawyers' commitment to justice. pic.twitter.com/4IKJXtbgtO

— Ministry of Justice (@MoJGovUK) November 12, 2015
Today is memorable because I handed over certificate of Shyamji Krishna Varma's posthumous reinstatement to the bar to CM @anandibenpatel.

— Narendra Modi (@narendramodi) December 18, 2015
It was initially believed that Modi had conjured Verma's legacy out of his hat to help the BJP gain a foothold in the Kutch region, in which it hadn't done well in the 2002 polls. However, there is more to it than just that.
Real reason why Modi fetes Verma
The Sangh Parivar has a remarkable talent to worship pacifists and fanatics simultaneously. However, its affinity for advocates of non-violence, like Mahatma Gandhi, is only recent, and essentially borne out of its attempts to enter the political mainstream and grab power. Its natural inclination is towards radical figures, much like its own founders and leading lights like KB Hedgewar and MS Golwalkar.
Verma's brand of struggle for freedom from British rule was different from the Indian National Congress's school of thought, and he maintained a distance from the party. He did not join the British Committee of the Congress, and set up institutions like the India House and the Indian Home Rule Society to carry forward a parallel narrative.
The emphasis was to fight for independence through an armed revolution abroad.
Verma brought out a journal called the Indian Sociologist, that is believed to have carried radical content, advocating armed resistance to the British rule. It was his writings in this journal that led to his ban by the Inner Temple.
Verma's legacy: Savarkar and Dhingra
Among the most famous members of the India House, who later assumed charge of it after Verma moved to Paris, was VD Savarkar. One of the regular attendees at India House was Madanlal Dhingra, who eventually murdered WH Curzon Wyllie, political aide-de-camp to the Secretary of State for India, in 1909. Dhingra was hanged later that year.
According to a piece on the website of the Bharatiya Vidya Bhavan, Verma's approach to nationalism differed so much from Gandhi's that he felt ashamed at the latter's actions during the Second Anglo-Boer War in South Africa in 1899. Gandhi had formed a group of volunteers who carried wounded soldiers to the hospital and Verma found it a pro-British Act.
"The anti-British war had started in South Africa. Suddenly people found the name of one Mohandas Karamchand Gandhi (not yet a Mahatma) practising as a barrister in Natal. He chose to organise a pro-British Volunteer Corps. The Boer leaders were pained at it and Shyamji was ashamed because he was an Indian and both were Gujaratis."
For all the admiration for Verma that Modi displays, he confused him with Syama Prasad Mookerjee, founder of BJP's formative avatar Jana Sangh, in a speech in November 2013.
It is clear that Modi and BJP's salutations for Verma are not an attempt to appropriate the legacy of yet another freedom fighter. Instead, they are efforts to create an icon whose legacy will be an extension of the narrative that the Sangh Parivar actually believes in and wants to portray.
Edited by Shreyas Sharma
More in Catch
Yes, Golwalkar threatened to kill Gandhi. But don't forget Savarkar's role
On VD Savarkar's 133rd birth anniversary, 5 things to know about the revolutionary
Rajdeep, we can't take the middle path on Savarkar