Why Modi and Shah are losing control over BJP in Gujarat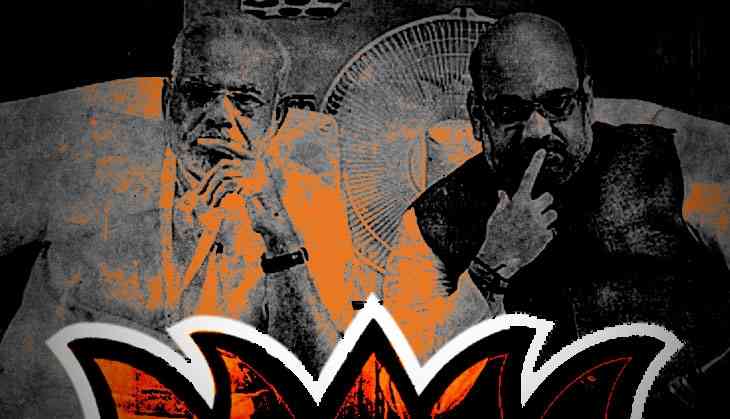 It appears that the fear and enigma of Prime Minister Narendra Modi and BJP president Amit Shah has waned among the BJP's rank and file in Gujarat. For the first time, senior leaders are raising voices of discontent in the two leaders' home state against decisions that have come right from the top.
This was never the case before. The rank and file of the party in its citadel never dared to raise their voice and those who did had to eat their words and sit down at the place shown to them. It all began with deputy chief minister Nitin Patel coming up with murmurs of rebellion at not being given portfolios of his choice. This was amidst reports of senior MLA Babubhai Bokhiria being unhappy at being dropped from the Cabinet by Chief Minister Vijay Rupani. It took Amit Shah's intervention to appease Nitin Patel.
But just a couple of days later, Koli leader and minister of states for fisheries Parshottam Solanki has expressed dissatisfaction over not getting a 'significant' portfolio. He skipped the Cabinet meeting on Wednesday and instead held a small show of strength at his residence in Gandhinagar.
He has exerted pressure on the BJP government through his community members who are demanding that with his fifth term as a legislator Solanki's stature in the cabinet must rise.
On Tuesday, Solanki, who was embroiled in a Rs 400 crore fisheries scam in 2009, had reportedly said, "The community was expecting that as their leader, I would get a better portfolio and a better position in the government. I have been given only one portfolio, fisheries, while earlier I had two or more portfolios. The party has directly given Cabinet rank to members elected only for the second time, why have I been ignored when this is my fifth term? My community influences more than 45 assembly seats and most of them are with BJP. This constant neglect will breach their trust. If this situation continues till 2019, my community may explore other options."
Popularly known as 'Bhai', this Bhavnagar (Rural) MLA heads his brigade of Koli Sena with more than 10,000 foot soldiers. Before shifting base to Bhavnagar in 1998, his name had reportedly figured in cases of rioting and arson in Mumbai that had had followed the demolition of the Babri mosque in 1992. His name found mention in the Srikrishna commission report on Mumbai violence.
Meanwhile, there are reports of several other MLAs who have been divested of their portfolios or other posts also starting to raise their voice at the 'injustice' done to them. There are many MLAs who have served three to five terms as the state legislators but have never been given any portfolio. They are also pitching for important positions.
Reports say that a group of former Congress leaders such as CK Raulji, Ramsinh Parmar, Vipul Chaudhary, and others have who joined the BJP recently met Rupani and Nitin Patel demanding a place in the new government. Congress leaders who lost the recent polls after being fielded on a BJP ticket are also seeking positions like parliamentary secretaries.
On the other hand the BJP leaders appointed to various boards, corporations, and government agencies are seeking renewal of their terms. Observers say that amid such a scenario, Rupani might be going in for a Cabinet expansion very soon.
But the moot issue is the loosening grip of Modi and Shah over their own party in the state. There are several examples of how any voice being raised was quelled within no time when Modi's popularity and strength in the state was at its zenith with Amit Shah as his closest lieutenant. One is reminded of how in 2004 the present Union minister Smriti Irani had to retract her statement against Modi on the issue of 2002 Gujarat riots within hours. Sources say that television channel camera persons were persuaded to go to the sets of a television soap opera she was shooting for to get her footage of withdrawing her statement
Then there was the episode of Gordhan Zadaphia refusing to take oath as a minister in Modi's government and party MLA Bavku Undhad offering to quit in a dramatic manner by arriving at the BJP state headquarters in an ambulance in 2005 on the issue of Modi sidelining his predecessor Keshubhai Patel. Keshubhai and Zadaphia had gone on to float the Gujarat Parivartan Party (GPP) before the 2012 assembly polls. Keshubhai won his seat but eventually everyone had to do a 'gharwapsi'.
At this point the picture that is emerging is totally different with party functionaries daring to become more vocal than ever before despite knowing that the things are being decided by none other that Modi and Amit Shah at the centre.
"The fact that the grip of Modi and Amit Shah is loosening is true. This is natural when a party comes to power with a narrow margin. The process had started before the elections when leaders like Liladhar Vaghela and Prabhatsinh Chauhan had demanded tickets for their family members. This happened for the first time in the history of the BJP in Gujarat. After the elections more leaders have become vocal," points out senior political analyst Suresh Samani.
Social and political analyst Achyut Yagnik analyses this change from a different perspective. According to him, the state's movement towards caste based politics has a role in this.
"The Patidar agitation and the caste taking precedence over other factors has led to this. Beyond a point they could not do anything about the Patidars also. With caste over riding other factors this has been an outcome. Parshottam Solanki is a Koli and his community accounts for 20 per cent of the state population," he says.
Meanwhile, another senior analyst Prakash Shah says "It is a reality that Modi and Shah's hold over the party leaders has weakened and they no longer have the power to contain them. Earlier too they had reconciled to things like having Parshottam Solanki in the state Cabinet despite his name figuring in criminal cases. What was being discussed in 'hush hush' tones is now coming out in the open," he said.
With their eyes now on the states in the south and the 2019 Lok Sabha polls, Amit Shah and Modi will have to do some mending in their own backyard soon. Otherwise the ride is not going to be a smooth one for them and their party.