Why campaigning in Canada will become difficult for Punjab netas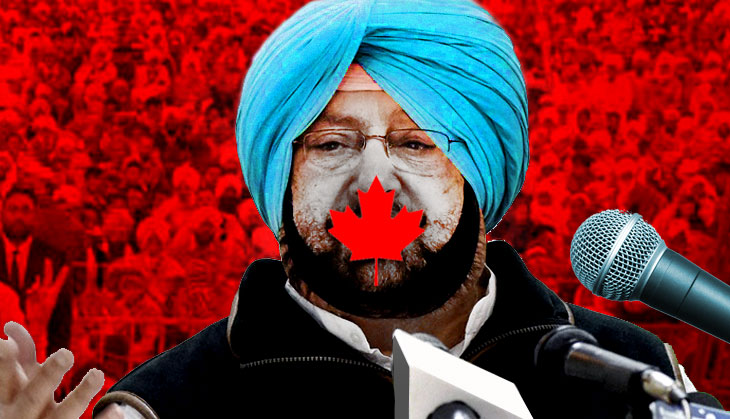 Diktat & response
Punjab parties may not be able to hold large rallies for the diaspora in Canada
Canada has denied permission to such events. Amarinder Singh is the first one affected
Amarinder has slammed Canada\'s move and appealed to it in the name of democracy
More in the story
What did Canada say?
Amarinder\'s response
What did other politicians say?
The plans of the politicians from Punjab to woo the Punjabi diaspora in Canada have run into rough weather with Canadian authorities invoking provisions of its Global Affairs Policy (GAP) that prevent foreign governments and individuals from conducting election campaigns in Canada.
The first one to face the heat is Punjab Congress chief Captain Amarinder Singh who has canceled scheduled political rallies in Toronto and Vancouver during his six day visit starting 23 April. The same provisions may be extended to the others planning to visit the country ahead of the Assembly polls. The provisions were reportedly invoked after complaints from some Sikhs residing in Canada. Leaders from other parties might face the same problem if complaints are made.
Amarinder has lodged a strong protest in a letter to the Canadian Prime Minister Justin Trudeau saying, "During the last one year, several political leaders including our Prime Minister Narendra Modi and some opposition leaders also visited Canada and they addressed public functions and nobody objected". Amarinder's visit to Canada has become a political issue with the other key party leaders playing up the denial of the Canadian government on his proposed rallies.
Amarinder was informed by Indian Foreign Secretary, Dr S Jaishankar on phone that his political conferences could violate the rules of the host country following which he canceled his rallies.
He said that although the aim of his scheduled interactions had been to assess the aspirations of non-resident Punjabis, he could not have avoided making political statements at such an event, particularly when people would have asked him about his plans for Punjab.
Captain's response
"I would however look forward to meeting my fellow Punjabis in their homes and small groups to ensure the compliance of the host country's laws," he said.
In his letter to the Canadian prime minister Amarinder said, "Needless to say, it has come as a disappointment that someone representing the largest democracy in the world has been refused a chance to reach out to and interact with, his fellow Punjabis living in a respected democracy like Canada. It feels like a gag order that has left a very bad taste, more so when issued by a democratic government like the Canadian."
Giving his introduction, he wrote, "I am a sitting parliamentarian representing the Holy City of Amritsar, the Mecca of Sikhs; the same Sikhs, some of whom you have inducted in your Cabinet as ministers and towards whom you recently showed some nice gestures during the Baisakhi celebrations. It is surprising and ironical that the refusal to allow me public interactions has come barely after a few weeks of your personally expressing regrets over the Komagata Maru tragedy."
Saying that he has no intentions of carrying out any "election campaign" or to set up any "political party" or "movement in Canada", he underlined that during his Canada visit in 2005 as the chief minister of Punjab, he had addressed gatherings at Vancouver and Toronto, which were attended by local premiers as well.
However, senior Shiromani Akali Dal (SAD) leader and Union minister for food processing Harsimrat Kaur Badal said that the Punjabis living in Canada have rejected the Congress president Captain Amarinder Singh by protesting his programs. Speaking at a Sangat Darshan, she said that in order to save the already tarnished image of the Congress, the party is shifting the blame on the Canadian government whereas the fact is that Amarinder has been rejected in Punjab as well as abroad.
Terming Amarinder's Canada visit as an opportunity to mint dollars and save himself from scorching Indian summer, Harsimrat said that Congress leaders were not associated with common man and they preferred only the politics of vote.
Other visits
Interestingly, SAD minister in Punjab Sikandar Singh Maluka had also been reportedly stopped from entering a meeting in Abbotsford after the police canceled the event last year.
Aam Aadmi Party (AAP) MP from Patiala Dr Dharamvira Gandhi is also on a visit to Canada at this point of time. He stands suspended from the party for allegedly indulging in anti-party activities. Speaking at a Punjabi radio programme, he said, "I respect the Canadian law and stand by it". He stated that outsiders cannot indulge in domestic politics overseas. He said that he too would be meeting the Punjabi diaspora in small groups and at their homes during his visit.
During his ongoing visit to the United States and Canada, Amarinder has assured the members of the Punjabi community settled in the United States that they do not have to feel apprehensive or scared of anything while coming to Punjab just because they held a particular opinion about any political party.
Responding to their concerns and apprehensions while interacting with different delegations of the NRIs at Chicago, he said he is aware of their problems and the persecution they faced in Punjab at the hands of the Akalis.
"I guarantee you that irrespective of the political opinions you hold, your interests will be safeguarded at all costs. Just because you may differ with me on certain issues does not mean that you should face any hostility or persecution," he said, responding to some NRIs who complained that they were being falsely implicated just because they were critical of the Akalis.
They said, although they had settled down and were doing very well in countries like the US and Canada, they were still concerned about what was happening back home.
With polls due next year, the top leadership of the SAD, Congress and AAP is out to influence the Punjabi diaspora in countries like Australia, New Zealand, United States, Canada, United Kingdom and the rest of Europe.