Why are only Opp parties being torn apart by the media while BJP's scams are ignored?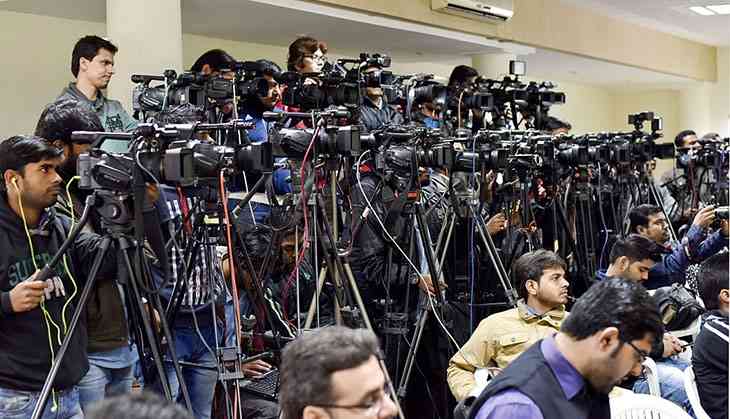 (Virendra Singh Gosain/Hindustan Times/Getty Images)
There is a race on between some news TV channels to air what they have been calling 'exposes'. For about a week now, they have been rounding up the top leadership of many political parties, from RJD to Congress to AAP.
However, have you noticed what is common between these parties, apart from the fact that they have all been "exposed" by news channels?
They are all in the Opposition.
Republic's 'super exclusives'
Republic launched on 6 May with an audio snippet of a purported conversation between Rashtriya Janata Dal (RJD) chief Lalu Prasad Yadav and jailed former RJD MP Shahabuddin. Oddly, Republic did not do the follow up on the stories on Lalu. Instead, Times Now, the Times Group-owned channel, went live with allegations of Lalu's daughter and son-in-law making huge profits through a shell company.
In between were three more samples of what the channel has started calling "super exclusives" from Republic. Two of these involved the Aam Aadmi Party and its chief Arvind Kejriwal and the third was on the probe into the mysterious death of Sunanda Pushkar, Congress MP Shashi Tharoor's deceased wife.
On 13 May, the channel aired another 'expose' on the same case, claiming to have laid its hands on a police report pointing out at loopholes in the probe.
Does corruption too have a colour?
Yadav is a convicted politician and his conviction was a rare example of Indian democracy and its institutions functioning at concurrence with each other. He is currently out on bail and if there is more evidence against him that nails any further criminality, it should come out.
Kejriwal was a crusader against corruption and if there is evidence of his own involvement in corrupt deals, it must be brought to light.
Sunanda Pushkar died over three years ago and it's a shame that her death is still a mystery. The truth behind her death needs to come out. And if she was murdered, the guilty must be brought to book.
However, concerted action on these cases while ignoring equally, if not more, prominent cases that put the ruling BJP in the dock smacks of dishonest journalism, at the least.
Madhya Pradesh's Vyapam scam broke out in 2013 and after years of tardy probe by state police, all cases were handed over to the CBI nearly a year ago. The case is yet to see any major breakthrough in terms of emergence of evidence that will nail the high-profile accused in the case.
In November 2016, Catch reported that BJP had bought acres and acres of land across the country, just before Prime Minister Narendra Modi announced the demonetisation of old Rs 500 and Rs 1000 notes. The report created a stir with opposition parties taking a note and demanding a thorough probe, but any investigation is yet to be announced.
How is it that the same TV channels have no exposes, exclusives and super exclusives on any of these? Is alleged corruption by the ruling party off limits for big media? Should only opposition parties be continuously tried in the court of public opinion, while the ruling party evades any kind of scrutiny?
Journalism or propaganda?
Why just corruption, media coverage is lacking on most of the issues that are troubling the nation under the current dispensation at the Centre.
A sinister game of cow politics is playing out across the country that is scaring, injuring, maiming and even killing innocent people on the pretext of protecting the cow.
Why are there no questions on this?
The promising effects of the note ban are yet to emerge clearly while the government has been successful in evading even an iota of accountability for the hardship that the arbitrary move caused. Money supply was restricted all of a sudden, economic activity suffered a big jolt, people lost their hard-money, their faith in the monetary system was shaken and many even died because of their inability to deal with the unimaginable consequences of such an unplanned but earth-shaking move.
Are there any questions for BJP by big media on demonetisation? No, none at all.
The Modi government is miles and miles away from meeting its promise of creating 2 crore jobs, but it is not being questioned about it. There are allegations of the government fudging data on key economic numbers but that is not Republic or Times Now's concern.
A grim situation
The situation on the national security front is grimmer than it has ever been in last several years, with Maoists carrying out huge attacks in the red corridor and soldiers loosing lives because of the continued standoff with Pakistan. The government appears to be at the end of its wits in its efforts to deal with Pakistan.
It has failed miserably in bringing peace, stability and development to Kashmir and its handling of unrest in the valley has fuelled the many fires burning there, instead of putting them out.
Is any minister being grilled for this? No.
On top of it, BJP is making no efforts to hide that it is working in coordination with at least one of these channels, Republic. Apart from the fact that it is part-owned by a key BJP ally, Rajeev Chandrashekhar, senior union ministers are holding press conferences every time the channel breaks a story against an opposition party/leader. Not just that, BJP's social media accounts have also reportedly been promoting the channel, over others.
Then there is also the case of reports that appear to be planted by the government, like the newspaper reports on a 9 million rise in number of taxpayers because of the note-ban. While the government has been claiming it for some time now, it is yet to release any data backing the claim and newspapers are presenting it as a sacred fact quoting 'top government functionaries who do not wish to be named!".
These are clear indications of a huge propaganda machinery at work, in tandem with the regime. It is the job of the press to seek equal accountability of the government as well the opposition.
If anything, the press will be forgiven for a stance against the government, as was seen during UPA's final years over the massive graft allegations against it. This is the right time for media organisations to step back and take control of their neutrality once again. An anti-opposition slant, as is evident right now, will send the press tumbling into a deep abyss.
Democracy will follow.
Edited by Aleesha Matharu