Why 74-year old Amarinder thinks Sonia is old and he is not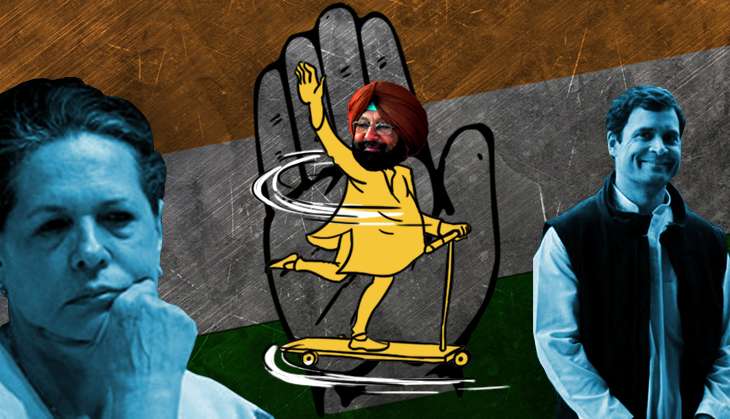 "Party needs experienced leadership": Amarinder Singh, April 2015
"Time for new generation to come to fore": Amarinder Singh, May 2016
Give Amarinder Singh 13 months and he can give you a 180 degree flip. The former Punjab Chief Minister has entirely reconfigured his assessment of what the Congress party should do, from what he had said last year. In April 2015, his was one among several prominent voices in the party against the elevation of Rahul Gandhi as Congress president. He had then asserted that that the leadership should remain with Sonia Gandhi and that Rahul lacked the required experience.
Read: In U-turn, Amarinder backs Rahul as Congress chief. Has he struck a bargain?
The Amritsar MP has now said time has come for the new generation to emerge in the party and that Sonia Gandhi is "obviously tired". His comments came against the backdrop of the recently concluded round of assembly elections, in which Congress lost power in two states - Assam and Kerala. He said the party must "strengthen itself after whatever has happened in the country," in what is being considered a reference to the party's performance in these elections.
Singh, who is also chief of the Congress in Punjab, had first taken a U-turn in November 2015, after the Grand Alliance of JD(U)-RJD-Congress defeated the BJP-led NDA in Bihar. Singh credited the victory to Rahul's leadership, claiming that it was because of Rahul's "active role" that Congress succeeded in transferring its vote to the Grand Alliance. This was reason enough for him to take the reins of the party immediately, Singh had also asserted.
Sonia, at 70, is tired: Singh
This time, Singh has completely transformed his philosophy vis-a-vis the party. While last year he felt that the party needed experienced leadership under Sonia, he now feels that time has come for the "new generation" led by Rahul to take charge. Singh, 74 himself, also said Sonia at 70 is tired and wants change.
As for Rahul, Singh was of the opinion that he has had his own experience in the last few years and will emerge as a good leader when given power and responsibility: "He listens and then evolves a solution for everything. Rahul is like his father Rajiv Gandhi," he reportedly said.
Insurance against future threats?
When Singh first took this U-turn in November last year, he was yet to be made the Punjab Pradesh Congress Committee chief. In fact, he was appointed only a few days after he made that statement, supporting demands for Rahul's elevation as party chief. The septuagenarian is now firmly in the saddle and has already become the face of Congress' campaign in Punjab, ahead of next year's assembly elections.
Also read: Prashant Kishor faces a Patiala peg of a challenge in Punjab
His calculations behind reasserting support for Rahul could be to firmly ensconce himself in that position, as the polls are still over half a year away. Developments that threaten the prospect of his official projection as the chief ministerial candidate keep breaking out. There were rumours doing the rounds in Delhi's political circles that the party high-command was mulling projecting another MP from Punjab.
Then came news of a possible rift between him and celebrity electoral strategist Prashant Kishor, whom Singh had himself brought in for his campaign. Both parties were later forced to issue denials.
There is no question of difference of opinion between Prashantji and me on handling the state of affairs or the way forward in Punjab (1/2)

— Capt.Amarinder Singh (@capt_amarinder) May 14, 2016
We are all determined and doing everything that is needed to bring Congress government back in Punjab (2/2).

— Capt.Amarinder Singh (@capt_amarinder) May 14, 2016
Question of quitting is nothing but wild speculation. We are deeply honoured by the responsibility and totally committed to the job (1/2)

— I-PAC (@IndianPAC) May 18, 2016
Grateful for the opportunity and the trust shown by the Congress, its leadership and each & every worker for their faith in us (2/2)

— I-PAC (@IndianPAC) May 18, 2016
Kishor has also been given charge of next year's elections in Uttar Pradesh, a key battle for Rahul Gandhi. Perhaps he could have also played a role in bringing Singh and Rahul on the same page.
Singh may be wanting to ensure that his boat is not rocked any further. Plus, he also appears to have found faith in Rahul's approach, as the Congress vice-president has been consistently demonstrating that when it comes to state-level affairs, he prefers relying on the judgment of the state leadership. This is remarkably different from the 'general secretary in-charge' model that Sonia used to rely upon.
Rahul's elevation as party chief itself is only a matter of time. If Singh manages to win Punjab for Congress, it would benefit him to be on the same page as the next party chief. However, the party is a web of intrigues as of now, is split in two camps of old-timers and the Rahul brigade. No one knows when will the queen make way for the already-ageing prince. If that doesn't happen soon, Amarinder Singh may need another somersault.
Edited by Aditya Menon
More in Catch:
The gaypocalypse: Gay sex causes tsunamis, earthquakes and hurricanes!
A 40-day operation gone right: army & NIA thwart Naga rebels' plans
Sonia's Shahenshah to Nitish's Jumla Babu: the many names of Narendra Modi
NGT's order on Art of Living is too little, too late