Whoever wins Kutch wins Gujarat, goes the saying. The region voted in Phase 1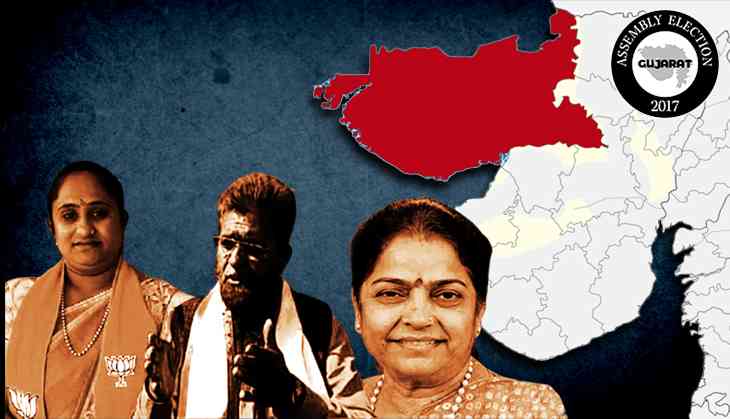 There is a famous saying in the Kutch region of Gujarat – whoever wins Kutch, wins Gujarat. The incumbent BJP government has been dominating the region for the past several decades but if ground reports are to be believed all of that is set for a change.
Though Congress is not hoping to wrest control of the region but for the first time in many decades, it could be a tie between the BJP and the grand old party.
A dry and arid region in the western-most corner of India, Kutch's problems are a plenty. Non availability of clean drinking water, widespread unemployment, poor education and health facilities and the twin evils of demonetsiation and GST are the main poll issues that dominate the political discourse here.
Meanwhile, BJP is banking on Prime Minister Narendra Modi's popularity along with development that he brought in the region during his tenure as chief minister. In fact, in entire Gujarat, Kutch is the only region where BJP is hoping that Modi's development initiative will help the party secure at least five of the six assembly segments for which voting began early this morning.
After the Bhuj earthquake in 2001, which flattened the entire region, killing 2,370 people and destroying 38,000 houses, Modi unleashed a host of rebuilding programmes that has ushered economic prosperity in the region. People across the region never fail to mention how Kutch owes its economic boom to Modi and his popularity for the first time since becoming chief minister is being tested.
It is no wonder that Modi chose to begin his election campaign in the poll-bound state from Kutch which also happens to be the state's largest district.
On the other hand, the Congress is hoping that anti-incumbency combined with a host of other factors like the Patidar agitation, impact of note ban and GST would work in its favour in 2017.
Moreover, with Muslims constituting nearly 25% of the region's population, Congress is banking on the community to help it wrest control of the region.
Kutch has a total of six Assembly seats – Abdasa, Bhuj, Anjar, Mandvi, Gandhidham and Rapar – and here is looking at each constituency and how they might vote:
Bhuj:
Congress has fielded Adambhai Chaki against BJP's sitting legislator Neemben Acaharaya who seem to have an upper edge over her rival. Neemaben has been Bhuj's sitting MLA for the last two terms and looks set to retain her seat. In fact, what has worked for Neemaben is that Chaki, a Muslim, has led to religious polarisation across the assembly segment.
Catch had earlier reported how Hindus have consolidated as a vote-bank against Congress' Muslim candidate which is a cause of concern for Congress. Former Gujarat Chief Minister Suresh Mehta told Catch – "As far as electoral results are concerned, yes it will not bode well for Congress. According to me, it seemed more like a political compulsion and even Congress knows it is on a weak wicket. I think they were aware of the consequences."
Muslims in Bhuj constitute nearly 355 of the population and average 25% in Kutch district. According to Mehta, Congress had to allot one seat to a Muslims candidate to ensure it gets votes of the community in other Assembly segments.
However, Congress is hoping that along with the Muslims, if it manages to get a certain percentage of votes from other dominating communities like Patidars, Dalits, among others, it could pose threat to Neemaben. Whether it will work or not would only be known on 18 December.
Anjar:
An Assembly segment dominated by Ahirs and Muslims, Anjar is said to be oldest town in Kutch. In 2012, BJP's Ahir Vasanbhai Gopalbhai defeated Congress' VK Humbal by a slim margin of 6,000 votes.
This year again the two heavyweights will come against each other in contest which is likely to go down to the wire. Congress is hoping on Muslims, Dalits, Patidars, and even Ahirs to vote in its favour.
Meanwhile, BJP remains confident of a victory here largely because of the development work carried out by Vasanbhai. However, locals informed this correspondent that Ahirs, who constitute nearly 25% of the population, are not happy with Vasanbhai's performance and blame him and BJP for their misfortune.
Ahirs in Anjar primarily earn thir living through transport business and they feel let down by the incumbent government. According to Ramesh Ahir, a resident of Anjar constituency, the shutting down on Panandhro Lignite mine has deeply hurt business interests of Ahirs.
"This mine produced the finest quality of Lignite and there was a huge demand for it across Gujarat which benefitted the Ahirs. However, the government shut down the mine and started operating on Mata Na Math mine which had low-quality lignite leading to low demand," he said.
As a result, the demand for better quality lignite from Bhavnagar rose leading to transporters of Kutch feeling the pinch.
"Vasanbhai is also the Chairman of the Truck Transporters Association and yet he remained silent. This has made Ahirs revolt and they are likely to vote against him," he added.
Congress is hoping that this resentment against Vasanbhai could help them wrest control of the seat.
Gandhidham:
Home to Kandla port, Gandhidham is a reserved constituency that has an overwhelming Hindu population and also considered a BJP bastion. The constituency has close to 2.7 lakh voters with a 65,000 strong Dalit population. In 2012, BJP defeated Congress in Gandhdiham by a margin of 21,313 votes.
In a surprising decision BJP allotted ticket to 29-year-old Malti Maheshwari who also happens to be the youngest candidate in 2017 Assembly polls. Malti was given preference over her uncle and sitting legislator 49-year-old Ramesh Maheshwari which led to widespread protests across the Assembly segment.
However, all those differences seem to have been put to rest with Rameshbhai even campaigning for her against Congress' Kishor Pingal – a Dalit leader. With Hindus forming almost 95% of the population, it seems an uphill task for Congress to win this particular Assembly segment.
Congress would be hoping that internal feud within the party over Malti's candidature could help them divide BJP's vote.