When Hardik met Nitish: what's behind the bonhomie?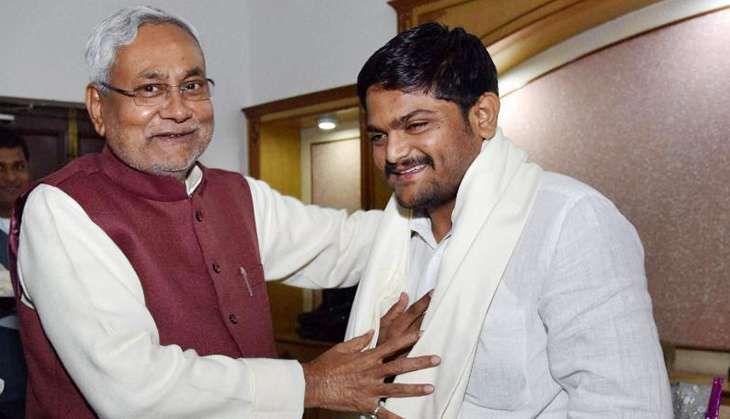 Firebrand leader Hardik Patel has been barred from entering his home state of Gujarat by the courts since he spearheaded the quota agitation for the Patidars, the traditional BJP voters who are currently at odds with the party. Hardik, 23, has resided in Rajasthan since the court order.
On Tuesday, 13 December, Hardik was in Patna. And what caught the eye of political pundits was the VIP treatment accorded to him by the state government. He headed straight from the airport to Chief Minister Nitish Kumar's residence, where he received a warm welcome. Both leaders spent over an hour together over lunch.
Hardik invited Nitish for a Kisan Sammelan to be held in Gujarat next month. The latter accepted the courtesy.
Patel left Patna after attending a meeting called to discuss expanding the Patel Nav Nirman Sena to Bihar. But, his cosiness with the Chief Minister has triggered a round of speculation in the state's power corridors.
Caste factor
Hardik and Nitish's meeting brought back memories of the historic Kurmi Chetna rally from two decades ago. That was a time when Nitish and then-CM Lalu Prasad's relations were on the verge of a breakdown. The rally proved to be a landmark event in shaping Nitish's career, and paved the way for the formation of the Samata Party.
But now, the question being asked is this: if Hardik is campaigning around the country for reservation, and is openly taking on Prime Minister Narendra Modi in the process, wouldn't it have been natural for him to invite Lalu for the proposed Kisan Sammelan as well?
After all, the RJD supremo's politics is rooted in reservation, and his anti-Modi credentials exceed that of Nitish, his current alliance partner.
Has Hardik given preference to Nitish only because he happens to be the Chief Minister? Or is it also because Nitish represents the Kurmi community?
Nitish has been magnanimous in his remarks about Hardik in the past, but political observers insist that caste equations are behind the bonhomie between them.
Senior journalist Birendra Kumar Yadav feels Nitish is actively working to expand his Kurmi support base. This assertion is supported by the pattern of Nitish's campaign for the upcoming Assembly polls in Uttar Pradesh. He has clearly chosen Kurmi-dominated areas around Varanasi to kick start his party's poll campaign. JD (U) sources confirm that the party would focus on such areas in these polls.
Irshadul Haque, editor of the news portal naukarshahi.com, believes Nitish is only correcting his past mistakes through his overtures to Hardik. "Nitish had erred by supporting Narendra Modi on demonetisation. He had to face a lot of embarrassment for this decision. A prominent leader like Mamata Banerjee came to Patna and termed him a 'traitor'. His alliance partners RJD and Congress are also not comfortable with this stand," Haque says.
"Nitish's backing for the note ban has sent the signal that he was keeping his options open to mending fences with the NDA. His gestures towards Hardik are aimed at dispelling this notion," he adds.
National ambition
Nevertheless, many observers wonder if Nitish has taken upon himself to oppose Modi using the issue of reservation as a political tool. But then, what is prompting him to keep a safe distance from Lalu? Why does he maintain a studied silence or deflects any question related to the RJD?
In the opinion of political analyst Professor S Narayan: "Nitish Kumar is a mysterious leader. Nobody can preempt his strategy. He has already broken the record of the state's first Chief Minister, Shri Krishna Singh, as the longest-serving CM. There is little left for him to prove in state politics. Therefore, he has set his eyes upon national politics. This means Nitish has to emerge as the focal point of anti-Modi politics. Currently, only Arvind Kejriwal matches him in this regard. The latter has also tried to woo Hardik Patel in his own way.
"However, Hardik has given a cold shoulder to the Delhi Chief Minister. He has invited HD Deve Gowda, Mamata Banerjee and Nitish Kumar to the Kisan Sammelan, while keeping Kejriwal out of his guest list. Nitish can sense a political opportunity in this benevolence shown by Hardik. This is the reason he welcomed the Patidar leader with open arms."
Mutual benefit
Nitish aims to get a foothold in Gujarat politics through Hardik; he hopes the latter would help with his branding. On the other hand, the association with Nitish might equally work for Hardik, as he eyes Kurmi votes in Gujarat to grow in stature.
Nitish is known for his unpredictability. He is not wary of trying new political experiments and is a master at making the most of the opportunities that come his way. He has not shied away from sharing the stage with Arvind Kejriwal on many occasions.
Nitish had even felicitated JNU student leader Kanhaiya Kumar and organised a rally in Patna. Now, he sees a new possibility in Hardik Patel.
Edited by Shreyas Sharma
More in Catch
Why is Nitish backing Modi on note ban? It's political opportunism
Hardik Patel extends support to Arvind Kejriwal, asks AAP to back Patel community's demands
Hardik Patel accepts Gujarat government's invitation for talks