What happens in Gujarat... affects politics in Karnataka. BJP is on a sticky wicket there now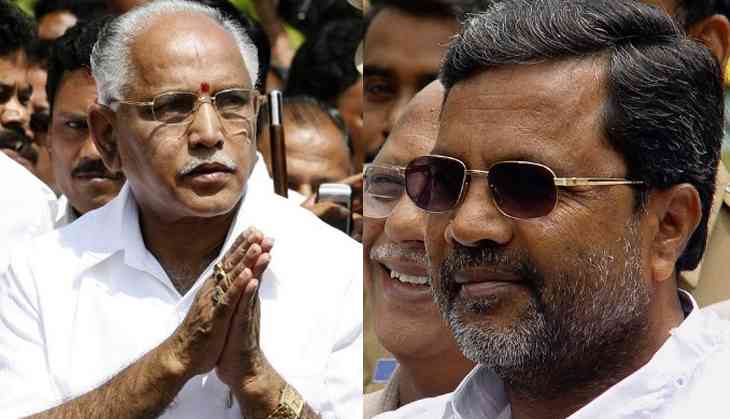 Bharatiya Janata Party's (BJP) not-so-impressive performance in Gujarat, the home state of both Prime Minister Narendra Modi and BJP President Amit Shah, has significantly altered the perceptions in a completely unrelated state – Karnataka.
Politicians belonging to three major political parties – Congress, BJP and Janata Dal(S) – were keeping a close watch on the Gujarat outcome.
Even though the BJP managed to retain power for the sixth consecutive term, its decreased tally has sown seeds of doubts in the minds of Karnataka legislators, who had contemplated switchover to the BJP before the scheduled polls in April 2018.
At least a dozen sitting MLAs belonging to Congress and the JD(S) were in talks with the state BJP leaders for several months, but after the surprising Gujarat results, they have gone into a silent mode. Efforts by BJP leaders to contact them and take forward the negotiations have quietly been rebuffed with 'switched off' mobile messages.
If the newly appointed Congress president Rahul Gandhi spoke of a "moral victory" in Gujarat – after failing to dislodge BJP from power even 22 years later – the reflection of that assertion is perhaps seen in Karnataka.
Unlike Gujarat, Congress is in power in Karnataka for the last five years and in Siddaramaiah, has a strong leader who has the capacity to take on the BJP pantheon, including Narendra Modi and Amit Shah.
When Amit Shah called Siddaramaiah the "most corrupt chief minister" in the country, Siddaramaiah shot back saying – "I don't need character certificate from a man who was in jail on criminal charges and should have continued to be in jail."
The CM has also accused Modi of carrying on "communal agenda" and discriminating against non-BJP states.
In fact, state BJP and Congress leaders have already launched election rallies across the state, covering every one of 224 Assembly segments. While BJP's campaign is called 'Parivarthana yatra' (transformation rally), Congress has named it 'Ashirvaad yatra' (seeking people's blessings).
The speeches at the rallies, instead of touching on development issues and problems facing the state, have turned to no-holds-barred personal attacks, especially between BS Yeddyurappa and Siddaramaiah.
Siddaramaiah's jibe that Yeddyurappa had the dubious distinction of being the only former chief minister to go to jail on corruption charges, received immediate retort from Yeddyurappa who accused Siddaramaiah of running the most corrupt administration and promised to send him to jail "within 24 hours of coming to power" in the state.
BJP's Union minister for skill development, Ananth Kumar Hegde, who is a fire-brand five-time MP, is grabbing more headlines by launching vitriolic attacks on the Congress. His latest description of secularists as those "not born to any fathers or mothers," has been severely criticised, leading to a demand in Parliament that he should be sacked from Union cabinet.
In the midst of all these fireworks, Siddaramaiah has been working vigorously to cause a split in among Lingayats, who constitute BJP's vote bank. He's aware that the Congress was able to win in 2013 largely because of Yeddyurappa's party KJP garnering 10% votes, mostly from the BJP's basket.
Now that Yeddyurappa is back with BJP, Siddaramaiah sees the need to create another rift in the community to help Congress.
For the past few months, a section of Lingayats has been holding rallies across the state demanding that they be recognised as a separate 'religion' and be given minority status. Well-attended rallies, backed by some Lingayat ministers in the cabinet, have had strong vocal support from the chief minister.
Another powerful section of Lingayats, who are also known as Veerashivas, has held counter-rallies strongly opposing the tag of a new religion outside Hinduism. RSS and BJP support this group's stand, but as a political party, BJP is also supporting the separatists' demand for greater reservation for the community. It has accused Siddaramaiah of indulging in 'political games' with the Lingayats.
Siddaramaiah is treading cautiously for now, but he may write to the Centre recommending that Lingayats be recognised as a separate religious group. The BJP-led Centre is unlikely to meet the request, but the chief minister hopes that those supporting the agitation will appreciate his "sincere effort" and vent their anger against the BJP.
All this drama is the result of a highly fluid political situation which indicates that neither BJP nor Congress is likely to get a majority.
One of the more credible pre-poll surveys in Karnataka – done before the Gujarat elections – has predicted BJP marginally trailing behind Congress in a hung Assembly, and those odds could strengthen and lengthen as the polls near unless some dramatic events happen over the next few months.
Unlike Gujarat, Karnataka has a strong third party in JD(S) which has a history of relishing an inconclusive verdict and sharing power alternatively with both Congress and BJP. This time around, though JD(S) is pitching for a majority on its own, realistically, the focus is on winning maximum seats and maximising its bargaining power.
For the Congress, which is reduced to 44 members in Lok Sabha and the control over a mere five states across the country, Karnataka is a do-or-die battle to retain a foothold in the south. Karnataka is the only major state going to polls, along with Meghalaya, Tripura and Nagaland in 2018 and hence the focus of both BJP and Congress will be on this southern bastion.
For the newly anointed Congress Chief Rahul Gandhi, a victory in Karnataka will be crucial to galvanise the party for the bigger battle in January 2019 in Rajasthan, Madhya Pradesh and Chattisgarh, to be followed by his biggest test in the Lok Sabha elections a few months later.