'We backed GJM for electoral gain, not Gorkhaland': BJP leader admits to cynical game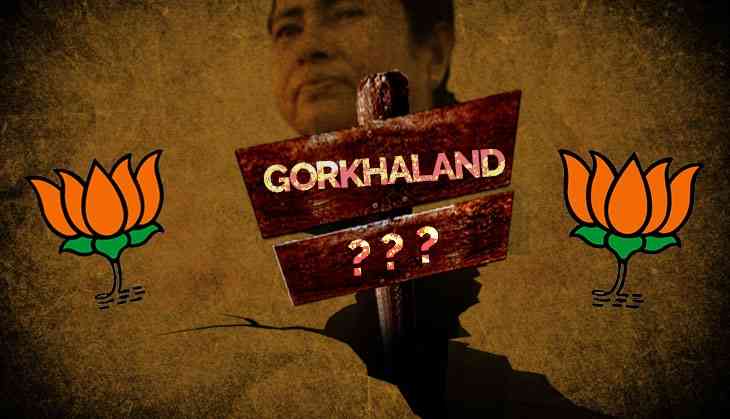 The Bharatiya Janata Party is caught in a bind on the Gorkhaland issue. With three Gorkha Janmukti Morcha supporters being killed in the Darjeeling hills on Saturday, there is increasing pressure on the party to make its position clear.
It will have to do it soon, with the all party meeting scheduled to take place on 22 June in Siliguri. It will be chaired by West Bengal home secretary Moloy De.
On one hand the BJP is under pressure from its ally GJM, that is upset with the Centre's hands-off approach. On the other hand, it is afraid of losing support in West Bengal if it seen to be in support of dividing the state.
On Monday, GJM MLA Amar Singh Rai attacked the Narendra Modi government, saying "Even though the Centre has the authority to table our demand for Gorkhaland in Parliament, it is not willing to do so".
BJP national secretary Rahul Sinha, who hails from West Bengal, virtually admitted to the party's cynical approach.
"We have already said that we supported GJM only for electoral gains. We haven't supported their demand for Gorkhaland. We are a separate party with a separate ideologies," Sinha told Catch.
Senior officials of the state home department said that the state government has sent a report on Monday regrading the situation in the hills, after three GJMM supporters allegedly died in police firing.
BJP leaders in the hills are supporting the Gorkhaland cause but other Gorkha parties feel that it is essentail for GJM to come out of the Gorkhaland Territorial Administration (GTA).
According to Sinha, it is the responsibility of chief minister Mamata Banerjee to initiate dialogue with the Gorkhas and resolve the issue .
On the other hand Rai said "We will continue our demand for a separate state of Gorkhaland until both the state government and Centre speak to us and convene a tripartite meeting to accept the creation of Gorkhaland."
Harka Bahadur Chhetri, chief of Jan Andolon Party (JAP), said "We have clearly told the GJM leaders that we will united under a common platform for Gorkhaland only after they quit GTA and adopt a non-violent path for achieving a separate state. So far there is no indication that GJM would do anything of this sort".
"The state government has no role in granting a separate state. It is the Centre's job. GJM doesn't have a proper road map on what they plan to do," he added.
Political analysts are of the opinion that BJP is finding it difficult to agree to the GJM's demands as it would mean losing out support in the plains of West Bengal.
Samir Kumar Das, professor of Political Science at Calcutta University (CU) said, "BJP's sudden rise in Bengal has come to a halt after the violence in the hills. The difference of opinion between the BJP's unit in the hills and its Central leadership has become a major problem".
"BJP had originally promised smaller states in its manifesto, but now they aren't following up on it," headed.