VP candidate Gopalkrishna Gandhi defends decision to seek mercy for Yakub Memon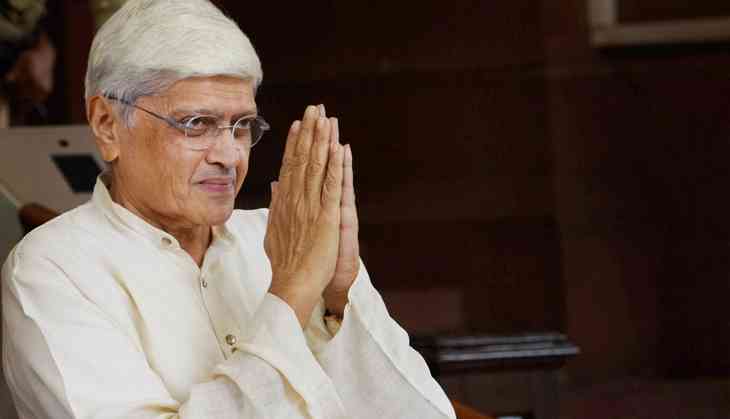 Claiming that he is a common man who has come forward to represent the common man, former West Bengal governor and vice presidential candidate, Gopalkrishna Gandhi thanked the 18 opposition parties that picked him as their joint nominee for the post of vice-president in election to be held on 5 August.
"I believe that the people of India today need me and any other candidate for representative position, not as an Opposition candidate or as a person representing a party in power, but as a person who is just in expressing the inner feelings, fears, hopes and aspirations of the people. I am not here to oppose any individual, much less the senior gentleman, who has been nominated by the NDA for the office of VP of India. I am not here to oppose any political party or political formation either. I am here with all humility to place before the electors – the honourable members of Parliament – the aspirations of the people of India," he said.
The election will pitch him against former Union minister M Venkaiah Naidu.
Gandhi, who filed his nomination on 18 July, claimed that the India of today is living in times of division and a "whole force" that is dividing our country is in action mode which spells danger to the future not just as a polity but as a nation and civilisation.
The former West Bengal governor filed his nomination in presence of former prime minister Manmohan Singh, Sonia Gandhi, Rahul Gandhi, Sitaram Yechury, Sharad Yadav, D Raja, Tariq Anwar, Praful Patel, Farooq Abdullah and Kanimozhi. Earlier in the day, Biju Janata Dal chief Naveen Patnaik also extended his support to Gandhi and the latter thanked him for the support.
Objections to the candidature
Meanwhile, Shiv Sena had earlier raised objection to Gandhi's candidature and accused him of trying to save Bombay blast accused Yakub Memon from the gallows. Gandhi had written to President Pranab Mukherjee to commute Memon's sentence and failed. As a result, Memon was executed by hanging on 30 July 2015.
Responding to Sena's allegations, Gandhi said that capital punishment belongs to the medieval ages and he is opposed to death penalty in principle. He went on to add that he drew inspiration from Mahatma Gandhi and BR Ambedkar who opposed such punishment, and even sought abolition of the practice. Earlier, Gandhi had also written to Pakistan President Mamnoon Hussain and urged him to commute death sentence of Kulbhushan Jadhav on grounds of "humanity and justice".
"I do not wish to defend it because death penalty is a death penalty. It is in this context that I wrote to the Pakistan's prime minister, as an independent citizen, that he should be saved from death penalty," he added.
Remembering how after Mahatma Gandhi was assassinated, his two sons – Manilal Gandhi and Ramdas Gandhi – had appealed to the government of the day that his killer Nathuram Godse and even Narayan Apte should not be hanged, the former West Bengal governor said that he belonged to that school of thought.
The odds of winning
Meanwhile, the odds are heavily in favour of NDA's VP nominee and former Union minister Venkaiah Naidu largely because of the brute majority that the ruling party enjoys in Lok Sabha. Unlike the presidential elections, only members of Parliament can elect the vice president.
Talking about how arithmetic is not in his favour, Gandhi pointed how arithmetic was about numbers while philosophy being all about principles.
"There can be nothing better if numbers and philosophy come together. But sometimes, for principle you have to take certain steps, which are not connected with numbers. I am not thinking about win or loss, I am only thinking that in today's India citizen's voice remains strong," he added.
While asked about how Naidu's nomination has put leaders of many parties in the opposition camp in a dilemma, Gandhi said that he too got similar feedback from leaders of political parties supporting the government.