Vishnu's avatar, Mahatma, economist: 10 crazy things Modi has been called
Catch Team
| Updated on: 13 February 2017, 5:28 IST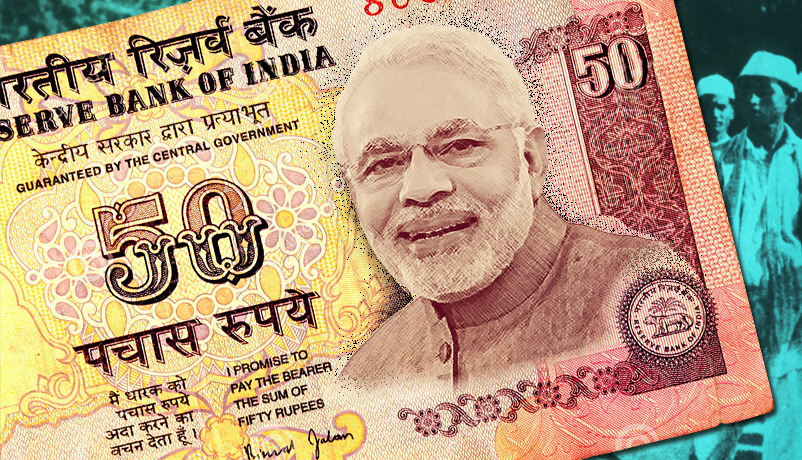 From the masks to the pinstriped suit, Prime Minister Narendra Modi loves to project a larger than life image. But more than his own efforts, it is his party colleagues who glorify him, sometimes to ridiculous levels.
For some he's an avatar of Vishnu, for others he is equal to Mahatma Gandhi. Here's a look at some of the most outlandish compliments Modi has received from his sycophants.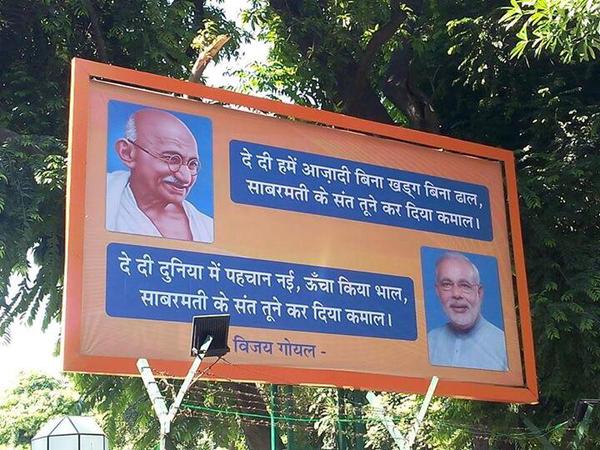 Here a billboard put up by BJP Rajya Sabha MP Vijay Goel calls Modi 'Sabarmati ka Sant' an epithet used only for Mahatma Gandhi. Lokesh Chandra, head of the Indian Council for Cultural Relations, goes a step further. "From a practical point of view, Modi supercedes the Mahatma," he said.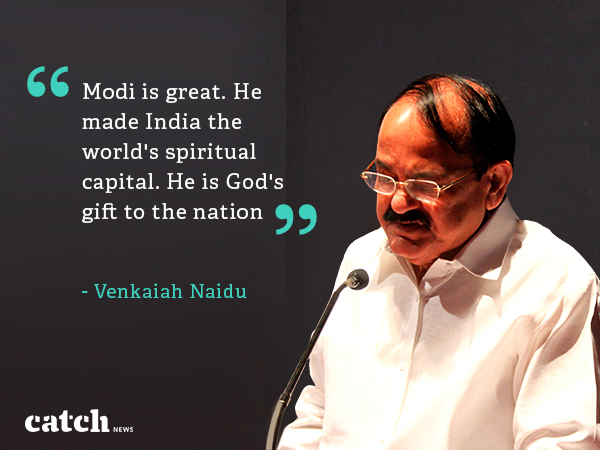 Being senior to Modi in terms of age as well as in the party hierarchy didn't stop Venkaiah Naidu from singing his paeans.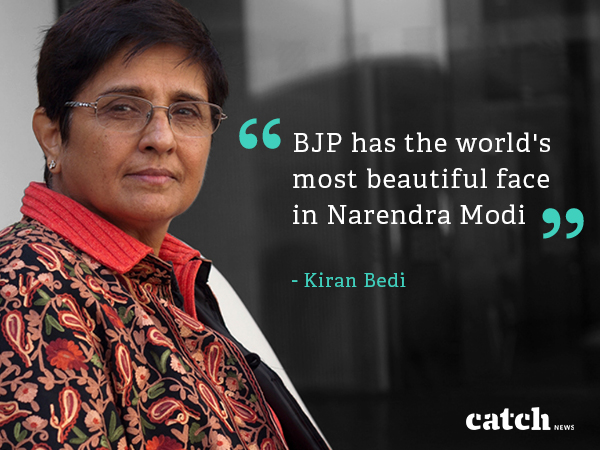 We really wonder what precisely does Kiran Bedi mean by "world's most beautiful face"? Modi might be a popular leader, he isn't exactly a beauty queen.
04
PM's birthday party organisers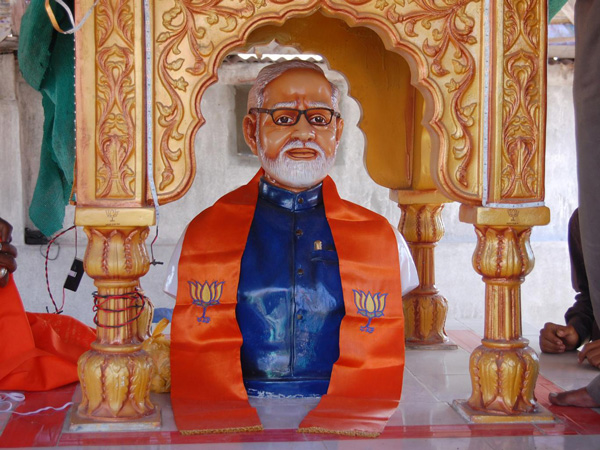 On his 65th birthday Prime Minister Narendra Modi was worshiped as an avatar of Lord Vishnu. He was seated along with Lord Ganesha at a giant Ganpati mandap in Surat during this year's Ganesh Puja. The organisers even referred to Modi as Vikas Devta, or the Lord of Development, whatever that means.
Modi as an avatar of Vishnu seems to be a widespread belief in the BJP. Faizabad MP Lallu Singh compared Modi with Lord Ram, who was himself an avatar of Vishnu. "The manner in which the entire country stood behind Lord Ram, they will stand behind Modi as well," Singh said. What next, a Bal Narendra idol on the lines of Ram Lalla?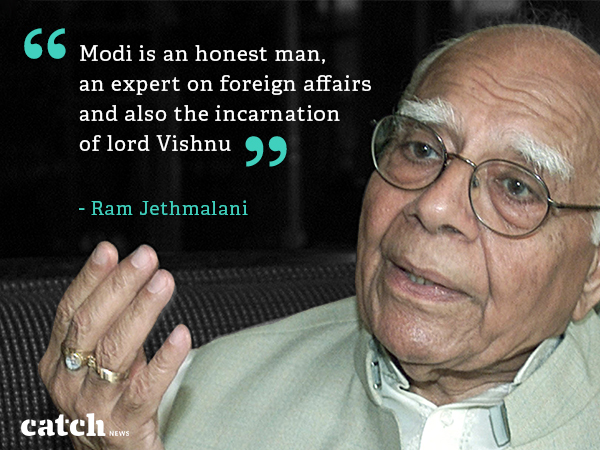 Speaking of Ram, the "Modi as Vishnu" story seems to have convinced even Ram Jethmalani. The eminent lawyer called Modi an incarnation of Vishnu and an expert on foreign affairs. We don't quite know how the two attributes are connected.
However, Jethmalani's tryst with Modi's mythological attributes has proven to be shortlived. Earlier this week, he said that Modi has cheated the people. On being asked about his own support for Modi, he said that he was a "victim of fraud". Our deepest sympathies are with Jethmalani, for he got conned by a deity of his own creation.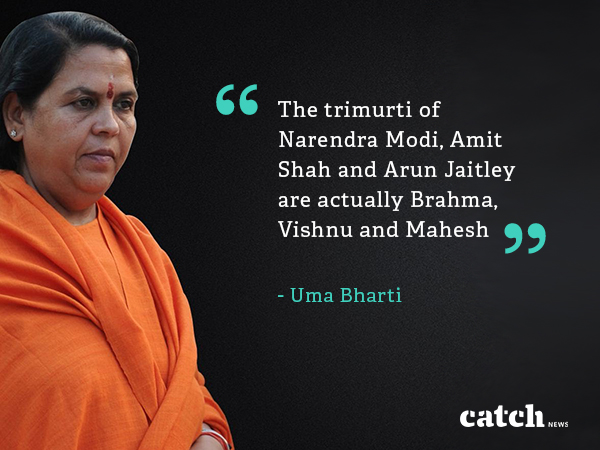 Always the rebel, Sadhvi Uma Bharti broke away from from this Modi monotheism in the BJP. She said that the triumvirate of Modi, Amit Shah and Arun Jaitley are actually Brahma, Vishnu and Mahesh.
So does that mean Modi is the creator, Shah the preserver and Jaitley the destroyer? Perhaps 'the father, the son and the holy spirit' would be too controversial for Hindutva sensibilities.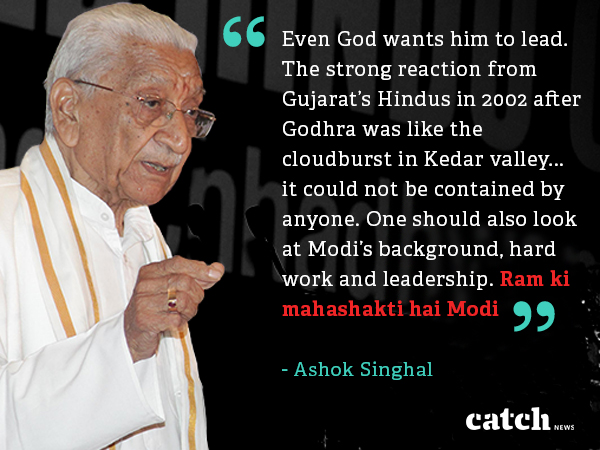 Ashok Singhal seems more impressed by Modi's destructive capabilities. But Singhalji, if you've already found your Ram in Modi, why the hue and cry over a Ram Temple?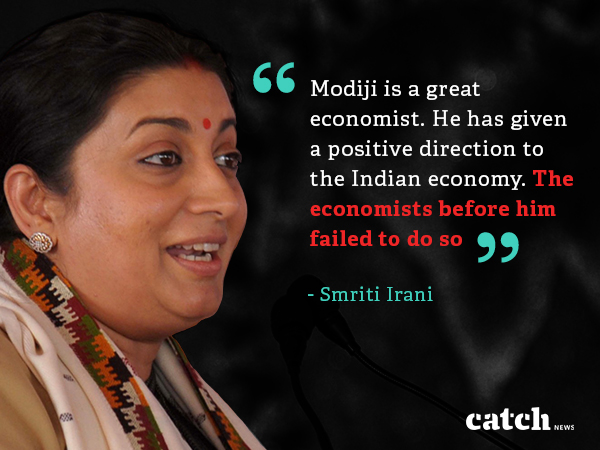 Frankly, this is the scariest bit of praise Modi has received. If Smriti Irani, the education minister, considers him an economist, one fears for the fate of India's economy (as well as education, come to think of it). Perhaps we would need the real Lord Vishnu to save us.
Every deity needs a shloka. Here's an anthem prepared by Modi's devotees. Hail Namo.