Uttar Pradesh polls: Desperate for a tie-up, Congress woos both BSP & SP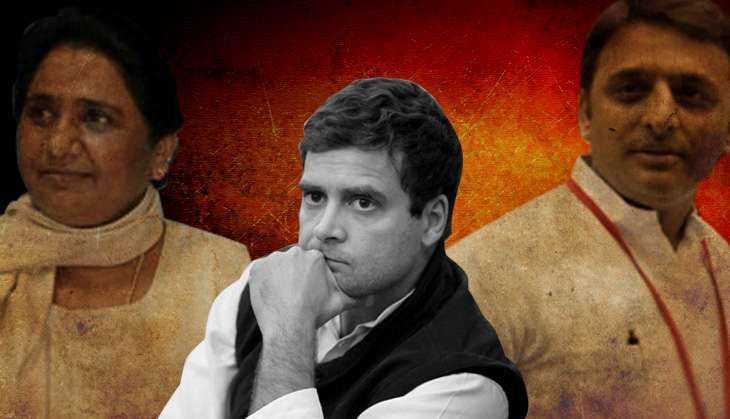 The Congress party is trying hard to form an anti-BJP alliance in Uttar Pradesh on the lines of Bihar's Grand Alliance.
They are in contact with both the main parties in Uttar Pradesh - Samajwadi Party and Bahujan Samaj Party.
The Congress knows it quite well that it is nearly impossible for it to come to power in the state on its own might.
Also read: UP BJP president Maurya as CM candidate? It could be a game-changer
However, there is an urge to repeat the Bihar victory, especially as winning Uttar Pradesh would be crucial to stopping Modi in the 2019 Lok Sabha elections.
The Congress has been trying to reach out to the regional parties of UP for the last 7-8 months.
The first effort was made during Diwali last year when Ahmed Patel hold meetings with BSP leader Satish Chandra Mishra. But there was no final decision and the negotiations got derailed due differences over seat sharing. The BSP was not ready to contest less than 300 seats and remaining 103 were left for the Congress and other possible allies.
The latest development is that Congress is even trying to get Samajwadi Party for an alliance. According to sources, Congress Rajya Sabha MP Pramod Tiwari is negotiating with the Samajwadi Party. The calculation is that the 20% vote base of the SP plus 12% of Congress and 2-3% of others can prove to be a winning combination. Ajit Singh's RLD is already in the process of aligning with the SP.
Actually, Pramod Tiwari sees it as a coming together of Brahmin, Yadav, Muslim and Jat vote banks. His own political role will also become more important. Tiwari is not very popular within the Congress and he is trying to refurbish his image. If such an alliance is cobbled up and succeeds at the hustings, it would be a huge boost for Tiwari.
Predictably, Tiwari denies being involved in any such negotiations. "Any queries about alliances should be put before Ghulam Nabi Azad, who is the in-charge for the state. I am not authorised for any such job or comments," he said.
The better formula
The other formula is what the Congress has been working on since its Bihar victory. - a tie-up with the BSP. The hope for an alliance was renewed when Congress president Sonia Gandhi sent the reliable Ghulam Nabi Azad as the state in-charge. Azad is known for being in good terms with allies and he has performed well for the Congress in states like ammu and Kashmir, Tamil Nadu, Bihar, Assam and so on.
Also read: BJP steps up Dalit-wooing, but avoids direct scrap with Mayawati
Source suggest that Azad has initiated a dialogue with the BSP. The alliance would be based on a consolidation of Dalit, Brahmin and Muslim votes. Many observers believe that if this happens, it would be troubling news for the BJP.
On his part, Azad has hinted that that the party will be open to a post poll alliance with like-minded parties.
Some observers predict that even if there is no alliance between BSP and Congress, they might work out an understanding to arrive at a majority. The BSP support for the Congress in the recent Rajya Sabha polls further fuelled speculation about such an understanding.
Also read: Puttar Pradesh: RLD's Jayant Chaudhary set to join Akhilesh's govt