UP polls Phase 4: Gulaabi Gang's Sampat Pal is upbeat but there are odds stacking up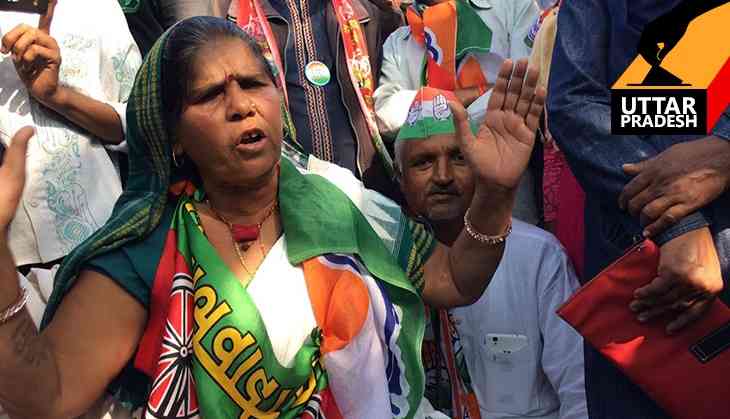 "Now we are entering Manikpur valley," the driver remarked as the car sped through on the narrow road, surrounded by the barren hills of the Vindhyas on both sides. There is little vegetation, except for the bushes or occasional green patches of farm land. "This is the most backward region of Bundelkhand," the driver continued as the car entered Manikpur town.
Manikpur, in Chitrakoot District, along with other constituencies in Bundelkhand, will vote on 23 February, in the fourth phase of the UP polls.
As you enter the town, a group of women is seen campaigning on the road, hopping from one shop to the next, stopping by at the houses on the way. The slogan "Mohar lagegi panje par" is heard from a distance.
"It is Sampat Pal's Gulabi Gang," the driver explained, as we wait for the group to come closer. Most women, including Pal, are not in the pink saree, the dress the organisation is associated with and known for globally.
Gulabi Gang shot into the limelight for their aggressive advocacy against violence against women, which is so rampant in this region – a region where poverty is so stark that it hits you in the face.
And dacoits still exist, although their influence has waned, since 'Dasyu Samrat' Dudwa, the legendary dacoit, was killed some years ago. Babli Kol, a local tribal is said to be the most dreaded dacoit in the region now. Unlike Dudwa, the local Robinhood, Babli Kol is unpopular.
"He is creating problems for even the poor Kols, people of his own community," said a local activist. Most Kols make a living out of gathering wood and selling it in nearby towns.
"I don't call them dacoits," Pal said.
"They were forced to become dacoits for the poor would not get justice from the administration. Even Babli Kol is not a dacoit, even though people call him one," Pal pointed out.
Pal contested her first Assembly polls against Dacoit Thokia's mother. "I contested after I got to know that they were asking for votes by threatening people," she said, narrating how she got a stick as a symbol, and how she gave a slogan "Agar Thokia karega gadbadi, to usko padegi chhari (stick)." This time, locals said, no 'firman' on whom to vote has come so far from any gang.
Promises & more
Pal was in pink, the previous day, as she shared the stage with Chief Minister Akhilesh Yadav, who was in Karvi to address a rally. Before CM Yadav arrived, Pal jumped the barricade to interact with the press.
"I will make a film city in Manikpur," she told mediapersons, before she was advised by the security personnel to go back in as Yadav's helicopter was finally spotted hovering over the skies of the local police lines, the venue of the rally.
Pal has had a couple of films made on her journey as an activist including the Madhuri Dixit-starrer Gulaab Gang, which she doesn't like to associate with. "I have moved court against that," she said.
It is the third time that Pal is contesting the Assembly polls, after 2007 when she contested as an independent and lost badly, and again in 2012 when she contested as a Congress candidate and managed to get an impressive 23,000 votes.
This time she is pitted against RK Patel of the BJP, the former SP MP who joined the BJP and Chandrabhan Patel of the BSP, the sitting MLA from the constituency.
Rallying support
Locals say Pal is a strong candidate and needs to be given a chance. "She has been losing the last two times. This constituency has had a BSP MLA for the longest time. It is time we choose her," said Shivnarayan Yadav, a farmer from Kekramar village.
"She stands by the women, even goes to the DM with them to take care of their issues," he added.
"We are thinking of voting for her this time," said Durga Prasad Pal of the Unchadi village, as he made his way to his small farm along with the two bullocks. "There is no water, no food grains," Durga Prasad said. "Out of the ten years, it has only rained only twice. Rest of them we have had a severe drought," he said.
Last year saw good rains in the region bringing about relief for the locals.
But all's not well
Meanwhile, Shanti, a Kol tribal in Amarpur village is not very happy with Pal. "She has not done any work here," she said, sitting outside her unplastered house. It is one of the few brick and mortar houses in this village where people mostly live in huts.
"Mayawati's government got this house built," she added.
"Sampat Pal mostly distributes sarees now and does nothing more," a woman activist said narrating how several women she often encounters in the region do not know anything about the Gulabi Gang except that they have been given sarees.
"Their association with it last as long as the life of the saree," she said.
"It is good that Pal has come to Manikpur to contest and not Banda, where she lives," said an aide. "People there know everything about her," he goes on.
"She is like peepal ka ped. Does not allow anyone to grow under her," he explained.
Another senior activist who has been working in the region for many decades now, too, seemed underconfident. "She is not putting in the kind of effort which is needed. She has become a slave of her larger than life image, becoming too overconfident in the process," he pointed out.
Meanwhile, for the local Samajwadi Party unit, it is a different battle. The local unit is unhappy on how the seat went to the Congress' kitty. "She manages to get a ticket straight from 10 Janpath," a local SP leader complained. "She has become hi-tech."
SP had fielded Nirbhay Patel in the 2012 polls. With two Patels in the fray, from the BJP and the BSP, sections of the district unit fear that the votes of this dominant community may go for these candidates instead of Pal.
Nirbhay Patel is not very keen that Pal wins since she is from another community and not from the party.
During his rally in Karvi, CM Yadav is said to have told Patel to work for Pal's victory. Still, the local unit is not very sure.
"There is a fair chance that she may be a victim of vishwasghat," a local SP leader feared, adding that the support from the Patels could make or break her election.
Edited by Jhinuk Sen