UP ex-CMs seem to be in no mood to vacate Lucknow bungalows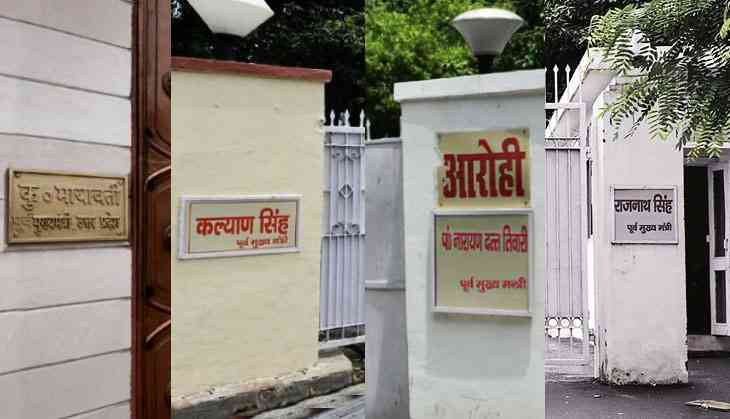 Despite a Supreme Court order and notices issued by the Uttar Pradesh government's estate department, several former chief ministers of the state show no signs of vacating government bungalows they live in.
Kalyan Singh and Rajnath Singh, former CMs from the ruling Bharatiya Janata Party, vacated without much fuss. While the former is now the governor of Rajasthan, Rajnath is the Union home minister. But Mayawati, Mulayam Singh Yadav and his son Akhilesh found ways to circumvent the order.
Bahujan Samaj Party supremo Mayawati agreed to shift to a new address -- 9, Mall Avenue, not far from her official 13 A Mall Avenue residence -- but refused to let go of the massive house. She converted it into a memorial for her mentor Kanshi Ram. A sign now proclaims the venue to be Shri Kanshi Ramji Yaadgaar Vishraam Sthal.
Senior BSP leader Satish Mishra met CM Yogi Adityanath on Friday, 25 May, with a letter from Mayawati and a bunch of papers to prove that bungalow 13 A was declared a Kanshi Ram memorial on 13 January, 2011. The government order, which was passed when Mayawati was CM, permitted her to stay in the bungalow as a "caretaker".
Mishra said Mayawati was using only a small portion in the 10-room bungalow. "As the bungalow houses Kanshi Ram's statue and memorabilia and was officially a memorial, it cannot be allotted to anyone else," Mishra said. He emphasised that the security and upkeep of the memorial have to be the responsibility of the government.
Mayawati also has another official bungalow at 6 Mall Avenue for her security detail for which no notice has been served. "We will vacate this bungalow once we are asked to and after alternative arrangements are made for the security staff," Mishra added.
In her letter to CM Adityanath, Mayawati is reported to have said the bungalow represents the aspirations of the poor and the downtrodden, across the country.
Earlier Mulayam called on the chief minister to suggest a way to retain the houses allotted to him and his son Akhilesh by virtue of being ex-chief ministers. Mulayam told the CM that the bungalows may be allotted to Ram Govind Chaudhary and Ahmad Hasan of the Samajwadi Party. Chaudhary is the leader of the Opposition in the UP Assembly, while Hasan is the leader of Opposition in the legislative council.
Under this arrangement, they would be able to stay in their respective bungalows, Mulayam said, without realising he would still be an illegal occupant. As his letter got leaked to the media, Mulayam's plan went kaput.
Akhilesh asked for two years' time to vacate the bungalow as he did not have a place of his own.
Disputing Akhilesh's claim, BJP spokesman Amit Puri released details of the 1A Vikramaditya Marg property owned by Akhilesh and his politician wife Dimple, as declared in their election affidavits. Mulayam owns a 3,230 square feet property in Gomtinagar's Vishwas Khand, he said. "These are not the only properties owned by the Yadavs," said Puri, calling their excuses specious.
Another former CM who may not vacate the house is ND Tiwari. Responding to the Estate Department's notice, his wife Ujjwala Tiwari said that her husband was in Delhi's Max Hospital undergoing treatment for brain stroke for the last eight months. "His condition being serious, I have to be in Delhi. Moreover, he is the only freedom-fighter CM and does not own any house," Ujjwala Tiwari said in her letter to UP CM as she requested for one year's time from the government to vacate the house.
A notice was also issued to former Public Works Department minister Ammar Rizvi who stays in 11, Gautam Palli, the house where Acharya Kripalani and his chief minister wife Sucheta Kripalani used to stay. The house is allotted in the name of Awadh Krishak Sewa Utthan Samiti.
Rizvi has sought time till the end of Ramzan for vacating the bungalow. "I am the only one paying a rent of Rs 60,000, the market rate, while others are paying less than Rs 5000," Rizvi said, hinting at the low rents being paid by Mulayam, Mayawati and Akhilesh. He wants the house to be turned into a memorial for Acharya Kripalani.
Rizvi also has to host the US ambassador to India on 6 June. "He will be the 13th US ambassador to be hosted by me," Rizvi said.
Another trust in the name of Mahatam Rai, father of former BJP MP Kusum Rai -- known to be close to Kalyan Singh, occupies an official bungalow. It is to be seen if the government will be able to get the bungalow vacated.