UP Congress leaders up in arms against "high-handed" Prashant Kishor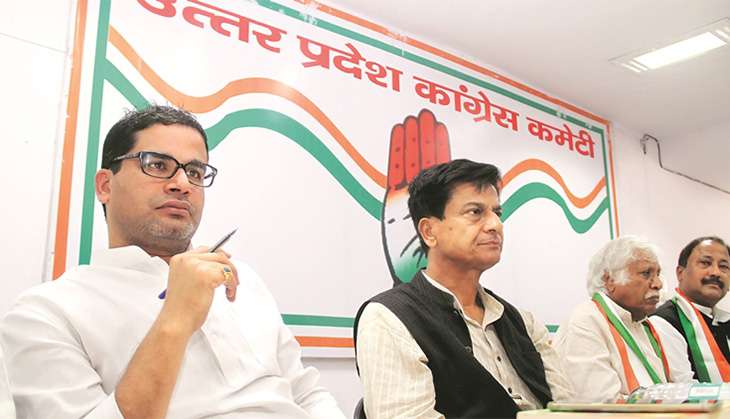 After Punjab Congress President Captain Amarinder Singh publicly chided poll strategist Prashant Kishor for interfering in internal party affairs, UP Congress leaders too have raised objections to his high handedness and increasing interference in organisational matters. Party insiders claim that all is not well between Kishor and the Congress state unit in Uttar Pradesh.
Accusing him of taking unilateral decisions including summoning office bearers and holding weekly "off the record" conversations with the media, the state leadership has become extremely critical of Kishor's interference. However, not one of them is willing to come on record fearing the clout Kishor wields with Rahul Gandhi. These differences, they claim, are beginning to hurt Congress' plans of regaining lost glory in India's most politically significant state.
Also read - Cong crisis: Uttarakhand & Arunachal are symptoms. Rot begins at the top
After his dazzling performances during the Lok Sabha elections and the Bihar assembly elections, Kishor Congress outsourced its election campaign to Kishor. He was seen as the man with a magic wand who played a major part in ensuring electoral victories for Narendra Modi and Nitish Kumar in 2014 and 2015 respectively. The idea was to create a "buzz" about the Congress that had been on the margins of the state politics for more than two decades. But, much has changed since then and now reports of differences between the state leaders and the poll strategist are repeatedly making headlines.
"He seeks total control"
"He seeks total control of the party and for that he is bypassing all regional power structures. This has created friction between him and the state leaders. Kishor has been repeatedly been planting stories on the need to replace state party president Nirmal Khatri with a Brahmin face. This particularly is being opposed by the state leadership," said a Congress leader on the request of anonymity. He says that with polls just six months away, it is too late to make such a change and could eventually back fire.
Fed up with his attitude of "total control", some senior leaders are even contemplating resigning from their respective roles if Kishor continues to run things his way. They believe he should have no say in candidate selection and such decisions should be the prerogative of the state in-charge, state president and the central leadership. "If he will do everything, what are we here for? We cannot operate like this and if this continues, we will leave everything to him," said a senior Congress functionary from the state.
The central leadership too has occasionally chided the star strategist even to the extent of shooting down some of his ideas especially that of Rahul Gandhi being portrayed as the chief ministerial candidate or Priyanka Gandhi as the face of the election campaign. But Rahul still seems to be backing Kishor, which has further demoralised the state leaders.
Even the uncertainty over the organisational reshuffle have added to the confusion and state level functionaries are not even sure whether they will be given another term. A complete overhauling of the organisational structure is on the cards after the Rajya Sabha elections and state units too will undergo these changes.Under these circumstances, it remains to be seen whether such an exercise would unravel in UP considering the polls are due in next six months. "This has further jeopardised the decision making process and many programmes in the states have been put on hold because of this. A decision should be made at the earliest so that we are aware what roles have been outlined for us," says another functionary.
Kishor exceeds his brief
Though the Congress leadership has repeatedly claimed that Kishor's role is just confined to making suggestions for the campaign and election manifesto, his detractors say that his actions have gone way beyond the brief. They also claim that despite these differences, Kishor is being provided all necessary help and support to ensure Congress expands its electoral footprints in the state where it is not even seen amongst the top three parties.
Also read - How Prashant Kishor plans to deliver UP for Congress in 2019
In fact, when Kishor sought names of 20 committed workers from each of the 75 districts, the state unit duly obliged and provided a list of 1500 of which 800 have been verified. These workers are expected to conduct door to door campaigning for the party to ensure its presence is felt in each of the constituencies.Considering what is at stake in UP, state Congress leadership has floated the idea of former MPs and ministers be allowed to contest the 2017 assembly elections. This they believe would ensure a high profile campaign which is likely to benefit the party.
"We have sent this suggestion to Rahul Gandhi and we need a formal approval from him before we approach these senior leaders," said a Congress functionary. The former ministers from UP include Jitin Prasada, RPN Singh, Salman Khurshid, Sriprakash Jaiswal and Pradeep Jain Aditya whereas ex-MPs Raja Ram Pal, PL Punia, Kamal Kishore, Praveen Singh Aaron, Nirmal Khatri, Zafar Ali Naqvi, Harsh Vardhan, Mohammad Azharuddin, Rajkumari Ratna Singh, Vinay Kumar Pandey and Annu Tandon too could be asked to contest.The functionary added that these senior leaders would also be allowed to choose a candidate of their own choice for the assembly seat adjoining theirs. "This will also help us now and even during the Lok Sabha polls. If these top leaders adopt two constituencies each and nurture them then the results would be for all to see," he added.
Meanwhile, Kishor too has backed the idea.
More in Catch - Congress in crisis: Grand Old Party, same old problems
Prashant Kishor's biggest obstacle isn't Amit Shah. It's the Congress old guard