#UnionBudget2016: BJP says it's 'pro-poor', Opposition says 'mere sloganeering'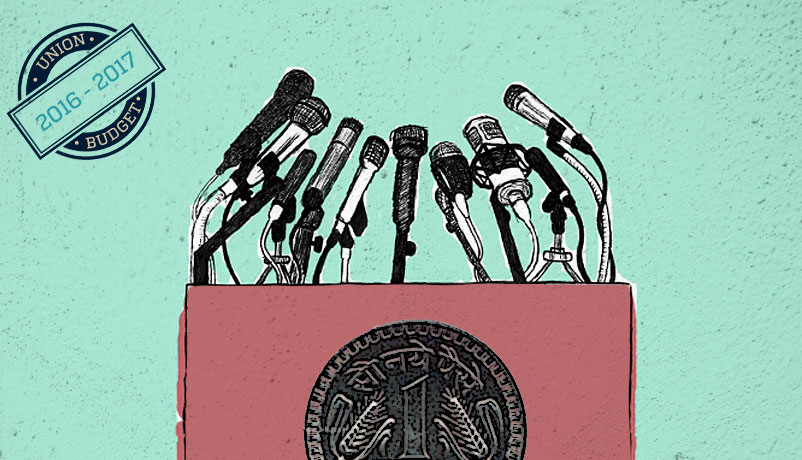 It is not surprising that while the BJP has hailed Arun Jaitley's Union Budget 2016-17, Opposition parties have not taken kindly to it.
The Opposition's criticism, this time, ranges from lack of any new idea to 'mere sloganeering'.
Here is a look at what major political parties had to say:
Amit Shah, BJP:
Budget is "pro-poor" and "pro-farmers".
Prime Minister Narendra Modi and Finance Minister Arun Jaitley have kept farmers, poor and rural India at the centre of the Union Budget.
This budget will help strengthen Modi's aim of bringing poor and villagers into the mainstream of development.
Also read - Union Budget 2016: No change in income tax slab, fiscal deficit target kept at 3.5 %
Rahul Gandhi, Congress:
Modiji spent the first two years mocking the Congress party's focus on farmers, MNREGA, rural development & social spending. Now mere rhetoric, without vision or action, will fool neither farmers nor the poor of this country.
Budget 2016 lacks both vision & conviction.
A list of new promises without any account of the failure of tall promises made in the last two budgets.
I thank the FM, though, for accepting my recommendation for removing import duty on Braille paper to help the visually impaired.
P Chidambaram, Congress:
Happy that the government has stuck to its own fiscal consolidation road-map, rejecting the Chief Economic Advisor's advice.
Also happy that the UPA's schemes in agriculture have been continued.
The government has reneged on its promise of giving cost plus 50% remuneration to farmers.
There is no major initiative to increase productivity of crucial crops.
Collection of higher taxes was only due to excise on crude & not from corporate tax.
Sachin Pilot, Congress:
I think this Budget is a manifestation of the BJP's poor performance in the recent Assembly elections in states like Bihar and a poor show in other smaller elections in rural Gujarat and so on.
The government has failed to pass on the benefits of cheap oil to the people of the country. They could have reduced prices of fuel like cooking gas and so on. None of it has happened.
Moreover, they have done a complete turnaround from their earlier opposition to allow Foreign Direct Investments. I feel pure political compulsions have driven this budget.
Rajeev Gowda, Congress:
This budget is a tribute to UPA's priorities. Be it rural India, the spending on social sector or even the increased outlay for MGNREGS.
I am glad they have woken up and paid attention to the people who are in distress.
Budget lacks flavour, doesn't have specific announcements of schemes which would have enthused different segments, including the states.
It also does not speak of the status of implementation of many schemes announced last year and the year before.
The people of the state of Tamil Nadu had still higher expectations, which have not been met.
Bhartruhari Mahtab, BJD:
The budget has tried to cater to all sections of society. It is aiming at a course correction, in the sense rural areas and agrarian economy are getting priority. This is a good thing. This will create jobs and spur demand in rural economy.
This is also good for manufacturing, particularly in MSMEs.
On the flip side, the budget does not have too much to attract investment.
Arvind Kejriwal, AAP:
There is nothing for farmers committing suicide.
Rich industrialists' loans have been written off, but not the poor's.
There is nothing for medical treatment of farmers. It is not enough to provide for cheap medicines. Every village should have a dispensary with free treatment.
There is nothing for (the) middle class in this budget. (The) Modi government has cheated middle class, which votes for them.
BJP vowed to bring back black money through enforcement, not through amnesty schemes. This is what Chidambaram also did. What is the difference?
KC Tyagi, JD(U):
This is slogan-mongering in the name of the rural poor. 55% agricultural land in the country is non-irrigated. Keeping that in mind, the allocation for irrigation is pittance.
100% FDI in agriculture has been announced. But where will it go? There is no agricultural infrastructure in villages. There is no mechanism for this.
Farmers have got no relief on fertiliser costs. Farmers have got no relief on agricultural loans.
MGNREGA allocation should have been doubled, at least.
D Raja, CPI:
There is nothing special in this budget. There is never a match between what the BJP says and what it does. The only match is when it concerns its agenda on helping the corporates and big businesses.
One has to wait and see if the announcements in today's budget, particularly the ones concerning the rural and agricultural sector, have any effect on the lives of deprived groups like marginal farmers and agricultural workers.
Lalu Prasad Yadav, RJD:
How you will double a farmer's income by 2022? And why not 2018? What's the guarantee & blueprint Will you double the MSP in two years?
More in Catch - #UnionBudget2016: Jaitley plans more medicines for poor, but roadblocks remain
#NotesForMrJaitley 12: here's what environment needs from Budget 2016