Two songs & an earache: check out the BJP & Nitish campaign songs for Bihar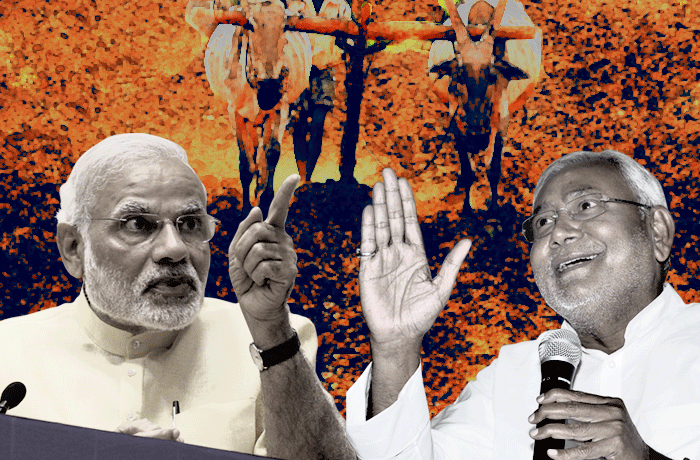 When David Cameron fought, what many say, was the hardest election in his career this May, he brought out a ridiculous gimmick to woo the crucial Indian vote - a Hindi music video:
Obviously. Because if there's one thing Indians are suckers for, it's song.
One could point towards Bollywood as proof, but Cameron's song is enough. Titled 'Neela Hai Aasman', the song is an audio-visual trainwreck.
Its lyrics translate to "The sky is blue/ The sky is big/ Come let's meet/ With this blue colour", and is overlaid with visuals of Cameron looking visibly awkward around Indians and Indian things.
Heck, it couldn't be more patronising if it featured Cameron unveiling statues of Mahatma Gandhi alongside Amitabh Bachchan. Oh wait, it has that too.
And it worked.
The Indian vote in the UK, which traditionally goes to the Labour Party, swung the Conservatives' way. Which is amazing, because even if the song didn't gain them any voters, it should have lost them the 89,000-plus views the video has on YouTube.
But when it comes to Indians, music, like cricket and outrage, is a definite winner.
So it comes as no surprise that, with assembly elections in Bihar on the horizon, the two major contenders - the BJP and the JD(U) - have both released their own campaign songs.
JD(U) - Phir se Nitishey
It all began earlier this month with the JD(U) releasing its ode to CM Nitish Kumar. The song is part of Nitish's latest campaign strategy - do whatever Modi did in the 2014 general election.
One aspect of that is replicating the success of Modi's annoyingly memorable 'Achhe Din' song.
The song itself is the JD (U)'s attempt to lionise Nitish the way the BJP did Modi. There isn't a single mention of the party - just Nitish.
And if Nitish's camp put a lot of effort into the song, it didn't really bother with the title. It's called 'Phir Se Nitishey' - presumably because Nitish doesn't rhyme nearly as easily.
Before we even get into the song itself, we have to acknowledge the song's composer - Sneha Khanwalkar - the music director of Gangs of Wasseypur.
It baffles the mind that anyone would decide they want a campaign song, and think of the score of a gritty gangster flick.
Maybe it was because of her work on Oye Lucky, Lucky Oye!. After all, the movie is based on a bumbling conman who hobnobs with people before robbing them blind.
Could there possibly be a more apt metaphor for India's electoral system?
With a mind-numbingly upbeat 1970s Bollywood backing track, singer Neeti Mohan repetitively extols Nitish Kumar's virtues - crediting him for creating a vibrant Bihar - while bestowing blessings on him and demanding voters re-elect him for being an all-round awesome guy.
In between Mohan's unbridled display of love for Nitish, the song slows down to just instrumentals and light humming for 10 seconds.
The lull is finally broken by a man's voice speaking to us, in the most patronising tone ever, about precisely what Mohan has sung thus far.
I assume it's for the slower Biharis who can't quite keep up with the otherwise frantic pace of the song.
The song ends in a maddening crescendo of 'Phir se', which is probably the last thing the audience wants, at least with regards to the song.
Mercifully, it ends slightly before the four-and-a-half minute mark. And since this is a competition, the BJP decided to go one better. Well, one minute better.
BJP - Iss baar BJP, ek baar BJP
If the JD(U) boasts a stellar composer and a famous singer, the Bihar unit of the BJP decided to showcase their in-house stable of talent. Their go-to man? MP Manoj Tiwari - a Bhojpuri superstar.
If you're not a connoisseur of Bhojpuri cinema, worry not, you may also know him from the time he spent on Bigg Boss season 4.
Yes, Bigg Boss plus Bhojpuri cinema - that's a pedigree that few men can boast of. Or want to. Or should.
Evidently, though, he's so much more. He's written and sung the BJP's campaign song.
It's titled 'Is baar BJP, ek baar BJP' - the sort of rhyme that only a truly gifted lyricist can manage; like when Rebecca Black rhymed "partying, partying", with "partying, partying".
Still, what it lacks in lyrical refinement, it more than makes up for with epic music. Not epic in the sense that it's good, but in the sense that it belongs in a B-grade production of an Indian epic.
Both JD(U) and BJP's songs talk about development; one sees plenty while the other sees a lack thereof
With relentless percussion, few lulls and a half-sung, half-chanted chorus, it sounds like it would play while two poorly CGI-animated armies march into war. Still, this is war to the BJP, so the music must just follow the brief.
If the JD(U) focussed its song on its CM candidate and made absolutely no mention of the party, the BJP has done the opposite. While voters are implored to vote for the BJP, there's no mention of who to vote for. Well, apart from Modi.
What to vote for though, is a lot easier. At one point, Tiwari flat out gives up singing and just raps the words parivartan and kamal - ostensibly to remind voters why and what to vote for.
But like the JDU song, most of it consists of meaningless platitudes that don't do much more than show Tiwari was paying attention to Modi's speeches.
Secularism, development, farmers, anti-corruption, the girl child: if Modi said it, this song has it. For over five minutes. Even though anyone who didn't get the point within the first minute is probably never getting it.
Interestingly though, both songs spend a lot of time talking about development in Bihar; one sees plenty while the other sees a lack of it.
Both, though, have one thing in common - they're terrible.