The Opposition isn't ready to support Ram Nath Kovind. At least not yet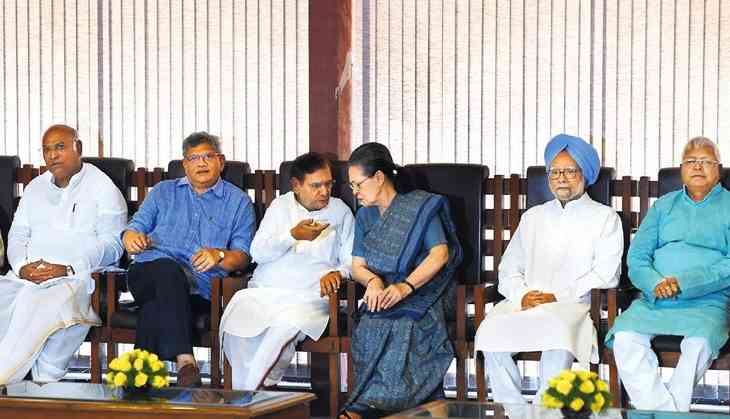 Many have hailed the announcement of Bihar Governor Ram Nath Kovind, a Dalit face, as the NDA's presidential pick as a master stroke.
For one, his nomination will help the BJP in targeting multiple constituencies in one stroke.
Second, it also means that Opposition parties will face trouble opposing his name. However, early statements coming from Opposition parties indicate that they are in no mood to relinquish their prerogative of putting up a fight.
A unified opposition
Following the announcement, most Opposition leaders indicated that they will announce the name of their own candidate after a meeting of UPA members on 22 June.
Senior Congress leader and Leader of Opposition in the Rajya Sabha Ghulam Nabi Azad said his party will not comment on this decision yet. However, he indicated differences with the BJP by saying that when BJP leaders met the Opposition, they said they will inform them "before any announcement for a consensus", but nothing to that effect happened.
CPI(M) also spoke on the same lines, with party general secretary Sitaram Yechury reiterating the fact that the Opposition didn't keep its word. He also stressed, for good measure, that Kovind was from the RSS' ranks and that makes this a direct political fight. A source in the CPI(M) also told Catch that the fact that BJP Chief Amit Shah announced his name makes it clear that forget across-the-board consensus, Kovind is only BJP's candidate, not even NDA's.
Reacting to the announcement, Bahujan Samaj Party chief Mayawati said that it would have been better if the NDA had nominated a "non-political" Dalit name. "As he is a Dalit we are positive on his nomination," Mayawati was quoted as saying by ANI. "We are also of the opinion that it would have been better if NDA had named a non-political Dalit person as President nominee."
The Nationalist Congress Party (NCP) has said that it will not make a comment till the meeting on 22 June occurs.
Even the Shiv Sena has not shown eagerness to support Kovind's name, unlike Telugu Desam Party (TDP) and Telangana Rashtra Samithi (TRS). The party merely acknowledged that Shah had spoken to its chief Uddhav Thackeray after announcing the name, indicating silently that BJP didn't consult the Sena before announcing the name.
West Bengal Chief Minister and All India Trinamool Congress chief Mamata Banerjee's statement also did not appear in Kovind's favour. "There are other big Dalit leaders in India...He (Kovind) was leader of Dalit Morcha of BJP, so they have made him candidate", she said. However, she too added that the decision will be announced only after the Opposition's meet on 22 June.
The caste card
A critical chink in the opposition ranks was reflected in Bihar Chief Minister and Janata Dal(United) chief Nitish Kumar's statement. Although Kumar did say that he couldn't say anything right now as it was too early, he did mention that it was a "matter of happiness" for him, personally. He praised Kovind for having done exemplary work as Governor of Bihar, for working with impartiality and for maintaining "an ideal relationship with the state government".
A statement by RJD chief Lalu Prasad Yadav, Kumar's ally and the bigger partner in Bihar's governing coalition, is awaited but the party's national spokesperson Manoj Jha gave a bit of an indication to Catch. While stressing on the importance of waiting for the Opposition meet on 22 June, Jha said it must be highlighted that "in the prevailing situation, we desperately need a person who should protect the values enshrined in the Constitution".
In Uttar Pradesh, even the Samajwadi Party and Bahujan Samj Party have been critical of the decision, particularly because NDA leaders have tried to play up Kovind's credentials as a son of UP.
Interestingly, BSP chief Mayawati said her party was "positive" on Kovind's name as he is a Dalit, but only if the Opposition doesn't announce a popular Dalit name. She also added that "it would have been better if NDA had named some non-political Dalit person".