The disgrace of Arvind Kejriwal asking the public to pay for his legal battles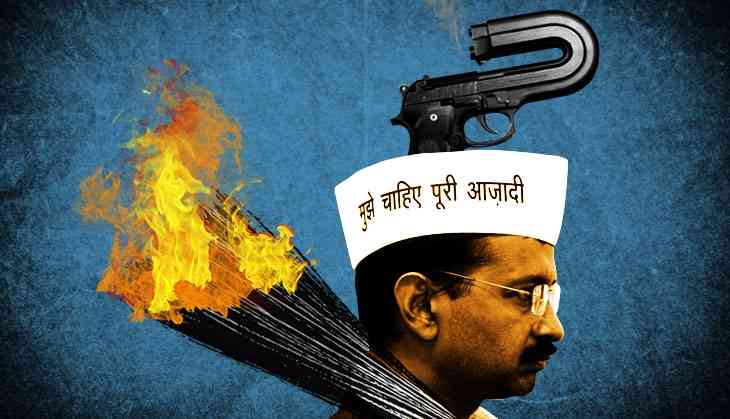 "To fight this battle will require a nuanced response and political strategising of the highest order", a commentator had said two years ago, talking about Union Finance Minister Arun Jaitley's defamation case against Delhi Chief Minister Arvind Kejriwal.
While that nudge for nuance was intended for Jaitley, things have unfortunately come to such a pass that the statement now appears to be remarkably true for Kejriwal. With his guilt-less assertion that the people of Delhi should bear the cost of his legal fight, the AAP convenor now risks a drastic fall in sympathy for him.
Footing the bill
On 5 April, Kejriwal admitted what had so far only been a media expose and a political allegation.
Addressing an electoral rally in Delhi's Sundar Nagari, he accepted that he indeed wanted Delhi government to foot the Rs 3 crore bill furnished by his lawyer Ram Jethmalani. It is shocking to see the one-time anti-corruption crusader tell the crowd, "Sarkaar naheen degi toh mai doonga kya...apni jeb se doonga kya?" ("If the government won't pay then will I pay from my own pocket?")
Watch Full: @ArvindKejriwal addressed Jansabha in Sundar Nagarihttps://t.co/pxVrUABMV4

— AAP (@AamAadmiParty) April 4, 2017
A changed man
Essentially, Kejriwal is telling the people that they should pay for the case from their pocket. This sense of entitlement to public money that the CM displays here is bewildering. In the video, note the way he seeks the crowd's opinion and assumes the response to be a general referendum.
The Kejriwal in this video is a far cry from the activist and crusader that he once was. Since when have activists started imposing the cost of their activism on the public? It is one thing for the public to support those who take up cudgels on their behalf, but quite another to assume it as an entitlement.
He also mislead the crowd by twisting the case. "Maine jaanch bitha dee..in logon ne...BJP waalon ne case kar diye mere oopar", he says ("After I set up a probe, BJP filed cases against me"). Jaitley did not file a case against the jaanch, the probe launched by AAP government into irregularities at Delhi District Cricket Association. The case was a libel suit over statements made by Kejriwal and other AAP leaders.
There are also reports that claim Kejriwal himself had called the case a "private" case in his petition to the court.
Against AAP and not the govt
The case is sub-judice so it is nobody's business to comment on who is guilty, but it is a well-established fact that the defamation case was filed against AAP leaders and not ministers or officers of the Delhi government. The government, and by extension the public, is not a party to the case and that is a good enough reason for not burdening the public with any resultant expenditure.
This is a grave mistake that Kejriwal and his colleagues have committed. Expectedly, they have given a clear opportunity to their opposition to drag their reputation down over the episode. By further asserting that the public must pay, AAP is losing the edge it had on account of its "nuanced response" and the perception that an electorally successful political newbie was being bullied by powerful challengers. AAP must be careful of not losing this image, because, that is all that it has, especially after its recent poll debacle in Punjab and Goa.
The party should stop believing it has the right to expect the public to pick up the tab of battles its leaders have invited upon themselves through their remarks against others.
To salvage its image, AAP should relinquish this claim, apologise for burdening the exchequer and arrange for resources to pay for Jethmalani's fee. Given the veteran lawyer's thirst for settling scores with Jaitley and BJP, who knows he may even waive off his fees after a bit of persuasion.
Edited by Aleesha Matharu