Thank you BJP for showing us that MPs will now call all Muslims terrorists & nobody will flinch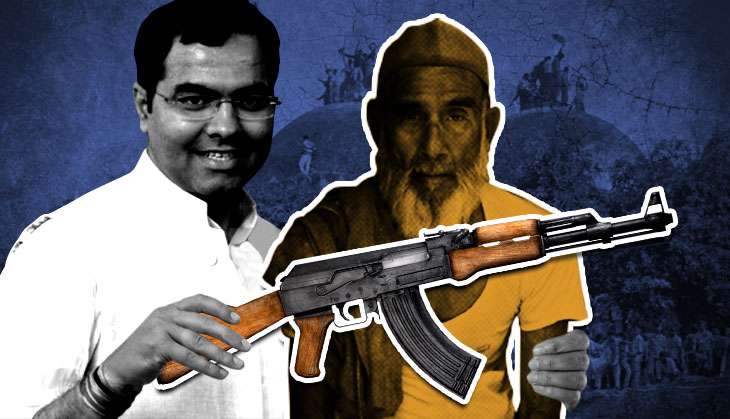 It is precisely the new normal that this writer had earlier talked about, while arguing that BJP's controversies now only create limited ripples that subside with the advent of the next controversy.
Also Read: Why demonetisation isn't the only 'new normal' created by Modi govt
BJP MP from Delhi, Parvesh Sahib Singh, just called all Muslims terrorists and there has not been even a protest, let alone an uproar.
"The Muslim doesn't vote for the BJP because the latter is a patriotic party," Singh told a group of reporters in Uttar Pradesh's Baghpat recently.
It was not a one-off remark but a full-fledged considered statement, delivered slowly and with a lot of thought, as evidently visible on video.
"We don't worry about any vote-bank," he went on, noting that the 'Muslim' has never voted for them and won't ever do so in the future as well.
He also drew a brilliant co-relation to explain his statement. He said that every terrorist in the country was a Muslim and the BJP was a patriotic party. He added, the party doesn't worry about any community and will build the Ram Temple.
The 'simple' assumption in that statement is that all Muslims are terrorists and the clear message being sent out is that the party doesn't need their votes.
5 reasons behind statement
There are multiple contexts in play here:
1.
Singh was speaking in poll-bound Uttar Pradesh, where the BJP is aspiring to gain power after 15 years.
2.
The party's revival in the state in Lok Sabha polls of 2014 came on the back of a consistently communal strategy, with its fortunes benefiting hugely from the Muzaffarnagar riots of 2013.
3.
Singh is the inheritor of the Jat legacy of his father, Sahib Singh Verma, former chief minister of Delhi, and the areas that he is touring in UP are mostly Jat-dominated.
4.
It's an attempt to rekindle Jat-Muslim communal strife which is a running theme in the state since it was at the center of the Muzaffarnagar riots.
5.
Tthe Ram Temple is of course the BJP's perennial straw that it likes to clutch at when its electoral campaign starts drowning. But even by its own standards, this is a new low for the BJP.
Violation of Parliamentary oath
Singh is yet to issue even the customary explanation that politicians of his ilk usually resort to, that he was "misquoted". He was, however, "saddened" by the suspected terror attack in Berlin though.
Saddened by the events in Berlin.needs to stand together to fight terrorism.Thoughts with friends&family of those who lost their loved ones.

— Parvesh Sahib Singh (@p_sahibsingh) December 20, 2016
He himself hasn't expressed any regret, neither has his party chief Amit Shah or Prime Minister Narendra Modi or any other senior leader of the BJP. Which only means that the statement has been accepted by the party as well as by the government.
It is for the people of the country to decide now whether this is acceptable.
Will Parliamentarians now speak as if they were some fringe fundamentalists? And when they do, will Parliament just watch and offer silent patronage?
In the Lok Sabha, every member is required by the Constitution to take a solemn oath that he/she will "bear true faith and allegiance to the Constitution ... and uphold the sovereignty and integrity of India".
Singh is only the latest in a long list of other BJP MPs who have issued many such communal statements in the past.
But constitutional powers have been silent for too long. Is such an open expression of bigotry by an MP not a violation of the Constitution itself? Is such an inflammatory statement especially by an MP not an assault on the integrity of the country? Will the Speaker not issue even a hint of a reprimand? Will the President also remain silent?
This is a test for our democracy and the institutions that breathe life into it. Failure will be a foreboding of doom.