Swami Prasad Maurya quits BSP, may join SP. But this won't harm Mayawati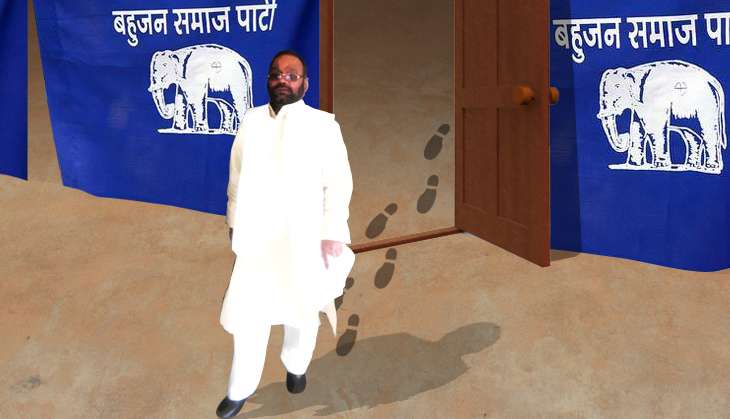 The resignation
UP Leader of the Opposition Swami Prasad Maurya has resigned from BSP
He has accused BSP of taking money in return for tickets. He may join the SP
But Mayawati is unfazed. She has dismissed Maurya\'s allegations
More in the story
Why Maurya\'s exit won\'t harm BSP
What BSP leaders have to say about Maurya\'s departure
Swami Prasad Maurya, the leader of Opposition in Uttar Pradesh assembly and BSP MLA from Padrauna, has left the party. He announced his resignation at a press conference in the state capital, Lucknow on Wednesday.
Maurya, an OBC, was once considered as the right hand of BSP supremo Mayawati, has deserted the party with less than a year to go for the Assembly elections in the state.
He attacked Mayawati for "selling election tickets" and alleged that the party is helping BJP in the state. Maurya has not declared anything about his future plans but according to sources, he is going to join the Samajwadi Party. There is possibility of him being elevated as a cabinet minister in Akhilesh Yadav's government during the expansion slated for 27 June. If that indeed does happen, it would be one of the few or perhaps only occasion when a sitting Leader of the Opposition changes sides to become a minister.
Mayawati unfazed
But this may not have any impact on Mayawati's prospects in the elections. The resignation announcement was followed by another press conference in Lucknow by Mayawati where she rubbished Maurya's claims and accused him of betraying the party's ideology.
"If Swami Prasad is saying that we've taken money in return for tickets, then he should first tell us how much he paid to get tickets for his daughter, son and himself. They have all been given tickets by the party," she said.
She said that Maurya was never originally a BSP worker. He was with other political parties before joining BSP. "We gave him enough space and recognition. We ignored his misconduct but he continued with his nepotism. We were about to expel him from the party within the next few days, but now he has himself left.
"There are reports that he is going to join the SP. It is party which has nepotism as its ideology. This suits him as well. Now he is in his right place".
Other party leaders feel that Maurya's will prove to be counter-productive for him. "He has lost his wisdom because of his nepotistic habits. Now he has done something that will damage him only," said a party leader.
Another BSP leader, Munkad Ali, said, "We have many other leaders who represent backward sections. We have representatives from all segments of society. Look at history, those who left BSP gained nothing and are nowhere now. We made him a leader. Now he will lose all his support".
Party sources say that Maurya wanted tickets for his family members and also insisted that his favourites be fielded on a number of other seats. Mayawati not only refused most of his demands, she also asked him to contest from the Rae Bareli city Assembly seat. Maurya, who comes from the same district, knew that the seat would have been a tough fight for him.
Maurya's fall
There were a number of instances of late which pointed towards a falling out between Mayawati and Maurya. For instances, in a number of public meetings Mayawati ignored Maurya and mentioned the names of two other senior leaders Nasimuddin Siddiqui and Satish Chandra Mishra, giving them credit for the work they have done. Through these leaders, Mayawati, herself a Dalit, played the Brahmin and minority card.
What made matters worse for Maurya was when the BJP made Keshav Prasad Maurya as its UP state president. This shifted the focus of the community to the BJP leader. Till now, Swami Prasad Maurya had claimed to be the tallest Maurya leader in the state. After the rise of Keshav Prasad Maurya, Swami became less useful for Mayawati.
According to his Maurya's daughter Sanghmitra,"It had become suffocating for him to be in the party. Mayawati was selling the tickets and he was not comfortable with that. The party is degrading and they are losing ground in the state".
Maurya, in his press conference, said that BSP is helping BJP in the state. But BSP's Munkad Ali contests this. "If we are helping BJP, why did we vote against it in the Uttarakhand Assembly and in the Rajya Sabha elections in Uttar Pradesh and Madhya Pradesh?"
"Look at history, whenever BSP was in power, we finished BJP from the ground. But it flourished whenever SP was in power," Ali added.
Another former colleague of Maurya said, "He will never get the same prominence in any other party. Given the kind of language he has used against Mulayam Singh Yadav, he would never rise in SP. In BJP, they have another Maurya who comes from an RSS background. And he (Swami) doesn't even have a mass base".
Maurya's explanation - that he resigned because money was being taken in return for tickets - might be true. But that has always been the perception about BSP. So it seems a rather weak reason for quitting the party.
But he has made his choice, only time will tell whether his gamble succeeds.
Edited by Aditya Menon
More in Catch
UP BJP president Maurya as CM candidate? It could be a game-changer
BJP steps up Dalit-wooing, but avoids direct scrap with Mayawati
Puttar Pradesh: RLD's Jayant Chaudhary set to join Akhilesh's govt