Swami Prasad Maurya joins BJP: Will he end up as UP's Jitan Ram Manjhi?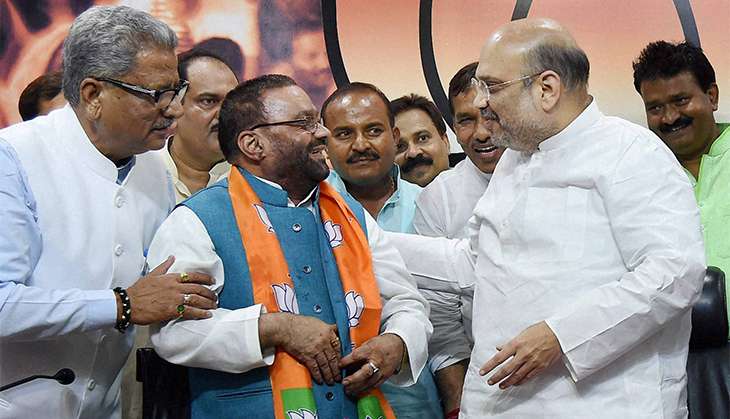 The former general secretary of BSP, Swami Prasad Maurya, joined the BJP on Monday. Maurya was till recently the leader of Opposition in Uttar Pradesh and has been brought to the party to pull votes of the state's OBCs for the upcoming UP assembly elections.
What was notable about the function, held in BJP headquarters, where Maurya officially joined BJP's ranks, was party president Amit Shah's exchanging garlands with him and leaving the podium within the first few minutes and without speaking a word.
The talking was left to the BJP state president Keshav Prasad Maurya, who talked about getting UP rid of 'jungle raj' and attacking leaders of the other two big parties in the state - Akhilesh Yadav and Mayawati.
"We have set ourselves the target of getting 266 plus seats in the states and we will not settle till it's done. Now with the help of Swami Maurya we will definitely get closer to achieving it. I think he has been in the wrong party for a long time," KP Maurya said.
Also read - Swami Prasad Maurya quits BSP, may join SP. But this won't harm Mayawati
In reply SP Maurya said he knew that better than the state president. "I have joined the right party at the right time. Coincidentally whichever party I am a part of, wins UP polls each time." He went on to repeat the accusations that he had levelled at Mayawati and claimed that he'd brought many BSP leaders with him and hoped that BJP leadership will bear in mind their stature.
The reason he gave for joining the BJP was Prime Minister Narendra Modi's "commitment" to take along all sections of society along with him.
"It's a new party for me..everything will be new...Modiji's taking the whole country along on the path to progress has inspired me to join the party...what I saw in BSP was that Kanshi Ram's idea was being killed and Ambedkar's mission was being sold."
He added, "what also convinced me to opt out of BSP was that in the Lok Sabha elections, my former party chief gave only 16 tickets to the backward classes who form 54% of UP's population. While BJP offered 29 tickets to this section of society and candidates from all of these seats won. This time I had an inkling that BSP would not offer more than 26-27 tickets to backward sections, so I left BSP."
The manner in which Shah behaved at the function to mark SP Maurya's arrival in its ranks, was a telling gesture which in a way symbolises the equation between former senior member of BSP with the party he has just joined.
When the OBC leader parted ways with Mayawati on 22 June, accusing her of 'auctioning seats', he was supremely confident about the role he would play in 2017 polls. But it is a defeated Maurya that addressed the press on Monday.
SP Maurya is known to have explored all options before joining BJP. According to sources, he toyed with the idea of forming his own party and merging it with BJP, but BJP leadership is said to have rejected the idea.
He then bargained with the Congress and then with the SP. In between there were rumours of him taking oath as a minister in the current UP Cabinet. But the talks in both cases fell through. After this he had no option but to join BJP.
But the manner in which he talked about the "party bearing the stature" of the people he was bringing along, in mind, clearly shows the hurry in which he's joined the BJP. It also means that the terms of him and his supporters joining BJP aren't fully clear and clearly it is SP Maurya's loss.
Jiten Ram Manjhi Redux?
BJP President Amit Shah greets Swami Prasad Maurya (Shirish Shete/PTI)
The manner in which BJP has got a backward caste leader a few months before the elections is the same as it did in the case of Bihar. And as all indicators point at today, SP Maurya is likely to meet the a similar fate.
From the point of view of BJP leadership, there may not have been much to gain or to lose with the inclusion of SP Maurya in its ranks.
He is likely to be used by BJP merely for his symbolic value. He could be pitted against Mayawati wherever she tours in the state, but for the time being he's not really a backward class heart-throb.
There's another problem for SP Maurya. In BJP he's unlikely to get past Keshav Maurya, even though the BJP state unit president is a much junior to him.
SP Maurya has in his association with BSP attacked the Brahmanical class, which is something the RSS, VHP and BJP will never forget. On the other hand Keshav Maurya has a long association with the Sangh, and will always remain their first choice for any big portfolio.
Basically, the merits for SP Maurya's joining BJP are, at the moment, unclear to both. And this is what SP Maurya and Amit Shah showed today.
More in Catch - BJP steps up Dalit-wooing, but avoids direct scrap with Mayawati
Puttar Pradesh: RLD's Jayant Chaudhary set to join Akhilesh's govt