Sulking seniors, angry Dalits: 5 reasons Amit Shah is in for a tough second stint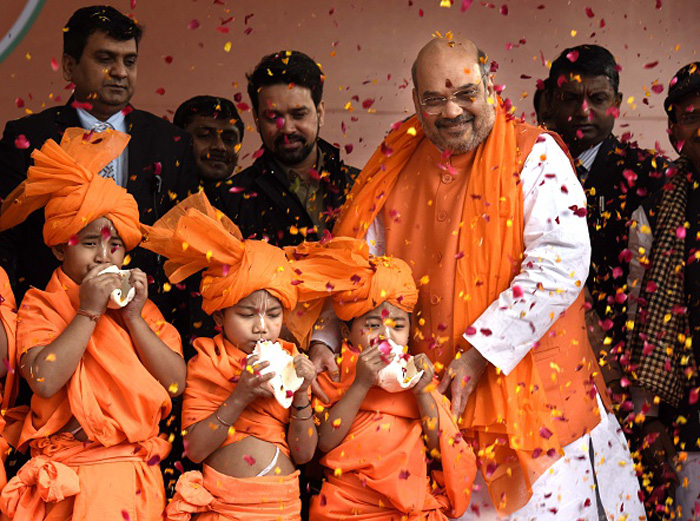 There were celebrations at the BJP headquarters in Delhi this Sunday. The occasion was Amit Shah's coronation as BJP president for the next three years. Just as Union Home Minister Rajnath Singh was felicitating Shah, one party leader standing in the audience remarked, "becoming president was the easier part, his real challenge begins now."
This seems to be the prevailing view in the BJP. Given Prime Minister Narendra Modi's unquestioned dominance in the BJP, Shah's ascension to the top post was only expected. However, his 18-months stint as president had its share of failures.
Also read - Amit Shah 2.0: Modi is BJP chief's strength as well as his main challenge
Shah began his innings with resounding victories in Haryana, Maharashtra and Jharkhand. BJP became part of the government in Jammu and Kashmir for the first time.
But his winning run came to an end after that. Shah's much praised organisational skills could not save the BJP from humiliating defeats in Delhi and Bihar. Some say the BJP's vicious campaigning, which is considered Shah's trademark, backfired on the party in the 2 states.
As he embarks upon his second term, Shah faces several short term and long term challenges.
It is no secret that Modi has direct stakes in Shah's performance. Every success or failure of Shah will have a bearing on the Prime Minister.
Is Modi's popularity on the wane?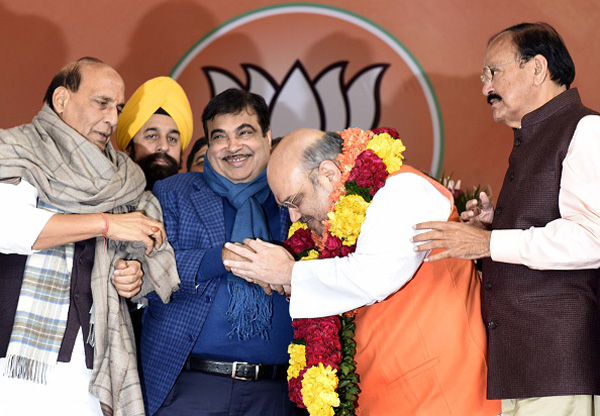 Shah's current predicament is that of a person who has deposited all his belongings in a bank that is going broke. Shah's biggest worry is Modi's dwindling charisma.
It was Shah's strategy to pitch Modi against Nitish Kumar in Bihar. The entire state was carpet-bombed wiith Modi's rallies. Many people thought it unbecoming of a Prime Minister to address rallies in every nook and corner in a state election.
Modi's fading aura presents Amit Shah with a double challenge. He will have to shield Modi's image as party's number one vote-catcher while grooming fresh faces he can bet on.
Even Shah's own strategic capabilities are under the scanner. He is credited for the party's spectacular performance in the last general elections and the subsequent state elections.
But some other leaders have been as electorally successful if not more such as Shivraj Singh Chouhan, Raman Singh and Vasundhara Raje.
No one from the Margdarshak Mandal was present when Shah's continuation as president was announced
Yes, the 71/80 performance in UP is a feather in Shah's cap. But the BJP won all the seats in Raje's Rajasthan, 27 out of 29 seats in Chouhan's MP and 12 out of 13 seats in Singh's Chhattisgarh.
Many BJP leaders are hope that Shah has learnt some lessons from the defeats in Delhi and Bihar. They believe he should count less on Modi and rely on local leaders instead, at least when it comes to Assembly elections.
This would help him prevent further erosion of Modi's political capital. In Delhi, at least Kiran Bedi was there as a scapegoat. But after the Bihar debacle, party leaders found it difficult to shield Modi from the blame.
Big numbers, little substance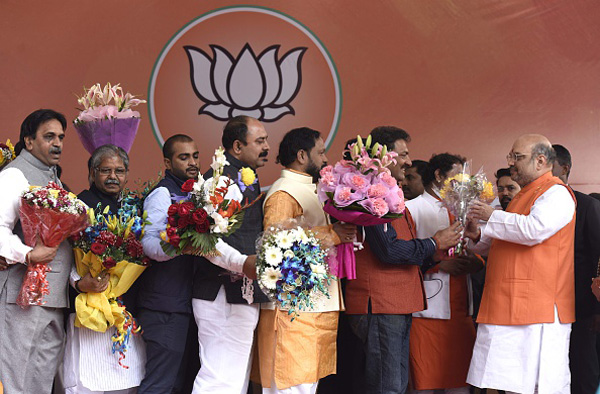 Under Shah's leadership, BJP claims to have become the world's largest political party. The party ranks might have swelled by the membership campaign, but the number of sagacious leaders within the party is definitely declining.
Senior party leader Yashwant Sinha recently lamented, "All those who are above the age of 75 were declared brain dead on 26 May, 2014".
Another senior party leader adds in the same spirit, "The party has become physically muscular but mentally retarded under Shah. The party has been cornered on several occasions in the recent past. Yet, few leaders came forward in defense. Most party leaders are either alienated from the Modi-Shah duo or have been sidelined".
Consider for instance the recent controversy over the suicide of Dalit scholar Rohith Vemula. Union ministers Bandaru Dattatreya and Smriti Irani are facing flak for their role in the entire episode. Still, no prominent leader has come out to defend them. Irani, who is considered close to the Prime Minister, was left to fend for herself.
Another PM confidant, Finance Minister Arun Jaitley, was in the line of fire for alleged acts of corruption during his tenure as president of the Delhi and District Cricket Association. Again, no leader came out in his support. Eventually, the PM had to issue a statement backing Jaitley.
Shah's tendency to ignore local leaders isn't helping matters. This harmed the BJP in Bihar
A large section of the BJP is increasingly disgruntled with the Modi-Jaitley-Shah trio. It remains to be seen how Amit Shah tackles this problem.
His tendency to ignore local leaders isn't helping matters.
A Varanasi-based BJP leader narrates an anecdote to explain the point. "Amit Shah had come to Varanasi just before Modi's nomination from this seat (during the 2014 Lok Sabha elections). He called me for a meeting at Babatpur airport. We reached the airport lobby with great enthusiasm. But Shah merely asked our names for about a minute and continued reading the newspaper. He did not even raise his head for about an hour. We had no option but to return. At that time, the Modi wave was at its peak. However, things have changed now and such a behavior could spark rebellion at the local level," he says, on the condition of anonymity.
Party cadres had criticised Amit Shah's aloofness during the Assembly elections last year. The results told the rest of the story.
Future challenges
In the upcoming Assembly elections, BJP stands no real chance in any state except Assam. As a party leader puts it, "Taking party's tally to double digits in West Bengal would be a big achievement. The party is almost non-existent in Kerala and Tamil Nadu. There were some hopes in Assam but internal surveys are suggesting otherwise."
But even a poor showing in these states won't harm Shah beyond a point. His real challenges will be next year, when Uttar Pradesh, Punjab, Himachal Pradesh, Gujarat, Goa, Uttarakhand and Manipur go to polls. Except Manipur, the BJP has a lot at stake in all these states.
The elections in Uttar Pradesh would be nothing short of semi-final for the next general elections. Amit Shah's performance in India's most politically important state would be judged in the backdrop of 2014 results. BJP had won 71 parliamentary seats with Shah as the party in-charge for the state. He would be under immense pressure to repeat the performance.
However for the BJP, things are not as rosy as they were in 2014. PM Modi was welcomed by chants of "Modi go back" and "Modi Murdabad" during his visit to Lucknow's Ambedkar University. This was unimaginable a year back.
Dalit alienation
Rohith Vemula's suicide has come as a big blow to the BJP's attempts at wooing Dalits. The party and RSS' efforts to appropriate BR Ambedkar have also suffered a setback.
BJP's student wing ABVP's role has now directly come under the scanner because of its conflict with Vemula and his organisation, the Ambedkar Students Association.
Even though HRD minister Irani tried to control the damage by saying that the suicide wasn't a result of caste discrimination, the BJP's cause had already been harmed by Dattatreya's letter labelling the Dalit students' outfit as "anti-national".
Also read - From 'Modi! Modi!' to 'Modi go back': why UP reception is worrying the PM
Earlier, the BJP had faced flak in Parliament for VK Singh's remark that seemed to compare the Dalit children burnt alive in Haryana with "dogs".
Wiping the anti-Dalit tag in the run-up to the UP elections will be a major challenge for Amit Shah.
Sulking seniors
The sulking coterie of senior party leaders can be another headache for Amit Shah. A glimpse of their rebellion was seen after the defeat in Bihar. Senior leaders led by LK Advani also opposed Kirti Azad's expulsion, following his attack on Jaitley. None of the leaders of the Margdarshak Mandal were present when Shah's continuation as president was announced.
There is speculation Shah's ascension does not have the Margdarshak Mandal's blessings. This could add to his problems. Marginalisation of experienced leaders has cost BJP dear on several occasions.
The government is finding it hard to pass big-ticket legislations in Parliament. There is no leader like AB Vajpayee or Advani, who has the ability to reach out to Opposition parties.
The poor performance in Parliament is bound to affect the BJP's electoral prospects as well.
Amit Shah's second term won't be anything as easy as the first.
Translated by Deepak Sharma. Edited by Aditya Menon.
More in Catch - 8 reasons why Amit Shah will stay as BJP chief, despite Bihar defeat
Amit Shah set to remain BJP chief. No one wants to challenge him
New year, new cabinet: Modi govt and BJP set for major overhaul