Sucha Singh Chhotepur sacked as AAP Punjab chief, Amarinder reaches out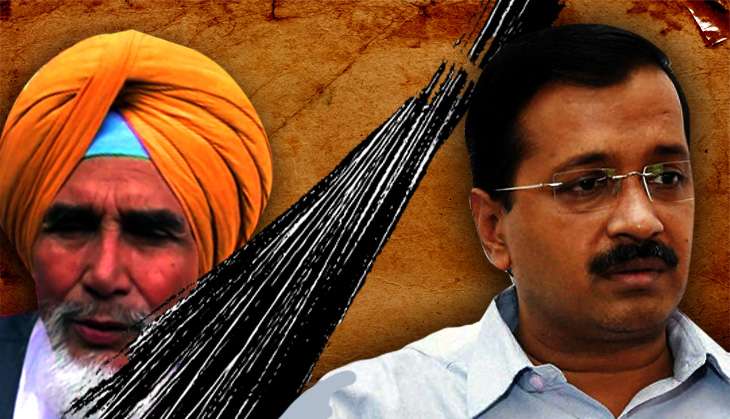 The expulsion of Sucha Singh Chhotepur, the Punjab convener of the Aam Aadmi Party's (AAP) has been on the cards for days, and the central leadership began the process on 26 August and sacked him from his post as Punjab chief.
Chhotepur, in recent days, has been dogged by accusations of taking bribe for assigning constituencies to party candidates for the forthcoming assembly polls.
Also read - Chhotepur on his way out: AAP set to show the door to its Sikh face in Punjab
The decision came following a meeting of the Parliamentary Affairs Committee of the party on Friday evening. Chhotepur's case has been reportedly handed over to the disciplinary committee for further action. Chhotepur has, so far, refused to resign.
Last stand
Chhotepur turned up with a large number of supporters for a media briefing to defend himself in the wake of the controversy over the sting that allegedly shows him taking Rs 2 lakh from a party volunteer in lieu of a promise of a public office.
Even so, 21 leaders of the party have written to the party's national convener and Delhi Chief Minister Arvind Kejriwal seeking his removal.
Denying all the allegations against him, Chhotepur said AAP has conspired against him. He dared the party to make the videos public and even launch a CBI probe. He said that the money was planted on him and accused organisation building head Durgesh Pathak of dishing out stories to the media on the issue.
Refusing to resign from AAP, he said, "How can I resign from the party that I have nurtured over the last two and a half years to bring it credibility so that the people take it seriously. My supporters will decide my future (in case of my sacking)," he said, while underlining that AAP was the last hope for Punjabis.
The ticket tangle
He hit out at the party leadership on the issue of distribution of tickets while alleging that AAP is in league with the ruling Shiromani Akali Dal (SAD) for putting up weak candidates. He pointed out that 25 of the 32 candidates fielded by the party till now have faced rebellion.
He said that he has been running his politics from public funding and pointed that AAP till now has no treasurer in Punjab or a state unit. "I was also not told about the money that has been collected from foreign lands or the funding dinners that were organised by the party," he said.
"Tickets were decided before hand. You talk of allegations of Rs 2 lakh for tickets, but it is a mater of crores," he claimed, while talking about the allegations of tickets being given for money by the party.
Chhotepur said that he had refused to release the first two lists of party candidates since hard working volunteers had been totally ignored.
Contrarian views
He attacked Kejriwal on the issue of the party facing embarrassment over the cover of the youth manifesto that had the party symbol of a broom with the Golden Temple in the backdrop.
Chhotepur said that Kejriwal was annoyed over his statement to the media that he had not seen the cover and had asked him about why he had not lied about he issue. "I told Kejriwal if he understood that this could have meant my being summoned at the Akal Takht and being excommunicated from Sikhism. When he questioned me further, I told him that I had previously left my ministerial berth in the Barnala government and had even gone to prison on the issue and would never lie," he said.
Not sparing Delhi's deputy chief minister Manish Sisodia following reports of their meeting being recorded, Chhotepur said, "Such things by a deputy chief minister are a disgrace. These are acts of a spy."
Puppetry
He accused AAP leaders from outside controlling the affairs in Punjab of never having faith in the Punjabis, a charge that has been levelled by many who have parted ways with AAP and also those who are at loggerheads with the leadership. Chhotepur says that he was targeted for openly saying in party meetings that Durgesh Pathak was the power centre in Punjab and it all depended on him to keep the party united.
The Amarinder angle
Ever since the issue of Chhotepur having trouble with the AAP leadership came to light, Punjab Congress chief Amarinder Singh has openly come out in his support. In the latest attack, Amarinder asked Kejriwal why he does not get his own NGO's Ford Foundation funding probed along with the funding of Chhotepur.
He has also said that while AAP leaders from Delhi and Uttar Pradesh are maligning Chhotepur for accepting party fund, the party is quiet over the money Sukhpal Khaira and other leaders collected from the NRIs in the US and Canada when they visited these countries in the last few months.
"Charity begins at home and better begin the probe with your own funding from Ford foundation that is so suspicious and controversial", he told Kejriwal.
Making an overture to Chhotepur, Amarinder has reiterated, "Congress party's doors are open for everyone, whether Chhotepur, Navjot Sidhu, Pargat Singh or Inderbir Bolaria." Observers say that Chhotepur's entry into Congress would be advantageous for the party since he is well versed with AAP's plans and strategies besides having his own base in Gurdaspur area.
Amarinder has been condemning the dirty tricks resorted to by AAP leaders from Uttar Pradesh, Delhi and Haryana against the son of the soil Chhotepur who nourished and nurtured the party right from the day of its conception in Punjab.
"The sting operation has clearly been conceived, planned and executed as part of an internal coup engineered by the AAP leaders from outside who want to control Punjab through remote by using their local stooges and inconsequential wannabe leaders," he said, while suggesting to Kejriwal to look into the monumental transformation in the lifestyle of leaders like Sanjay Singh and Durgesh Pathak since they started their political career in Punjab.
"The AAP leaders' lifestyle transformation has become legendary and exemplary in Punjab. People are wondering how it's possible for AAP leaders like Sanjay Singh and Durgesh Pathak, who started their career in Punjab crammed in a single small car, to now own a few luxury SUVs. What phenomenal progress indeed!" he says.
The developments in AAP over the last few days, be it its suspended MP Dr Dharamvira Gandhi floating a new political front, controversy over Chhotepur or the series of revolts and allegations of money bags facilitating tickets has provided an opportunity to both the Congress and the Akalis to undermine AAP, a party that has been riding high on the platform of anti corruption and discipline. How these parties exploit this opportunity for their benefit remains to be seen over the next few days.
More in Catch - Dealing with discontent: AAP cauldron remains on the boil in Punjab
AAP in a pickle in Punjab: suspended Patiala MP floats political front