Student politics is a dirty phrase in the state that swayed with JP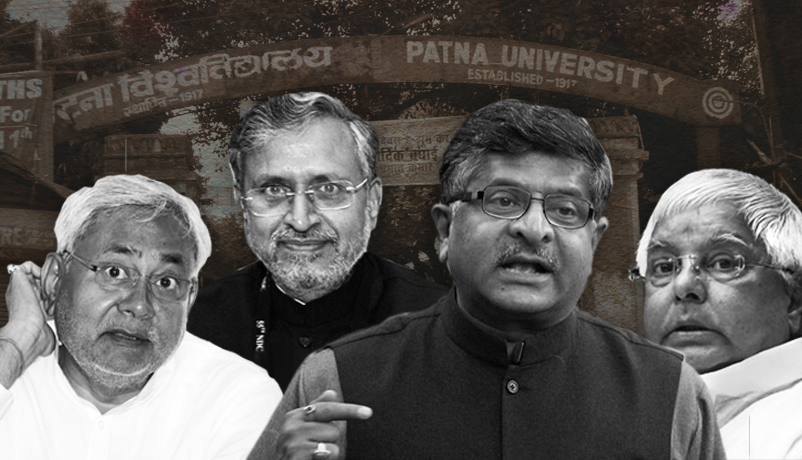 The past
Many of Bihar\'s leaders have emerged from student politics
But the same leaders did nothing to strengthen student activism
The present
Politics is now looked down upon in Bihar\'s colleges
Only the Left parties have given tickets to student leaders
Bihar is perhaps the only state where almost every political stalwart is the product of student politics. Leaders like Lalu Prasad, Nitish Kumar, Sushil Modi, Ravi Shankar Prasad and Narendra Singh were at the forefront of the anti-Emergency movement in their salad days.
Ironically, student movements in the state have not produced a single significant leader since 1977. Almost all students' unions today lie moribund in North India, including those in Bihar.
But once upon a time, student activism was integral to university education. Institutions like Patna University, Jawaharlal Nehru University, Delhi University, Aligarh Muslim University, Lucknow University, Allahabad University and Banaras Hindu University have produced some great political leaders.
The seeds of Jaiprakash Narayan's 'Sampoorna Kranti' movement were sown by students desperate for social change. The agitation motivated lakhs of students across the country to influence the course of politics. Political churning of the '70s prepared a generation of leaders who are now steering India.
So why did the process dry up post-Emergency?
"Student politics has got detached from social ground realities," says Professor Pushpesh of Tata Institute of Social Sciences. "No student movement can gain national importance if it is confined to issues related to educational institutes. It has to address larger social concerns to shape future leaders."
Even the Naxalite movement was driven by students, to a great extent. Many of them later joined the mainstream through the Communist Party of India (Marxist-Leninist). Indiscriminate violence, however, dented the credibility of Maoists.
The six-year Assam Movement against alleged illegal immigrants from Bangladesh gave rise to the Asom Gana Parishad (AGP), which went to form the government in the state twice - 1985-1989 and 1996-to 2001.
The anti-reservation movement against the recommendations of the Mandal Commission is also worth mentioning. However, the corrosive nature of this agitation actually weakened student unity. The youth stood divided across fault lines of caste and religion.
But it is pertinent to assess the state of student politics in Bihar when the state is set to choose a new government. The situation is not encouraging though: There have been no student-body in Patna University since 1983. The ban was briefly lifted in 2012, only to be imposed again.
Why is student politics in shambles in what is arguably the country's most politically aware state?
"The powerful politicians were wary of the strength of students' agitations. The same people who used student politics as a springboard to rise to power conspired against student activism," says Sushil Kumar, the secretary of the Bihar unit of All-India Students' Federation, a CPI-affiliated students' organisation. "These people knew that students' unity could uproot them as well. They did all they could to malign student politics."
The same Lalu who was catapulted to power by student agitations did nothing to restore union elections in Patna. Neither did his successor Nitish Kumar.
Hoodlums have replaced diligent student leaders, vitiating the atmosphere in most institutions
The level of student politics has eroded in the last two-three decades and most campuses have become dens of all sort of crimes. Hoodlums have replaced diligent student leaders, vitiating the academic atmosphere in most educational institutions. In turn, repeated brawls and strikes have become an excuse for the authorities to turn campuses into what looks like police cantonments.
Most politicians perceive students' unions as hotbeds of anarchy. Corruption has been systematically injected into students' organisations, turning ideological struggles into battles for money and muscle power.
So maligned is student politics that now most youngsters see agitations as an anathema to a healthy academic atmosphere.
Sushil Kumar says his party tried challenging the narrative: "We argued in the high court that all student leaders are not criminals. If all student unions are been banned because of a few lumpen elements then legislative assemblies and Parliament should also be dissolved. They have plenty of criminals. Has the level of higher education improved in Bihar after student body elections were banned?"
The fact that most students' organisations became stooges of parent parties did not help matters. The degradation of political parties had a cascading effect on affiliated organisations. Then, the recommendations of the Lyngdoh Committee proved to be the last nail in the coffin.
The need for politics in the campuses is often questioned: it is said colleges and universities are for academics and political activities are a waste of time. The logic has changed mindsets and made most student unions redundant in Bihar.
No political party seems interested in changing the scenario as the status quo suits their purpose. Even in this election, many student leaders have been vying for tickets. But they have mostly been disappointed.
Ranjan Kumar, who heads the students' union of Janata Dal (Union), was denied a chance to contest elections from Asthawan constituency in Nalanda district. Nitish Kumar's party chose incumbent MLA Jitendra Kumar over him. Lalu's Rashtriya Janata Dal, on the other hand, did not entertain the claim of student leader Mithilesh Yadav for the Minapur seat in Muzaffarpur district.
The left parties seem to be the only ones open to student leaders as they have fielded five of them in these elections. They, however, have little political base left in the state.