Statehood: why Delhi's split-personality disorder needs a cure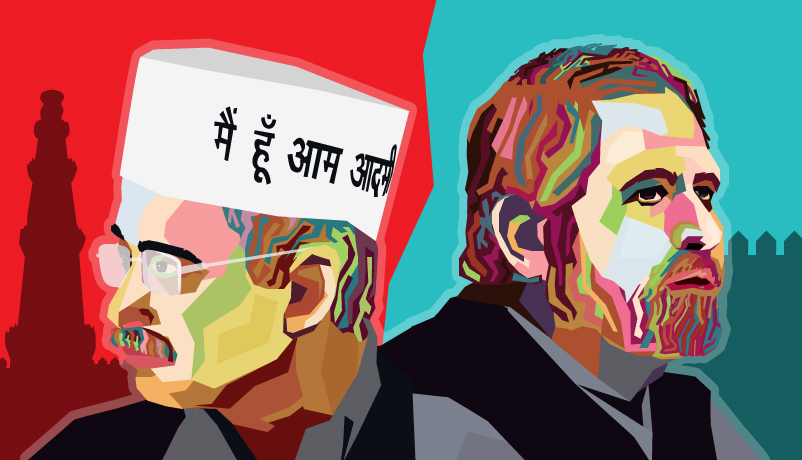 The contention
Should Delhi get statehood?
The showdown
Statehood for Delhi was a poll promise by AAP. Arvind Kejriwal\'s fight with Lieutenant Governor Najeeb Jung isn\'t surprising.
The speculation in the capital is that the Centre is mulling President\'s Rule.
The main bone of contention is appointment and transfer of bureaucrats.
The options
For Narendra Modi government: compromise by changing the LG or impose President\'s Rule.
For Arvind Kejriwal: step back from a confrontation, or remain in the limelight as a David fighting Goliath.
Either or both parties can take the matter to court.
The problem
Power is divided between the CM and the Centre, represented by LG. This creates an inherent tension between the two power centres.
Frequent legal changes have complicated matters further.
Delhi went from being a state to a Union Territory in 1956 and then became the National Capital Territory in 1991.
The volte-face
Both parties promised it in their manifesto in 2013. Today both of them oppose it.
Sheila Dikshit wanted full statehood when she was CM. Now she says Delhi can never be a full state.
The way out
Most experts believe Delhi deserves full statehood, including control over police and bureaucratic appointments.
But some also argue that the Kejriwal government\'s confrontational ways have harmed the case for full statehood.
It would be a travesty if the Centre makes Delhi centrally administered, doing away with the state government and assembly.
Delhi has a split personality-disorder. The national capital is never sure whether it is a state, a Union Territory, a special Union Territory or a municipality.
To be sure, it has been all of these over the last 68 years.
But public opinion has been overwhelmingly in favour of making it a state, which has ensured prevalence of statehood in one form or the other ever since it was first abolished in 1956.
High noise
Confrontation between the offices of the chief minister and lieutenant governor was expected because AAP rode to power in Delhi in February 2015 on the back of a promise to fight for complete statehood.
But the tussle between Chief Minister Arvind Kejriwal and Lieutenant Governor Najeeb Jung has become a battle of biblical proportions, as has the reaction to it.
There have been endless debates about who is right and who is wrong, but the collisions point to the larger issue of who runs Delhi.
The latest escalation is that suggestions of President's Rule are floating in the capital. A senior bureaucrat suggests that the ongoing fracas can lead to a situation where Union Home Minister Rajnath Singh could dismiss the Delhi government and call for fresh elections.
Is there a way out? Balveer Arora, former pro-vice chancellor of JNU and an expert on Centre-state relations believes: "If the Centre finds that the chief minister and the governor can't get on, then it has two options. One is to reassign the governor somewhere else. The other is for the governor to report that he is unable to function within the current situation and so needs President's Rule."
But senior advocate and constitutional law expert, Arvind Datar argues that President's Rule would be difficult to pull off. Datar, who is also advising Kejriwal, states President's Rule can be imposed if there is a breakdown of law and order. Datar contends that it could also be challenged using the precedent of the 1994 Bommai case, in which the Supreme Court clamped down on arbitrary applications of President's Rule by the central government.
The BJP's rejection of full statehood is a blatant U-turn. However, the Congress' volte-face is more surprising
This leaves the possibility of changing the governor. Arora suggests that it might be politically unfeasible for the Modi government to do so. But he adds: "If they don't change the governor then it leads you to the inescapable solution that Centre wants it this way."
What about Kejriwal's options? Arora describes how here too, there are only two options. The first is for the chief minister to compromise. The other is for him 'to remain in the limelight as David fighting Goliath and then the situation goes on and on'.
A structural ill logic
But this smokescreen hides a structural ill logic. In the current system, power is divided between the chief minister and the central government through the LG. This dual control creates an inherent tension between the two power centres. This is somewhat allayed when the same political party rules both the Centre and Delhi.
The system itself doesn't have any conflict resolution mechanisms in place. Much depends on the personalities of the CM, the LG and central government ministers and whether they all get along.
Delhi Assembly's history: step-by-step
To put things in perspective, Delhi's first constitutional status after independence was that of a state. Then the Assembly and the Council of Ministers were abolished in 1956 and Delhi became Union Territory under the direct administration of the President. A Municipal Corporation with elected members was set up for the whole of the city.
This arrangement changed once again in 1966, when a Metropolitan Council was set up, consisting of elected as well as nominated members. An Executive Council was also constituted, with a Lieutenant Governor or administrator at the top.
This arrangement continued for over two decades and was eventually changed with the passage of the Government of National Capital Territory of Delhi Act, 1991.
The first Legislative Assembly under this Act was constituted after elections in 1993. Since then, Delhi has existed in this form - with a Lieutenant Governor, an elected Assembly, a council of ministers, headed by a chief minister.
U-turns by BJP and Congress
Both BJP and Congress have been in power in Delhi. They have supported the full-statehood demand at different points of time.
Delhi's first chief minister, Chaudhary Brahm Prakash of the Congress, was aggressively pro-statehood.
Of the three BJP chief ministers after him, Madan Lal Khurana upheld the demand for statehood and Sahib Singh Verma led the efforts to get legislative backing for a statehood proposal.
Congress' Sheila Dikshit, the city's longest-serving chief minister, demanded, protested for and lamented the absence of full-statehood throughout her tenure from 1998 to 2013.
The Congress again promised it in its manifesto for the 2015 Delhi elections. The BJP had promised it as well ahead of the 2013 polls, but did not release a manifesto at all in 2015.
The BJP's rejection of full statehood, now that it is in power at the Centre, is a blatant volte-face even from the perspective of political expediency. What is really surprising, however, is the Congress' U-turn.
Dikshit now says that Delhi cannot be a full state because the Union government sits here. She notes that the Constitution gives Delhi an Assembly and a Cabinet but the LG has power over land and police, adding that 'in case of full statehood, there will be more conflicts between the Centre and state'.
Here's what she told Catch: "Delhi is not a state neither can it be a full state because the government of India sits here... You are well aware about these issues when you get elected. Three reports, latest being the Moily-committee report commissioned by my government, concluded that Delhi government should have more powers but Delhi cannot be given full statehood."
Dikshit couldn't quite explain exactly how empowering Delhi's elected government would impede the functioning of the Centre from Delhi.
There are, however, some others in the Congress who continue to make the case for statehood. AICC in-charge for Delhi and former MP PC Chacko told Catch - "We are for complete statehood because in its absence Delhi is only a glorified municipality. If the central government is hostile to the government of the day in Delhi, the latter simply can not function".
"Sheila Dikshit could manage to do so many things like the Delhi Metro because Congress was in power at the Centre. AAP does not have the resources to run the government because the central government will not help them. Statehood has become all the more necessary now that Delhi is expanding beyond NCR to deeper inside Haryana and Uttar Pradesh," Chacko added.
Key question: does Delhi deserve full statehood?
So why does Delhi need full statehood? Looking at the issue from the constitutional prism, well-known jurist and former solicitor general of India, Justice Santosh Hegde says there is nothing in the Constitution that prohibits granting complete statehood to Delhi.
Elaborating that it is about respecting principles of democracy, he notes, "Having an elected assembly and council of ministers and not giving them powers is a sham in the name of democracy."
Presenting the latest confrontation over appointment and transfers of bureaucrats as an example, Hegde says on matters like these state government must have the prerogative, since the day-to-day administration is to be run by the CM.
However, he is not happy with the way in which the Delhi government is fighting it out with the Centre right now. He says when ministers in the elected government feel that LG's office is unnecessarily blocking their proposals and decisions, they must approach the courts and fight their case there.
Arora too believes that the long-term solution is indeed statehood. However, he disagrees with Justice Hegde in taking the fight to the courts, saying that it is a political issue and the solution too will have to come from the political leadership.
Appointments of bureaucrats, Arora notes, is not a reserved subject like land and public order and police. He explains, "The situation has come to this pass because Delhi being a Union Territory does not have a cadre of officers of its own. It is part of the common cadre shared with other UTs. The Union home ministry has control over these cadres but the logic of democratic mandate requires that you be allowed to pick your team. Had Delhi had its own cadre, like all states had, this situation would not have arisen."
Dr Ajay Kumar Singh of UGC Centre for Federal Studies, Jamia Hamdard University laments that in the absence of real powers, Delhi Assembly has been reduced to a status of a federal misnomer. He points out that Delhi doesn't have a Public Service Commission that the Centre and all states have.
As a result, the CM doesn't have the powers to appoint any officer, except primary school teachers, he adds.
Even on the issue of control over police, Singh notes that six major committees have looked into this issue and there is a consensus that the force should be divided into two entities, with the Centre controlling specialised crime and investigation and local policing under Delhi government.
As CM, Arvind Kejriwal can either step back from the brink or remain in limelight as David fighting Goliath
He believes that even if national capitals all over the world have a municipal governance structure with a mayor at the top, the government has legislative, financial and administrative powers. Delhi, he notes, has none of these and it will be best if these powers are given to it.
As far as policing is concerned, even former cop Prakash Singh, a die-hard votary of independence of police from political control, advocates that law & order should be the responsibility of the state government only.
He adds that to address the Union government's fear of being embarrassed by a hostile chief minister, the duties of the Delhi Police can be clearly demarcated. Matters of national importance could be strictly placed under the purview of the Centre and theft, robbery, road accidents and so on could come under the purview of the state.
Officers' perspective
In a piece titled 'Statehood is a necessity for Delhi', Former Chief Secretary of Delhi, Shailaja Chandra, had written in February that the Delhi Assembly was given the powers to govern and make laws on all but three subjects - public order, police and land. But the Union government, in violation of this constitutional provision, continues to exercise immense authority on several subjects that have nothing to do with the three reserved subjects.
As examples, she cited about 60 matters relating to municipal governance that cannot be administered without the acquiescence of the Union government.
Even for the reserved subjects, as Chandra pointed out, the second Administrative Reforms Commission had strongly recommended that the Delhi Development Authority (DDA) should be chaired by the CM instead of the LG.
Chandra has now changed her mind. She says that she has always advocated more devolution of local authority in Delhi, but the chaos that has shaped up in last three months only suggests that Delhi should just return to becoming a Union Territory.
She feels that instead of getting into run-ins with the Centre, the Delhi government should prioritise areas of public concern. She told Catch, "Legislation is only needed when you need to change something or bring something absolutely new. Most acts we have are old and should be updated. I doubt the central government would ever have said no to any such amendments. If they want they can bring a bill on issues, where there is no existing parliamentary law, such as the tobacco consumption law passed under the last government."
On financial powers, Chandra states that Delhi raises more than enough funds and if the government doesn't go in for 'profligate ideas like free electricity and water', then it doesn't need more funds. "And if you do, then you can raise taxes but if you are a populist government, you don't want to do that either," she adds.
Upset with the way in which bureaucrats were caught in the cross-fire between the two power-centres in the capital, Chandra laments, "If you use powers with maturity then no one stands in your way... But if you do things like locking someone out of their room and carry out transfers because you don't like one decision and fight it out on the front pages of newspapers, then you don't deserve any powers."
NC Saxena, former Director of the Mussoorie-based Lal Bahadur Shastri National Academy of Administration, country's premier institute for the training of bureaucrats, shares Shailaja Chandra's resentment.
He told Catch, "I don't think it would be good to give statehood. Delhi has been given many powers that other Union Territories don't have such as health, education, infrastructure, commerce but, unfortunately, the present government is just looking for a fight. Why not work with what you have?"
On the issue of appointments of officers, Saxena says, "Recruitment and dismissal is controlled from the Centre. So this is an unusual situation wherein government of Delhi is asking for powers that even state governments do not have."
So has this stand-off between the AAP government in Delhi and BJP-led government at the Centre, vitiated the statehood debate?
Noted Constitutional expert and former Secretary General of Lok Sabha Subhash Kashyap told Catch, "There is much to be said for arguing in favour of and against complete statehood for Delhi. But the way the present Delhi government has decided to fight it out with the Centre, it has done much damage to the case for full statehood."
A third solution?
The outcome of the fight that AAP and BJP are engaged in is hard to predict. What is clear is that by refusing to confirm to the notion that Delhi Assembly and government have limited powers, AAP has taken the fight for statehood to the next level. This has led some observers to wonder if even the powers it has right now are too much.
Will a step back be the answer? Should the duality be ended? Should it be made clear that the national capital is a centrally-administered territory and therefore doesn't need a full fledged legislative assembly and an elected government?
Justice Santosh Hegde answers this by posing a counter-question. He asks, "Unless you can prove to the people of Delhi that there is a constitutional deadlock, what is the reason for taking away the democratic rights of the people by abolishing the Legislative Assembly?"
With additional reporting by Nur Laiq.