Sonia sparkled, but couldn't save Congress rally from being a flop
Addressing the Congress workers who had gathered at Jantar Mantar to oppose the policies of the Narendra Modi government, party chief Sonia Gandhi thundered, "A strong message should go from here and it must be heard not only by those at Raisina Hill but also those in Nagpur, on whose directions the Modi government is functioning."
Her words were greeted with applause, which grew louder as she listed the "devious agenda of this government".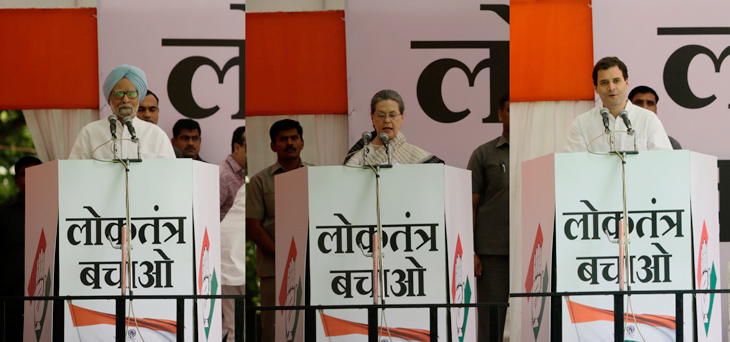 Vikas Kumar/Catch News
The rally was attended by the who's who of the Congress, but Sonia alone could raise such passions. The rest of the leadership disappointed with their mediocre speeches and insipid oratory skills. Rahul Gandhi's speech, in fact, was severely criticised by his own partymen for lacking punch.
Also read - AgustaWestland: how Singhvi tore apart NDA's case against Congress
The Gandhi scion's "weak speech" had some state leaders of the party murmuring their criticism with a "heavy heart". "Even Manmohan Singh spoke better than him," said one leader. "It was Soniaji who launched an offensive against the BJP and the RSS. Rahulji could have certainly done better."
In the end, Congress' "show of defiance" against Modi's "efforts to subvert democracy" was a flop show. Not least because the much-hyped event was grossly mismanaged with the crowd splitting into groups owing allegiance to various leaders.
Cornered in the Parliament for alleged involvement in the AgustaWestland scam, the party leadership was expected to launch an offensive against the government, one that could motivate the huge crowd which had gathered at Janta Mantar to hit the street. It was not to be. "It was a dull affair. We need to do better if we want to counter the aggressive BJP," said a party worker. Quite a few others seemed more interested in a placard that carried Robert Vadra's picture than the insipid speeches.
Others seemed more interested in taking selfies and gossiping. A group of young people holding banners was even heard raising slogans in support of Mayawati.
Making little noise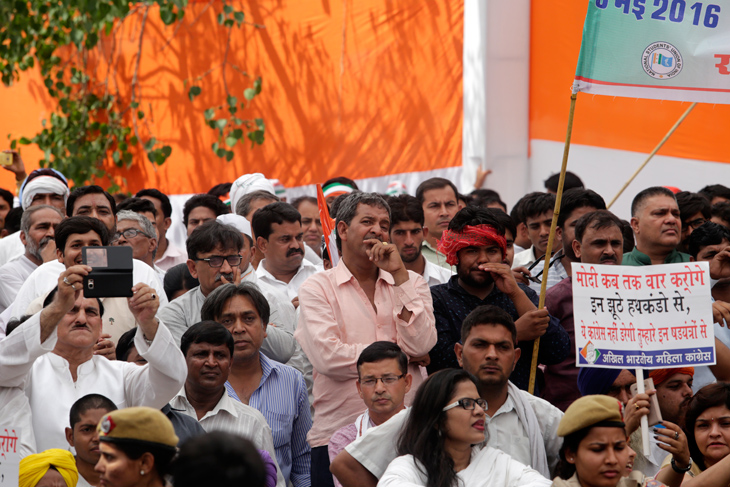 Vikas Kumar/Catch News
The only "bright spot" other than Sonia's speech was the drama that unfolded after Sonia, Rahul, Manmohan enacted a symbolic surrender to the police. A hyper-active Renuka Chowdhury even climbed the fence of the Parliament Street police station in her bid to grab eyeballs; she was even seen elbowing other people who were trying to climb up before her.
The day started brightly with busfuls of Congress supporters arriving at Jantar Mantar, carrying banners and placards with faces of party leaders. The rally was scheduled to start at 9:30, but Sonia and Rahul reached the venue at 10:30 while Leader of Opposition in Rajya Sabha Ghulam Nabi Azad was addressing the crowd.
Also read - #ConstitutionDay: The Rajnath-Sonia joust; and why she won this round
Azad, in fact, was asked to extend his speech since the Gandhis had not yet arrived. "Pehle bata dete to main bolta rehta," he remarked, and continued with his tirade against the government. When the Gandhis arrived, Azad was asked to wrap up, but he continued, saying "I will finish the issue I have raised."
Azad's counterpart in Lok Sabha Mallikarjun Kharge had spoken before him, but the crowd had paid little attention, although his Hindi had many laughing. His pronunciation of MGNREGA as marega had the crowd in splits. While Kharge was speaking, Ahmed Patel was seen pacing up and down the stage and furiously typing on his phone. He settled down only when Sonia and Rahul arrived.
A whimper of protest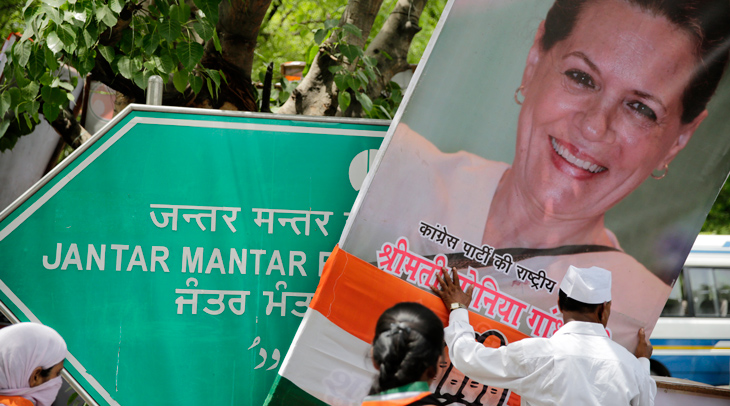 Vikas Kumar/Catch News
When Rahul stood up to speak, it was as if everyone's had been waiting for this moment. Amid sloganeering and applause, he began, "Modiji promised achhe din but today the entire country is facing drought; 40% of the country is facing drought, and everyday 50 farmers commit suicide. Modiji doesn't have anything to say about this."
Reading from his notes, he attacked the prime minister over 'Make in India', employment generation and toppling of governments. "These days whoever speaks against Modi and Mohan Bhagwat, they are targeted with false allegations," he said, concluding his speech of three and a half minutes.
Then Manmohan Singh spoke, and gauging from the reaction of the crowd, he did a better job. He began by reciting a couplet by the poet Mohammad Iqbal, and went on to attack the Modi regime. But while the former prime minister was speaking, Rahul waved towards the crowd, which started shouting "Rahul, Rahul". His timing couldn't have been worse.
Amid chants of "Sonia Gandhi zindabad", the Congress president said, "Any number of attempts may be made to scare us, to defame us. We are not going to bend. Life has taught me to struggle. We have always faced challenges. If some think it's easy to push the Congress from the path of saving democracy, they don't know what stuff we are made of."
Attacking Modi, Sonia said he had realised his days were over, so he was targeting the Congress by using "frivolous charges" to divert attention from the failures of its government. "I appeal to all Congressmen that we should take the fight to the streets and that all of us should go to each and every corner of the country to expose the failures of the BJP government," she said.
As she concluded her speech, Congress workers began marching towards Parliament, knocking down police barricades on the way. The police had to push the crowd around to ensure the security cordon was not broken. After the symbolic surrender at the police station, all senior leaders rushed to the Parliament to participate in the AgustaWestland debate.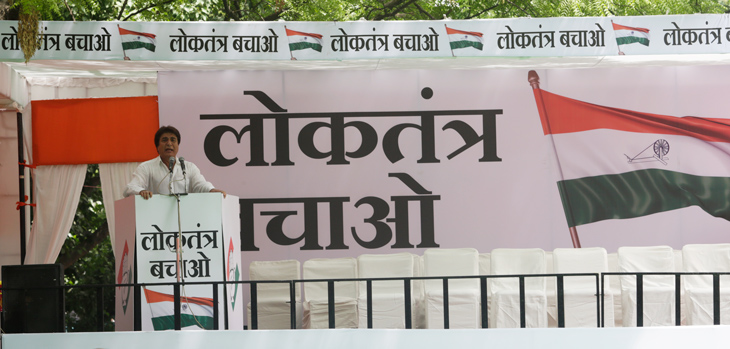 Vikas Kumar/Catch News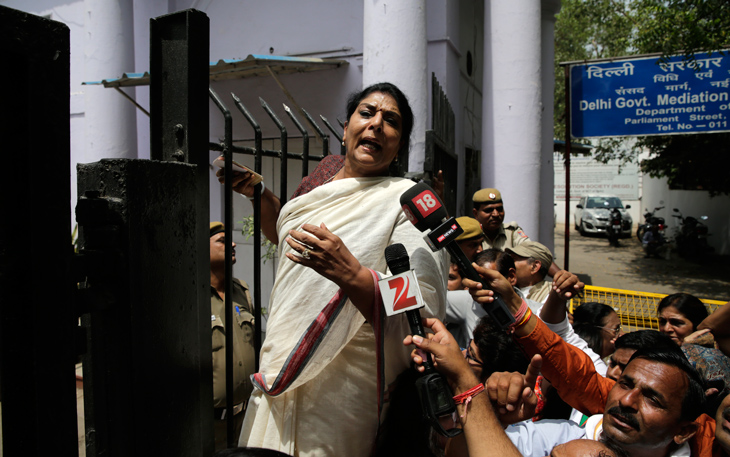 Vikas Kumar/Catch News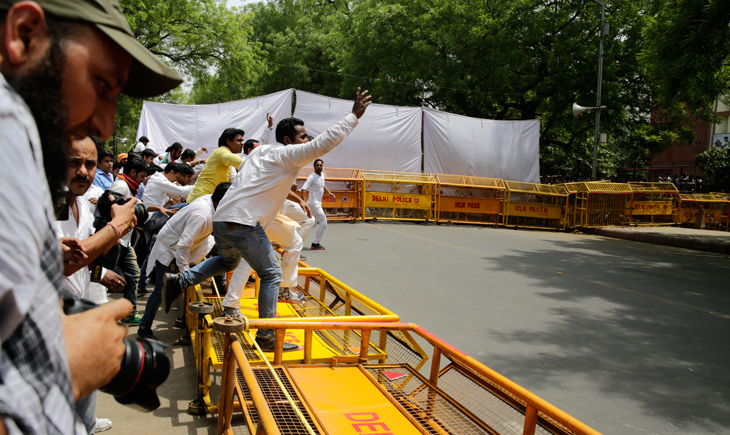 Vikas Kumar/Catch News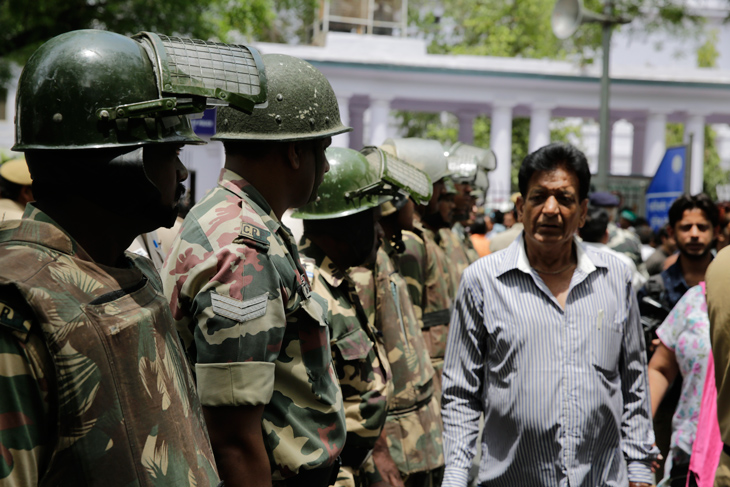 Vikas Kumar/Catch News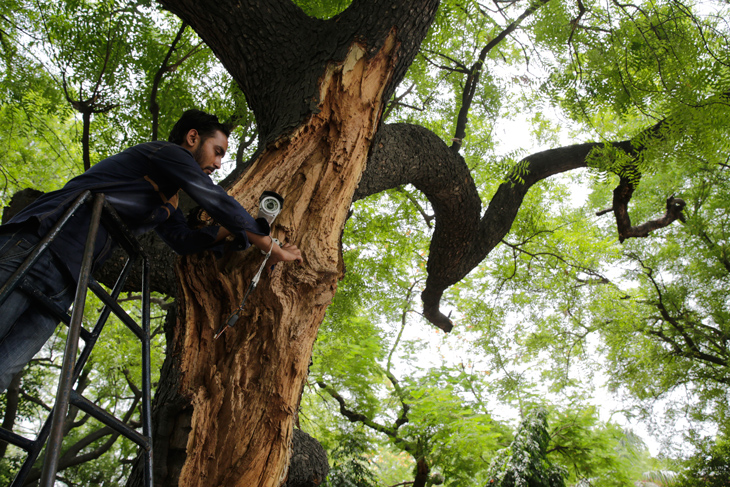 Vikas Kumar/Catch News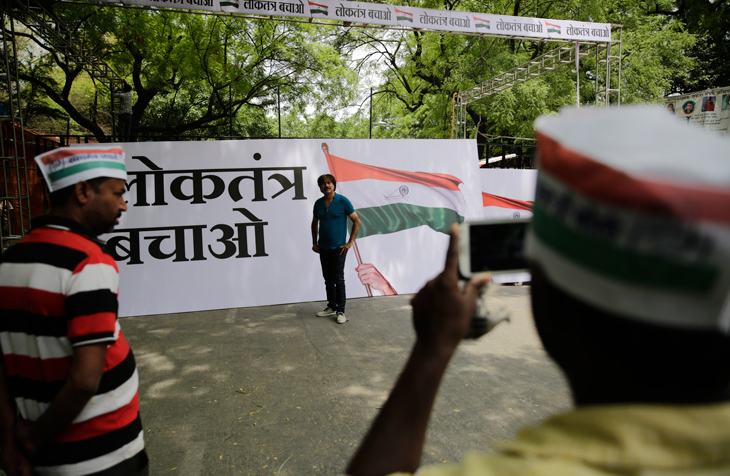 Vikas Kumar/Catch News