Saffron disguised as green: Why Yogi govt is targeting meat & leather industries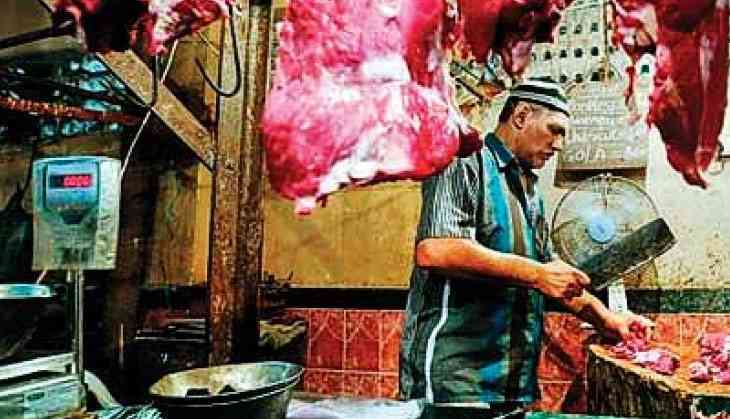 The Uttar Pradesh government's obsession with the meat and leather industry has tended to complicate the situation in the state and cause immense harm to sections of Muslims and Dalits who are dependent on these industries.
On June 6 the government ordered the closure of all Kanpur tanneries --- there are 400 tanneries in the Jajmau area of Kanpur alone --- for a period of three months starting December 15, 2018 in view of the Ardh Kumbh fair at Allahabad.
The orders were issued by Chief Minister Yogi Adityanath at a meeting of tannery owners in Lucknow. He also ordered regular monitoring of effluents discharged by the tanneries into the Ganga.
With the Ganga flowing downstream towards Allahabad, effluents from tanneries pollute the river. With most of the tanneries failing to install effluent treatment plants, the polluted water poses a health hazard to millions of bathers.
Taj Alam, president of the Tannery Owners' Association, reportedly found the complete shutdown order too harsh and said that if the tanneries remained closed for three months, people would lose jobs and export revenue would also be hit. Earlier the tanneries were asked to only stop wet-end processing around important dates and that, he was reported to have said, could be a way out.
Earlier on January 17 this year the state Cabinet amended the UP Municipal Corporation Act to take away the power of opening and running of slaughterhouses from civic bodies.
A few days later Governor Ram Naik approved the state government's decision to shift abattoirs outside city limits to effectively ban slaughter with city limits by signing the ordinance.
Through another amendment, the government banned slaughtering of animals in any areas other than slaughterhouses "which would be opened". Retail meat sellers were barred from slaughtering animals in their shops, except for religious purposes.
Despite these amendments the ground situation has not changed. Though the municipal corporation was supposed to provide a mechanized slaughter house in Lucknow, it failed to deliver. As a consequence, the state capital itself is without a licensed slaughter house. The one which was operating at Moti Jheel locality was shut down in 2017 on the orders of the UP Pollution Control Board.
With no authorised slaughter house in Lucknow and many other parts of the state and no new one having been opened as promised by the government, it is business as usual at meat shops operating in various localities. Animals are being slaughtered in shops in violation of government orders. While the continuance of the old practice has ensured regular meat supply, it speaks volumes about the unconcerned ways of the government's working.
The other aspect of the problem is voiced by meat exporters. Alarmed at the order to close down tanneries, the All India Meat and Livestock Exporters Association's (AIMLEA) spokesman Fauzan Alavi said it was a double whammy for them. "As it is the Central government charges 60 per cent duty, highest in the world, on export of hides and now the UP government was blocking access to domestic market by closing down tanneries for three months."
Explaining the situation, Alavi said, "With no work, the tanneries would not require hides, a perishable commodity. And, if they do buy it will be at much lower rates."
In a letter to Suresh Prabhu, the Union minister for commerce and industry, dated May 22, 2018, the AIMLEA stated, "The situation has now become grave with recent directive issued by Chief Minister, Uttar Pradesh, to close all tanneries in Kanpur from December 2018 to March 2019 before Ardh Kumbh Mela. This will directly affect buffalo meat export industries, which presently disposes hides to local tanneries in Kanpur and around, to stop operation and export. In order to save meat export abattoirs, it is requested that they be allowed to export hides generated from their plants which can only be done if the export of hides is exempted from 60 per cent export duty." Alavi said that with UP being number one state in dairy production, about 70-75 per cent buffalo meat export was from UP.
The letter pointed out that although the "buffalo meat sector is about USD 5 billion --- it had a negative growth of 14.41 per cent from 2014-15 to 2016-17--- it does not get any subsidy/incentive from the government". On the other hand, the leather export sector, which is worth USD 7 billion, gets various subsidies with the total government outgo being Rs 3000 crore.
The government which is expected to take a 360 degree view before arriving at any decision has preferred to adopt a knee-jerk approach starting with its March 2017 order to close down abattoirs, which it later clarified was against unlicenced slaughter houses. The industry hopes that it give thought to its concerns.