SAD ending: Punjab farmers' villain Tota Singh and his son stare at defeat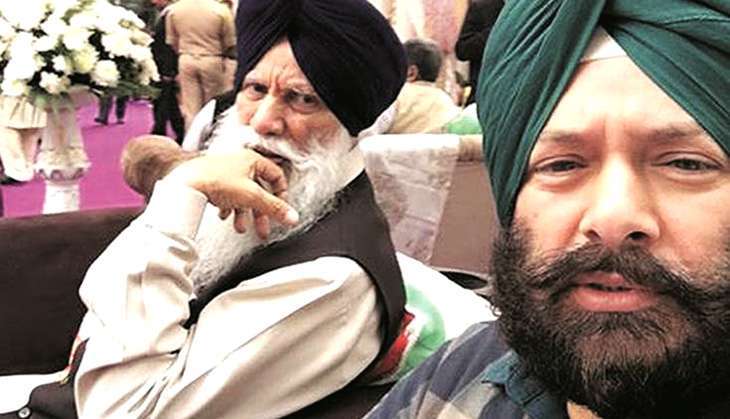 There is a deep anger among the farmers of Punjab's Malwa region against the ruling Shiromani Akali Dal-Bharatiya Janata Party government. And there is one leader who has become an object of their ire -- Punjab's Agriculture Minister and senior Akali leader Tota Singh.
"Totey nu kisaana di haye lagugi (Tota will suffer the curses of farmers)" says Kirpal Singh, a cotton farmer from Mansa district. Opposition parties as well as farmers in Punjab's cotton belt - which falls entirely in the Malwa region - blame Tota Singh for the whitefly attack that destroyed the cotton crop in 2015.
Two-thirds of the standing cotton crop was destroyed due to spurious pesticides allegedly provided by the government at subsidised rates to the farmers. As many as 15 farmers are said to have committed suicide due to the crop failure. The loss due to the destruction of crop is estimated to be close to Rs 4,200 crore.
The Opposition has alleged that Tota Singh and agriculture director Mangal Singh Sandhu took kickbacks from pesticide companies for providing the spurious pesticide.
While Sandhu was transferred and an inquiry ordered against him, there was no action against Tota Singh. Chief Minister Parkash Singh Badal personally gave him a clean chit.
Tota Singh, on his part, added insult to farmers' injury by blaming them for "buying spurious pesticides from outside sources".
Realising that Tota Singh has become a hate figure for farmers, the Aam Aadmi Party has announced that the Akali leader will be arrested if they come to power in Punjab. This puts him in the category of other 'Akali villains' of AAP such as Bikram Singh Majithia and Sikander Singh Maluka.
But far from acting against Tota Singh or at least asking him to keep a low profile, the Akali leadership is giving him an even longer rope. Tota Singh's son - Barjinder Singh Brar alias Makhan - has been given the Akali ticket from Moga. And the agriculture minister continues the shots in Moga district, at the expense of other Akali leaders.
Who is Tota Singh?
Now 75 years of age, Tota Singh is originally from Nihal Singh Wala in Moga district and he began his career as a circle level Jathedar. As a result he is still popularly known as Jathedar Tota Singh. His associates recall how he became famous in his area for carrying a mouser pistol in a wooden holster.
"His thinking hasn't changed since those years. Just that now considers the entire Moga district to be his territory," says an Akali leader from the Malwa region.
Tota Singh was identified by former Punjab chief minister Surjit Singh Barnala, who passed away recently. But gradually Tota Singh shifted his loyalties to Parkash Singh Badal. When Badal became CM in 1997, he made Tota Singh his education minister. He had a controversial tenure and faced allegations of taking kickbacks in the recruitment of teachers.
In 2012, Tota Singh was convicted under the Prevention of Corruption Act for misusing an official vehicle provided by the Punjab School Education board. The Akali Dal has fielded him despite his conviction.
Tota Singh also faces allegations of corruption pertaining to forgery and fabrication of documents relating to recruitment of 138 clerks in the PSEB
Part of Tota Singh's controversies have also be because of his son Barjinder Singh Brar, who has now been given a ticket from Moga.
There were allegations that Brar, along with some senior police officials, were "blackmailing prominent persons by providing them girls".
Tough battle
Tota Singh has won from Moga twice - in 1997 and 2002.
He shifted to the neigbouring Dharamkot constituency after losing to industrialist Jogninder Pal Jain of the Congress in 2007. Jain defected to the Akali Dal in 2012 and he decided not to contest this time on. Tota Singh sensed a vacuum and ensured a ticket for his son from the seat.
Tota Singh and Barjinder Brar are facing an extremely tough battle in the two seats as there is a palpable anti-Akali surge in Moga district.
"People are desperate for change this time," says Harjinder Singh, a kiryana store owner in Dharamkot.
"Tota Singh has don a lot of work in this constituency. He got a road built and a lot of other development work. But people are fed up and they will vote for a change," he adds.
Mehar Singh, a tea shop owner, is more harsh.
"The Akalis have looted the state. They brought drugs into Punjab. They will be punished for their deeds," he says.
Tota Singh won't win, Mehar Singh says with finality.
Both Mehar Singh and Harjinder Singh say that Congress candidate Sukhjit Singh Kaka has a better chance of defeating Tota Singh than AAP.
In Moga, however, Barjinder seems to be facing an AAP surge. Almost every voter one spoke to seemed to be with AAP.
"We want AAP to win and teach people like Tota Singh and his son a lesson," says Avtar Singh, a shopkeeper.
"Akalis, their policies and their corruption have ruined Punjab. It's about time they are thrown out," says Sandeep another Moga resident.
Detractors within
The sitting Akali MLA from Bagha Purana in Moga district, Maheshinder Singh has accused Tota Singh of "running a one man show" in Moga. Maheshinder Singh was denied a ticket this time around as was sitting MLA from Nihal Singh Wala Rajwinder Kaur Bhagike. Both these leaders never got along with Tota Singh.
Maheshinder Singh, who has now left the Akali Dal, says that Sukhbir Badal has handed Moga district over to Tota Singh. "Sukhbir may be the party's God, but he's not mine," Maheshinder Singh said after leaving.
From suffering farmers to sidelined Akali leaders, there are many who are baying for Tota Singh's blood. Punjab's agriculture minister is likely to reap a bitter harvest for the seeds he has sown.