RJD MP threatens to oust JD(U), but can Lalu stay in power without Nitish?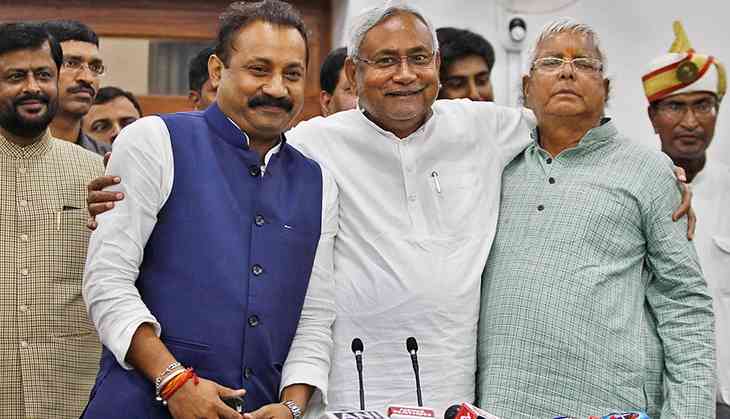 (Ajay Aggarwal/Hindustan Times/Getty Images)
Two days have passed since the Janata Dal (United) served a four-day ultimatum to Rashtriya Janata Dal (RJD) chief Lalu Prasad Yadav and his family members to come clean on the corruption charges against them.
As the deadline nears, the relationship between the parties is getting increasingly acrimonious, which does not bode well for the future of the alliance.
Launching the offensive
Bihar Chief Minister Nitish Kumar himself is yet to speak on CBI raids by the Central Bureau of Investigation against Deputy CM Tejashwi Yadav, but several key JD(U) leaders have mounted the offensive on RJD.
In response, while most RJD leaders have only asserted that Tejashwi will not step down, one of the party's four Lok Sabha members has taken a radical stand and hinted at what was so far not even being considered a possibility.
Mohd Taslimuddin, RJD MP from Araria, has reportedly said if the Grand Alliance breaks because of the ongoing stand-off, JD(U) will emerge as the loser. Taslimuddin asserted that RJD has the numbers to form the government on its own, without JD(U)'s support.
The signals coming out from Patna so far have indicated that if there is any party that it is feeling suffocated in the alliance, and therefore wanting out, it is JD(U).
JD(U)'s tacit refusal to convey support for Tejashwi has so far been looked at from this perspective. JD(U) leaders have repeatedly asserted that the party cannot compromise on party chief's clean image, nudging Tejashwi to resign without being explicitly asked to do so. Several sources have also told Catch that Kumar has been unhappy with Lalu for months now, over the latter's alleged deep interference in running of the state administration.
A reality check
Given these circumstances, it is logical to assume that Kumar wants to at least give RJD a stern message to mend ways or risk losing power. RJD leaders, on their part, have only been assertively ruling out Tejashwi's resignation but none of them have spoken out against Kumar. At such a time, an RJD MP lashing out at the CM and threatening to form government without his support will force observers to look at the situation from another perspective.
A reality check on his claim indicates that RJD could be within striking distance of forming government with help from Congress and a few other players in the state Assembly. However, the magic number will still be a few seats away and it's not clear how that gap will be filled.
RJD has 80 MLAs and Congress, which had also got into a tiff with Kumar earlier, has 27. Together, they could get the support of CPI (M-L)'s 3 MLAs and 4 independent MLAs.
That takes the total tally of this camp, minus JD(U), to 114 which is eight short of the magic number required for majority in the House - 122. This coalition will need at least 8 more MLAs to form the government and if they are poached from JD(U), they will be disqualified from the assembly under the anti-defection law. The only option, in this scenario, is to get at least eight such MLAs to resign from the Assembly as well as from JD(U). They could be assured tickets to contest by-polls from these very seats.
However, this is a high-risk game and things have not come to such a pass so far. The buzz is if Kumar is really insistent on action, RJD may agree to make Tejashwi resign in lieu of appointing his elder brother Tej Pratap the deputy CM.
Another possibility being discussed, in a bid to save the alliance, is for RJD to save the government by making Tejashwi resign but also indicate the party's support for its leader by making other 11 RJD ministers too to resign.
However, RJD will continue to support the government from the outside, thereby eliminating the need for Kumar to join the NDA and take BJP's support.
Congress president Sonia Gandhi and vice president Rahul Gandhi's back-to-back calls to Kumar have also indicated that the Congress doesn't want the alliance to break.
All these combinations are mere speculation since no one really knows what is on Kumar's mind right now.