Rajnath takes pot shots. Cong suffers from lack of orator in Lok Sabha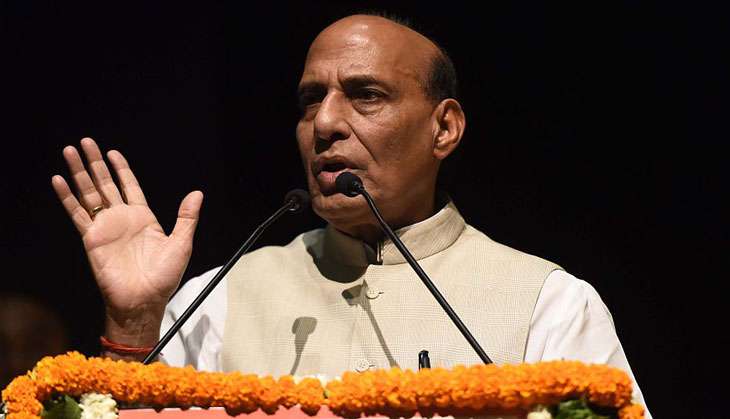 The Congress' attempts to corner the ruling party over the recent Arunachal Pradesh crisis in the Lok Sabha failed miserably after none of the regional parties backed its claims. The grand old party was hoping that these parties would extend their support on the issue. This considering they had also expressed concerns about ruling party's efforts to destabilise governments in non-BJP ruled states.
With a depleted strength of only 44 members in Lok Sabha, the main Opposition party was completely isolated in the lower house, where the ruling party has an overwhelming majority of 282 in a house of 543.
The party lacked the firepower to take on the Bharatiya Janata Party (BJP) and the dearth of "good orators" is certainly hurting the party. Mallikarjun Kharge, leader of opposition, does command respect but his oratorical skills have not been that convincing.
Even Congress Vice-President Rahul Gandhi remained unmoved and silent throughout.
In fact, it was Union Home Minister Rajnath Singh who took digs at Congress for being in habit of destabilising democratically elected popular governments.
"Congress that has the habit of destabilising democratically elected and popular governments. The crisis in Uttarakhand and Arunachal Pradesh was unfortunate and disturbing healthy democracy is not the aim of this government." Singh said. "The crisis in those states arose due to the internal rebellion within the Congress. The BJP has nothing to do with this. There are holes in your boat and there is not point blaming others for it."
Attempts were then made by party MPs to disrupt the proceedings of the lower house, with some Congress leaders loudly condemning Rajnath's statement. But it failed to make any impact as the lower house continued with its proceedings.
The Congress will now pin its hope on the Rajya Sabha, where it holds a numeric advantage over its fierce rival - the BJP. The party is certain to raise the issue in the upper house, where fireworks are accepted. on the same.
Earlier in the day, veteran Kharge brought an adjournment notice on the Arunachal crisis.
Minutes after the session commenced, Kharge brought up the issue and Mahajan said the matter would come up for discussion post Question Hour session. Kharge agreed.
Post question hour, Kharge highlighted the Arunachal crisis and accused the BJP of meddling in affairs of vaious state governments across the country. "With a hope for a Congress-mukt Bharat, the incumbent government is making backdoor entry in their efforts to topple state governments. This is not in favour of the people and the Constitution," he said.
Kharge continued taking pot shots at the ruling party before he was cut short by Mahajan who then requested Union Home Minister Rajnath Singh to reply to charges levelled by the Congress.