Rahul Gandhi defamation case: Congress takes battle to the RSS camp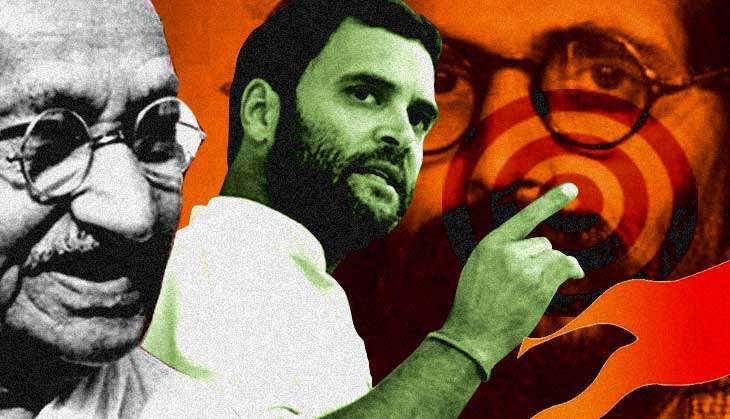 Initially reluctant to take on the Rashitrya Swayamsewak Sangh (RSS), Congress party has decided to engage BJP's ideological mentor in a political and legal battle on the defamation case filed against Rahul Gandhi. Sensing an opportunity to secure political mileage before the crucial assembly elections in 2017, the Congress is planning to use this as a mobilisation platform against the BJP.
The Congress vice-president on Thursday withdrew his appeal from the Supreme Court to dismiss the defamation case filed against him over his remarks on RSS and said, "I stand by each and every word. I will never take my words back. I am ready to face trial".
Ideological battle
The Congress strongly came out in defence of Gandhi and said that it is not just a legal battle, but a political one wherein the fight will decide who is a true Hindu. "We believe no true Hindu would have killed Gandhiji. RSS should now tell us whether Godse was a true Hindu or not? Because, if he was a true Hindu, he would have never killed Gandhi. The sad part is some of these people are standing by Godse and we will fight this battle till the end," said Gandhi's counsel and senior Congress leader Kapil Sibal.
"RSS should say whether they are with Godse or not," he added.
Sources informed of a long meeting between the Congress vice president and Sibal on Wednesday where the decision to withdraw his appeal and fight the legal battle in the lower court was taken. Another meeting to devise the strategy was held just before the hearing and those present said that taking on the RSS/BJP was the right choice.
During the strategic meeting, most of those present expected no relief from the Supreme Court and decided that a legal fight is the only way ahead. With UP, Punjab and other crucial assembly elections around the corner, Congress felt such a battle could push the BJP on the back foot by raising the issue of who is a true Indian - the one that killed Mahatma Gandhi or the ones glorifying his killer.
Counter-attack
Meanwhile, the RSS and BJP slammed the Gandhi scion for the "U-turn" and questioned why he avoided trial for two years. RSS' communication head Manmohan Vaidya tweeted: "Then why did Rahul Gandhi avoid the trial for two years under one pretext or other? Is he scared to face truth? He keeps on taking U-turns." In an earlier affidavit filed in the apex court, Gandhi had said that he never blamed the RSS as an institution for the killing of Gandhi.
Responding to these allegations, Congress said that it had filed a writ petition in the Supreme Court when there were many petitioners against whom defamation cases were filed under Section 32 and they had challenged the constitutional validity of Section 499 of the penal code requesting the court to declare it unconstitutional.
"That challenge was pending for a year and a half and that judgment came recently. It has nothing to do with this case, this case was tagged because if the petitioners had succeeded in that case, this petition would have not moved forward. So, there is no question for waiting for two years," said Sibal.
Describing today's proceedings, Sibal said that the RSS lawyer wanted Gandhi to give a statement that RSS didn't kill Gandhi and RSS is not guilty. Sibal told the court that no such statement would be provided and they stand with their previous position. Sibal then requested the court to grant Gandhi an exemption from personal appearance before the Bhiwandi court in the defamation case which was declined by the two judge bench.
Sequence of events
On 6 March 2014, Gandhi in a public rally at Bhiwandi in Maharashtra had said, "RSS ke logon ne Gandiji ko goli maari." A few days later, a defamation case was filed by the RSS functionary that has been dragging in the courts since then.
In May 2015, Gandhi moved the Supreme Court seeking a stay on the Bombay High Court order dismissing his request for quashing the defamation case. Later, on 19 July, 2016, the Supreme Court asked Gandhi to express regret for his comments or face trial and said that he will have to otherwise face trial and prove the statement to be an assertion of historical fact.
"It is a historical fact. In fact, Nathuram's brother Gopal Godse had said that his brother was with RSS. This political battle will determine the future of India. We stand with what we think is the idea of India as against RSS' idea of India. We will fight till the last," said Sibal.
ALSO READ
Exclusive: BJP icon SP Mookerjee complicit in raising funds to defend Gandhi's killers
Exclusive: RSS chief Golwalkar threatened to kill Gandhi - 1947 CID report