Big talk, little action: Is this Arvind Kejriwal's legacy as CM?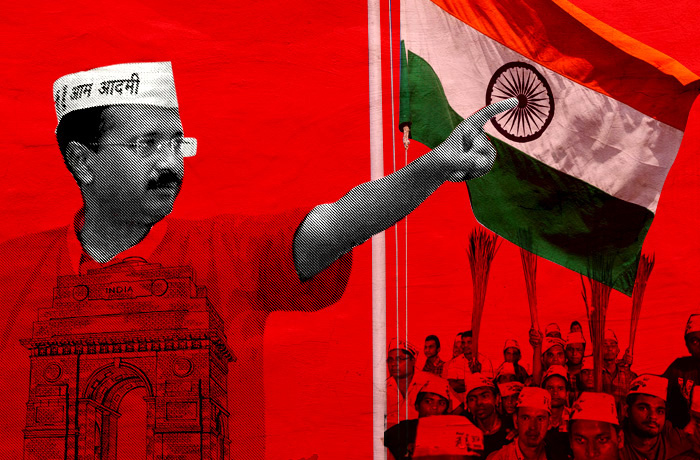 The player
Arvind Kejriwal disrupted the staid, run-of-the-mill democratic process
He won a crushing mandate on hope, is frittering it away on theatrics
His rise mirrors that of post-Emergency Janata Party, Assam\'s Prafulla Mahanta
The game
Like Janata Party and Mahanta, Kejriwal hasn\'t reinvented himself as a ruler
He\'s fighting irrelevant battles with LG Najeeb Jung, bureaucracy, police
His single-point agenda: getting full statehood for Delhi
The result
Delhi is dependent on the Centre, neighbouring states for power, water
The city is crying out for better services, infrastructure upgrade
Bureaucracy\'s morale has hit rock bottom, governance is suffering
Democracy, in its ideal form, can be a drab and dreary affair. The sheer mundaneness of uneventful elections, smooth legislative business and process-ridden people-government interaction can render a democracy distant from the people and make it a spectator sport.
A sport Delhi Chief Minister Arvind Kejriwal would like us to believe is, more often than not, fixed.
Disruption infuses new blood into a democracy. Whether it was Indira Gandhi's nationalisation of banks or Jayaprakash Narayan's movement, these historical punctuations not only added vibrancy to India's experiment with democracy, but also made people participate in the democratic process over and above their occasional rendezvous at the polling station.
Kejriwal too brought that disruption. Not shackled by norms of decency in public discourse and using a non-traditional idiom, he methodically build his image as a disruptionist.
People who were game for change, partial or total, in the status quo supported this new style of politics and decisively voted him to power in Delhi.
Arvind Kejriwal is looking for problems to every solution rather than the other way round, says @Pawankhera
The emergence of the Janata Party after the JP movement and the rise of Prafulla Kumar Mahanta in Assam had seen a similar, if not as overwhelming, support from the people.
But key players of the Janata Party experiment forgot to reinvent themselves as rulers. Mahanta made the same mistake and soon lost the confidence of the very people who had brought him to power. Kejriwal is going down the same path.
Fluid state
By virtue of being the national capital, Delhi's model of governance is different from other states. Its assembly has the power, under Clause 3(a) of Article 239AA of the Constitution, to make laws on any state matter except those relating to public order, police and land.
And since it got its own government in 1993, Delhi has been governed smoothly under this model of governance.
The demand for full statehood has often been more political than a felt need. Nomenclatures matter to those who govern; to the people, delivery matters.
Kejriwal has picked up battles that are not only outside his jurisdiction, they are also not likely to improve the quality of life of Delhi's people - the Shakuntla Gamlin episode was handled with petulance, Anindo Majumdar was locked out of his room, the appointment of Mukesh Kumar Meena to the Anti Corruption Bureau was controversial.
And why on earth would anyone deliberately not follow the statute book for as simple and irrelevant a matter as the appointment of chairperson to the Delhi Commission for Women?
Governing Delhi, maintaining its infrastructure and environment are nowhere on the chief minister's priority list.
His conduct as chief minister so far only goes to show that Kejriwal is more interested in looking for problems to every solution rather than the other way round.
Lost cause
From land to water, Delhi depends on its neighbouring states and the Centre to cater to the growing demands of its 20 million population.
But Kejriwal is more interested in a game of one-upmanship with Lieutenant Governor Najeeb Jung.
@Pawankhera: Kejriwal has shifted news about Delhi to page one, except it isn't about new flyovers and metros
The three terms of the Sheila Dikshit government saw four lieutenant governors, with the one appointed by the NDA staying six years. There were differences of opinion but never did either side escalate it to a point where governance came to a halt.
In 2011, when the issue of circle rates caused some conflict, it was amicably resolved with Presidential intervention.
Now, the morale of the bureaucracy in Delhi is at an all time low. Infrastructure enhancement has come to almost a standstill.
Kejriwal has managed to shift news about Delhi from pages 2, 3 and 4 to page one, except the news is no longer about new flyovers and metro lines.
There are two ways of emerging as a hero: either do something heroic or paint everyone else as a villain.
In his quixotic battles against imagined enemies, Kejriwal may emerge as a hero but Delhi's residents are becoming victims of his passion for Pyrrhic victories.
The views expressed here are personal and do not necessarily reflect those of the organisation.