#Punjab2017: why voters are not falling for Badal's sops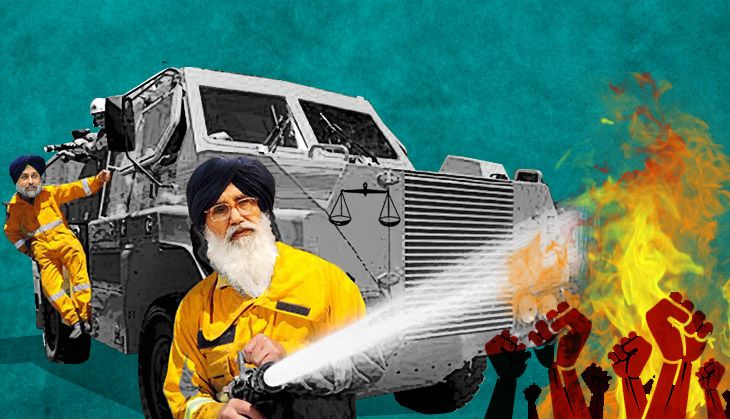 Parkash Singh Badal is doling out sops by the day, but public anger against his regime is anything but abating. In just the last few days, there have been several episodes that have embarrassed the government.
The latest was former Indian hockey captain and Akali Dal legislator Pargat Singh declining the post of Chief Parliamentary Secretary. The chief minister had announced to appoint seven such secretaries in what was seen as a move to placate disgruntled leaders within his party as well as in the ally BJP.
Once considered the blue-eyed boy of Deputy Chief Minister Sukhbir Badal, Pargat has been conspicuous by his absence from state functions over the past few weeks. He is reportedly angry for not being given any of the "respectable assignments" he had been promised.
Last Sunday, the minister Gulzar Singh Ranike was confronted by farmers at a programme at the Punjab Agricultural University in Ludhiana. The farmers interrupted his speech when he started talking about how the government was promoting fisheries. They asked him to instead explain why they are harassed by officials of the mining department for digging fish ponds in their fields. They also wanted him to explain why landless and marginal farmers do not get bank loans.
The same day, senior Akali leader and Union minister Harsimrat Kaur Badal went to a Sangat Darshan programme, only to face protests from cooperative department employees demanding the release of their three dozen colleagues who had been arrested for protesting at another of her Sangat Darshans on 22 April.
A fortnight ago, unemployed linemen outsmarted the police to sneak into the Akali's Baisakhi rally at Talwandi Sabo, where they raised slogans and waved anti-government banners as soon as Sukhbir began his speech. They too were allegedly assaulted by the police. "Their brutal treatment marred the occasion and showed the insensitivity of the Akali leaders who sat watching the lathicharge on the protestors from their stage," AAP leader Sanjay Singh charged later.
A week earlier, Sukhbir was embarrassed when villagers in Lambi who had gathered for a cultural event interrupted him as soon as he started his speech and demanded that folk singer Labh Heera perform instead. That Lambi has traditionally been a Badal stronghold made the rebuke especially stinging. A good number of the villagers have since openly joined AAP.
Though the Akalis have been facing similar protests for over a year, they have became more frequent and widespread after police firing on crowds protesting desecration of holy books at various places left two people dead. Repeatedly since, ministers have been prevented from entering villages and shown black flags.
If this wasn't worrying enough, the Badal regime's failure to provide regular jobs has led to continuing protests by no less than 25 unions across the state.
Lest the people should forget, the government's opponents have kept in circulation a video of Sikander Singh Maluka, the panchayat minister who held the education portfolio earlier, slapping teachers protesting a textbook scam a few years ago. Last year, Maluka was reportedly slapped by a villager in Hamirgarh, Bathinda, who wanted to protest the ongoing agrarian crisis and the desecration of holy books.
Badal's firefighting
Not that Badal is taking this lying down. In a desperate attempt to regain the voters' trust, he has announced sop after sop over the last few months. Here's some of what his regime has done:
Passed a bill to pave the way for awarding life imprisonment to those found guilty of desecrating Guru Granth Sahib, and increasing the punishment for desecration of other religious texts from two years to 10 years.
Approved "The Punjab Settlement of Agricultural Indebtedness, 2016", which provides for a framework for expeditious determination and settlement of non-institutional agricultural debt.
Announced a new mechanism that envisages officials "personally visiting grain markets to monitor procurement and make personal intervention". This came after the lid was blown off an alleged Rs 12,000-crore food grain scam, which has led to the Centre delaying release of Rs 17,523 crore for payment to farmers and commission agents.
Ordered blacklisting of hospitals that are "reluctant" to implement Bhagat Puram Singh Sehat Bima Yojana, which provides cashless treatment to beneficiaries up to Rs 50,000.
Touted its "achievements" of giving farmers free power worth Rs 28,000 crore, the "first of its kind scheme" interest free crop loans worth Rs 50,000, a health insurance cover of Rs 50,000 and accidental death or incapacitation insurance of Rs 5 lakh.
Promised to fill the 30,000 vacant posts of teachers through fresh hiring and by regularising contractual teachers "in a phased manner".
Reiterated, by Sukhbir last week, to "initiate the recruitment process to fill 1.2 lakh government posts".
Promised to establish two skill development centers in every block of border districts, where the youth will get "free training to increase their avenues for self-employment".
Whether these sops will sway the electorate remains to be seen. As of now, the people seem mostly hostile. "It simply shows the sops are not working. I am not sure that any of this, except maybe the employment sops, is going to work with the voters," said a senior journalist in Punjab.
"Such sops are expected to be announced in a poll year. After all, the ruling politicians are satiated after their ten years in office. But they should not take us for fools," said a taxi driver from Kharar village.
Activists argued that "it is difficult for people to forget the highhandedness of the local-level politicians they have experienced in the last ten years", sops or not.
"The fact is that hardly any work has been done on the ground. The local Akali leadership, right down to the level of panches and sarpanches stands exposed. Even if they are now told by the top leadership to mend their ways, their past deeds continue to haunt them. In villages, the more aware people are already analysing what has happened in the last decade," said Mukesh Maloudh, who has long been working with Dalit farmers in Malwa region.