Punjab Dalits' battle for their land intensifies. How will it affect polls?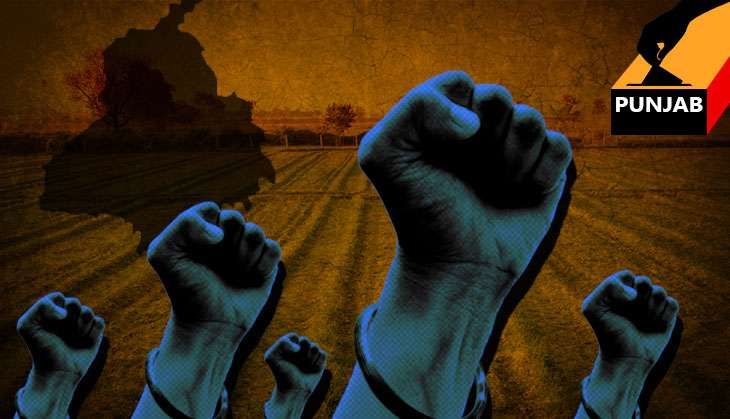 Punjab has the biggest percentage of Dalits of any state in India - 30% of the electorate belong to this section of society. So, what impact will they have on the 4 February Punjab Assembly elections?
Traditionally, Punjab's Dalits were Congress voters, but after the Bahujan Samaj Party's foray into the state, the Shiromani Akali Dal, too, ate into this vote bank. Today, the Aam Aadmi Party is also laying its claim on the Dalits.
And while all the political parties are concerned about their own vote shares, the murder of 72-year-old Dalit woman Gurdev Kaur on 11 November 2016 (which even the police has admitted was the murder of a Dalit at the hands of non-Dalits), hangs unaddressed over everyone's heads.
On a rather quiet Sunday, 29 January, a large number of landless Dalits gathered at Sangrur's grain mandi. The gathering just proved one thing - no matter which party forms the next government in Punjab, it will have to address the question of land and caste identity.
Today, Dalits in a spate of villages have made up their minds to press the NOTA button. And this is why.
The atrocities of 5 October
According to the Punjab Land Regulation Act of 1961, Dalits are entitled to 33% of Panchayat land, which they haven't received till date.
On 5 October 2016, in the Jhalur village of Sangrur district, Dalits tried to grab their own land. The result? They were mercilessly beaten up by Jatt Sikhs and a Dalit group that was supporting the Jatts. Their women were humiliated, scores were wounded and sent to jail.
It was reminiscent of the Una incident in Gujarat. The Dalits there took out a dignity (asmita) rally under the leadership of Jignesh Mevani, while in Punjab, too, the Dalits took out a procession on 21 October to protest against this incident. But the difference was that while Mevani withdrew his proposed rail roko movement after an assurance by the Gujarat government, in Punjab, the Dalits continued to sit on a chakka jam (stopping the movement of vehicles), and keeping Gurdev Kaur's body wrapped in a red flag.
Two schools of thought
On the issue of land, Dalits in Punjab are divided into two broad groups. One is politically affiliated, whether to BSP leader Mayawati or the Akalis or other political entities. The other believes in none of these political figures, but talks of its rights.
It is not as though Mayawati has not addressed the question of land rights. On Monday, 30 January, she did talk about the issue at the grain mandi in Phagwara, but she merely said Dalits would get their due when 'my government is formed in Punjab'.
In any case, after suffering injustices and atrocities for decades, the Dalits' patience is running out. After the election results on 11 March, there may be another fresh bid to take the land that is rightfully theirs.
In terms of sheer acreage, about 50,000 acres of land ought to be in the hands of Dalits. But the Jatts have been using the Dalits to do their bidding, since only Dalits can bid for this land.
Struggle for fundamental change
Sukhwinder Pappi of the Zamin Prapti Sangharsh Committee (ZPSC) says landless Dalits have already occupied land in 43 villages up to now. He says: "In Punjab, the first to give the slogan of land reforms was Banda Singh Bahadur. From 1948 to 1952, 18 lakh acres land was taken away from landlords in 884 villages and given to the Dalits during the Mujara movement of the Red Party. This party also had an MP too from Sangrur.
"During the Naxalbari movement, too, there was a slogan of land reforms, but it was never implemented well. It was implemented in three places: at the Birla farm in Ropar, at the Bedi farm in Ferozepur and some forest land in Samana. But at that time itself, the movement broke down. After that, this is the first time in history that the question of land is being raised in this form."
Balwinder, the son of Gurdev Kaur, is also a ZPSC leader. He has spent the last two months in jail with his companions. His brother, Balbir, is connected with a farmers' association.
In Jhalur, miscreants had made their house the main target, and had chopped off their mother's legs, because of which she died.
Balwinder says: "The question is not just of votes, as no political party will support us. The whole fight is about basic social change."
Another ZPSC leader, Gurmukh, explains: "Our struggle is all for a fundamental change. It is true that the change is not possible without a political party. Our aim was to politicise our struggle. We had planned to organise a big rally, but because of the Jhalur incident, some work could not be done. Despite this, whatever is possible through elections, we will achieve by giving the slogan of NOTA."
Two-faced politics
Not a single representative of any political party has visited Jhalur since the incident. Pappi explains why. "A friend of mine is an AAP leader. He says that non-Dalits constitute about 70% of the electorate, so they obviously carry more weight than the Dalits," he says.
He says that while the BSP has been speaking in favour of the movement, a BSP leader had once met a Punjab Police DSP and complained to him that "these Dalits are creating problems". "At least in our village, the BSP will not receive any votes. In any case, there have been rumours in the past too that the BSP has had agreements with the SAD worth Rs 200-300 crore. But things have changed this time - the advent of the AAP has broken the old set up," Pappi says.
The fascinating thing is that this time, even some of Mayawati's staunchest supporters are talking in hushed whispers about the possibility of voting for AAP. This makes it clear that there is an utter lack of political representation among Dalits, and the forces that really support Dalits have no political party.
Dr Darshan Pal, who has been associated with the farmers' movement for a long time, says: "We will have to find a way by which a farmers' leader just does not remain a farmers' leader, but becomes acceptable in the political mainstream of society."
Edited by Shreyas Sharma